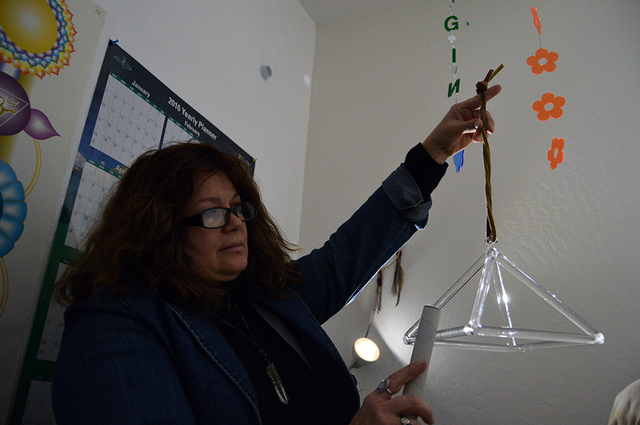 Cheryln Fields is all about balance. She seeks balance in her life, balance in her thoughts and balance in her spirit.
"I am a wife to a husband, mother to four children and grandmother to seven grandchildren, and I own two businesses," she said. "Because of all those things, finding a balance in myself is incredibly important."
To find that balance, Fields began to practice holistic medicine, or the art of curing the body, mind and spirit as a whole through the use of crystals. She said it helps to find a balance in a person's chakras, or the center of a person's self.
"The idea is that when a person doesn't have balance in their life and in their chakras, they can become unhappy or get sick," she said. "Holistic medicine is about the whole person and using crystals and aromatherapy to make that person feel better and balanced."
Fields took to practicing holistic medicine and decided to open up another business on top of the Las Vegas skydiving business she owns called Vegas Indoor Skydiving.
Ascension's Holistic Art Boutique, at 1400 Wyoming St., is Fields' chance to work on something she loves.
The shop is filled with crystals, aromatic scents and self-help books designed for people to bring their chakras back into balance. Many of the objects in her shop are also in her home. Fields said it is easy to remain passionate about her business because it matches the spiritual lifestyle she tries to create for herself.
"Everything that I do at the shop I do at home because I really believe in it," Fields said. "Aroma therapies, crystal therapy and the idea of finding balance are all things that are a part of my life every day."
Fields believes in the idea of holistic medicine so strongly that she said it was the reason she won her bout with thyroid cancer. Fields did acknowledge, however, that this was just her belief and that no medical study has shown holistic medicine as a way to fight cancer.
"I know it is not something that people want to hear, but I do believe that holistic medicine helped me beat thyroid cancer," she said. "I believe that the way it has created such a positive lifestyle helped me get better."
Candy Santana-Moncayo is a regular customer at Ascension's and said the crystal therapy has made her feel much less stressed.
"My daughter and I did some work with the crystals to balance our chakras, and I thought it was a really nice experience," Santana-Moncayo said. "My daughter and I just felt more relaxed and less negative. Cherlyn has always been so nice to us."
Fields believes that her passion for her business is spurred by a passion to share a spiritual lifestyle with other people.
"I am a free spirit, and I want to help people so they can also live a free and complete life," Fields said.
Ascension's is open from noon to 5 p.m. Monday through Friday and from 10 a.m. to 4 p.m. Saturday. Fields also teaches holistics classes from 6:30 to 8:30 p.m. every Thursday. To sign up for classes, head to the store website at www.ascensions.us.
Contact reporter Max Lancaster at mlancaster@bouldercityreview.com or at 702-586-9401. Follow him on Twitter @MLancasterBCR.