Family shares struggles with apraxia to boost awareness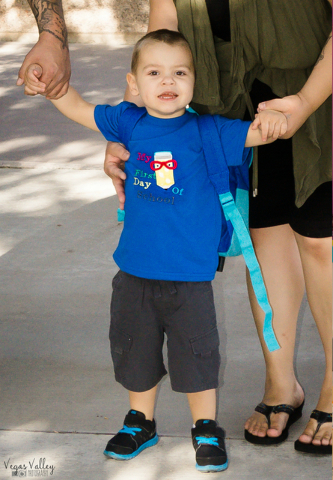 May has been a milestone month for 3-year-old Carter Bratton.
Not only did he celebrate his birthday, he started school and said his name — although the "t" sounded more like a "k."
His parents, Jennifer and Bret Bratton of Boulder City, are understandably proud.
Carter has Childhood Apraxia of Speech, a motor speech disorder that makes it difficult to get words out. It differs from a speech delay because the cognitive functions develop at a typical rate.
"My son has it. He can understand everything perfectly well, but he can't get it (what he wants to say) out," Jennifer Bratton said. "It's how his brain tells his mouth and tongue to move."
Today is Apraxia Awareness Day. Events are planned nationwide to help raise awareness of the disorder and give a voice to children who are seldom heard and often misunderstood.
Bratton said she wanted to share Carter's story to help others. She also is working to bring greater awareness of the disorder to Nevadans. As of now, she hasn't met anyone else in Boulder City with the disorder.
Apraxia is a neurological delay that cannot be cured but can be treated significantly with therapy, Bratton said.
"We know many children who progress to the point that no one would realize that they once had a severe speech problem," said Sharon Gretz, founder and executive director of the Childhood Apraxia of Speech Association of North America. "Most children who receive such help (intensive early speech therapy) will be able to develop fully intelligible speech over time."
Carter has been in speech therapy since he was 18 months old.
Because Carter was her first child, Bratton said she didn't think much about him not talking when he was younger. Friends often had told her that boys develop more slowly.
She said she didn't begin to get concerned until he lost the few words he was able to say.
Now, with a 1-year-old daughter who began running at 9 months, she can see more of the problems she didn't realize were clues that something was wrong.
Gretz said apraxia only can be diagnosed by an experienced speech-language pathologist, and there is no way parents would know if their children have it. "It is considered a rare speech disorder, and so even some professionals have not seen a lot of kids who have it."
Gretz said the cause of apraxia can range from direct damage or injury to the brain, such as a prenatal stroke or infection, or as a symptom of a larger neurodevelopmental disorder such as autism or epilepsy. Still, there are other cases where no known cause has been found.
Though the association doesn't have exact numbers, Gretz said one or two out of every 1,000 children has apraxia.
That being said, there are some warning signs that should prompt a parent to seek help, she said. These include limited babbling and sound play, slow and late development of speech skills, problems sequencing and combining sounds and syllables correctly, difficulty when asked to speak "on demand," and the use of gestures in place of words.
Bratton said Carter uses sign language to communicate because it is so hard for him to speak. She said he knows about 100 words/terms in American Sign Language and has created another 100 that he uses with his family.
There also is constant positive reinforcement and at-home therapy to help Carter use words and say them correctly, Bratton said.
Like any mother, Bratton had her concerns when he started school at Mitchell Elementary this month to participate in a special speech program.
"I was scared for him to go to school, scared that kids wouldn't understand him and make him feel different."
In addition to speech therapy, he participates in a traditional prekindergarten class.
Fortunately, Bratton's her fears were unjustified. She said Carter is excited to go to school.
"I'm so happy he doesn't get upset. He never gets upset that he has therapy. He always tries and does his best. He does normal kid stuff," she said.
Hali Bernstein Saylor is editor of the Boulder City Review. She can be reached at hsaylor@bouldercityreview.com or at 702-586-9523. Follow @HalisComment on Twitter.