Family honors matriarch with Constitution display
September 10, 2014 - 12:47 pm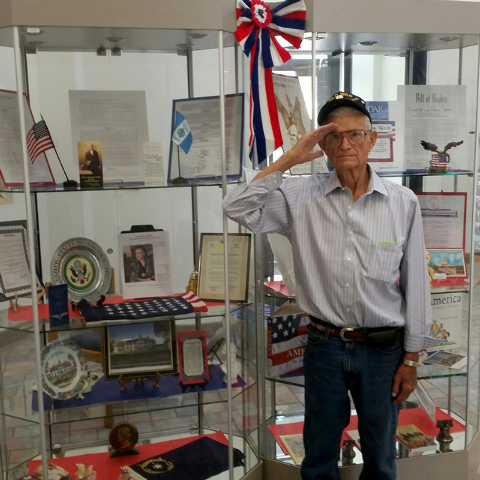 History and traditions are important to Boulder City residents, and especially for members the Mitchell family. Each September they create a display for the Boulder City Library lobby that commemorates Constitution Week, which is marked annually by the Daughters of the American Revolution.
Susan Mitchell Stankovic said the display started with her mother, the late Luanna Mitchell, who had collected numerous Constitution-related artifacts when she owned YesterYear, a store in Boulder City.
"The Constitution is something we have always believed in," she said. "It's an important part of being a citizen."
The display includes items such as a copy of the U.S. Constitution, historical plates, information about John Adams, Thomas Jefferson and George Washington, and flags.
The library is happy to have the display showcased in its two cases in the rotunda each September, said Deanna Duffy of the library, who has worked with the family each year.
"I believe the display should be up for a longer time so more patrons can see it," added Lynn Schofield-Dahl, library director.
Stankovic said it was her mother's passion to educate others about citizenship and the Constitution. This passion also prompted the family to start a scholarship, the Luanna Mitchell Constitutional DAR Scholarship, five years ago that is presented to a Boulder City High student who writes the best essay about the impact of the Constitution.
"When it comes to DAR, Mom was very committed and all of her daughters and granddaughters have been members," said Stankovic, a proud member of the Silver State Chapter.
She said there was never a doubt that she and her sisters and their father, Carl Mitchell, would continue the family tradition after Luanna Mitchell's death.
Carl Mitchell is a World War II veteran and takes creating the display to heart, Stankovic said, noting that when she asked him to take a picture in front of this year's display he became very solemn and gave his best salute.
"It was something he and Mom would do together," she said. "He was so serious; it was so touching."
The DAR also encourages schools and churches to ring their bells at 1 p.m. Pacific time Wednesday for Bells Across America, which recognizes those who gave their life for liberty.
Stankovic said her family first came to Boulder City when Hoover Dam was being built. Her grandfather was a high-scaler.