Ewers shares love of cooking with family, friends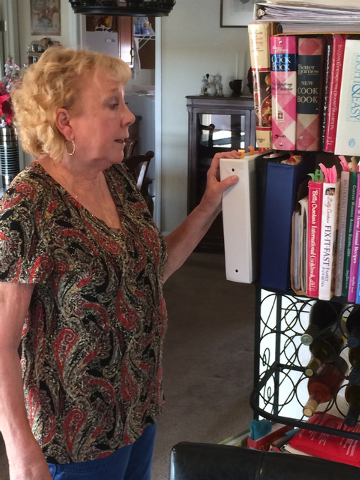 Wife, mother, grandmother, nurse, author and volunteer are just some of the titles given to Brenda Ewers.
The Boulder City mother of three and grandmother to twin girls is so proud of her family that when you talk to her she must tell you about their accomplishments while downplaying her own.
"My son, Chad, is an executive chef in Maryland and is an amazing cook. He won several medals for cooking when he was growing up," she said recently while sitting at her kitchen table. The refrigerator behind her is decorated with pictures of the grandchildren and copies of her books are all around the kitchen.
Her husband, Scott, retired from a position with the government and now they reside on the edge of Bootleg Canyon.
Watching out the window as quail sit on the fence posts and jackrabbits cruise among the sagebrush, the peace and quiet is almost palpable.
"We get bighorn sheep, coyotes and lots of other animals coming right into the yard," she said.
It's a far cry from the busy life she had as a registered nurse. Whether it was teaching nursing at her alma mater in Santa Barbara, Calif., or running a clinic in Flagstaff, Ariz., Ewers said she was always pushed for time.
She started to get her children cooking early on by introducing them to various cookbooks. A favorite was "The Pickle in the Middle" by Frances W. Zweifel, which still has a prominent place in her kitchen.
"I always tried to keep my kids involved in cooking when they were growing up. We made menus, posted them in the kitchen, and they were allowed to pick out and help prepare a meal each week. If I was rushed for time, they could make a salad or do other prep things while I was on my way home," she said.
Ewers started her life in Seldovia, Alaska, the daughter of Norwegian immigrant fishermen.
"Early on, my uncle moved to Kernville, Calif., and convinced my father to come join him."
She attended college in Santa Barbara, where she earned her master's degree from University of California, Santa Barbara. After getting her degree, she taught nursing, but said most of the students were a great deal older than she was.
"When I first got into nursing we were there to save lives," she said.
Eventually she landed in Flagstaff where she worked in all fields of nursing for more than 21 years.
Cooking and creating new or improved dishes has always been a passion for Ewers.
"When we would go to various functions over the years I would see a dish I liked and ask for the recipes. A lot of times they didn't want to share so I would try to recapture it from memory — which is why we always keep a pizza in the freezer just in case something doesn't work," she said.
These days Ewers is super busy on Wednesdays. In the morning, she can be found volunteering at the Senior Center of Boulder City and in the afternoon she's at Boulder City Hospital lending a hand where she is needed.
So on Wednesdays it is her Scott's turn to man the kitchen, preparing, cooking and cleaning.
"When I get home he hands me a cocktail, sits me down and lets me know when dinner is ready. After we are finished he handles all of the clean up," she said.
She has always been known to share her recipes and to offer tips, as well as try new things when it comes to cooking and food.
"Anybody who ever wanted a recipe I always shared because cooking is fun," she said.
Here are a few of her favorites.
Hummingbird Bundt Cake
Cake batter:
3 cups flour
2 cups sugar
1 teaspoon baking soda
1 teaspoon cinnamon
½ teaspoon salt
3 large eggs, slightly beaten
1½ cups chopped pecans
1¾ cups mashed ripe bananas, about 4 medium to large bananas
1 8-ounce can crushed pineapple, undrained
¾ cup canola oil
1½ teaspoon vanilla extract
Glaze:
4 ounces cream cheese, cubed and softened
2 cups powdered sugar
1 teaspoon vanilla extract
1-2 tablespoons milk
Pecan halves
Stir together flour and the next four ingredients in a large bowl. Stir in eggs and the next five ingredients. Pour batter into a greased and floured Bundt pan.
Bake at 350 degrees for 1 hour or until a long, wooden pick inserted in the center comes out clean.
Remove cake from pan and place on wire rack. Let it cool completely, about 2 hours.
To prepare the glaze, mix cream cheese, powdered sugar, vanilla and 1 tablespoon of milk in a food processor until well blended. Add remaining 1 tablespoon of milk, 1 teaspoon at a time, mixing until smooth.
Immediately pour glaze over cooled cake and sprinkle with pecans.
Makes 10-12 servings.
Chicken Piccata
3 skinless and boneless chicken breasts, butterflied and cut in half.
Salt and pepper
2 cups flour
6 tablespoons butter
5 tablespoons extra virgin olive oil
1/3 cup fresh lemon juice
¾ cup chicken broth
¼ cup capers
1/3 cup parsley
Cornstarch
Season chicken with salt and pepper. Dredge chicken in flour and shake off excess.
In a large skillet, melt butter and mix in olive oil. Add chicken, browning both sides. Remove chicken from skillet and put on plate.
Reduce heat to medium low and add the lemon juice, chicken broth and capers. Bring to a boil, scraping up brown bits from the pan for extra flavor. To thicken the sauce, mix about 2 tablespoons cornstarch and 1 tablespoon water in a small bowl. Shake well and add to mixture in the skillet.
Return chicken to the skillet and spoon sauce over the chicken. Garnish with parsley and serve, pouring more sauce over the chicken.
Serve over spaghetti or rice, if desired.
Serves 4.
Poor Man's Taco Salad
1 head of lettuce torn into pieces or a bag of salad
2 large tomatoes, chopped
3 green onions, chopped
¾ cucumber, peeled and chopped
2 celery stalks, chopped
1 avocado, peeled, sliced and cut into fourths
Make the salad and refrigerate.
1 pound ground beef
½ teaspoon garlic salt
1 teaspoon pepper
1 teaspoon minced garlic
2 8-ounce cans tomato sauce
¾ cup ketchup
1 cup hot Pace picante sauce
2 cups shredded cheddar cheese
3 cups Fritos
In a skillet, brown the ground beef with the seasonings. Add tomato sauce, ketchup and picante sauce. Simmer for 15-20 minutes. Make sure there is a small boil before you add the meat mixture to the salad.
Add cheese and Fritos. Mix carefully and serve quickly.