Epic's Leins gives vintage items new purpose
October 8, 2014 - 12:30 pm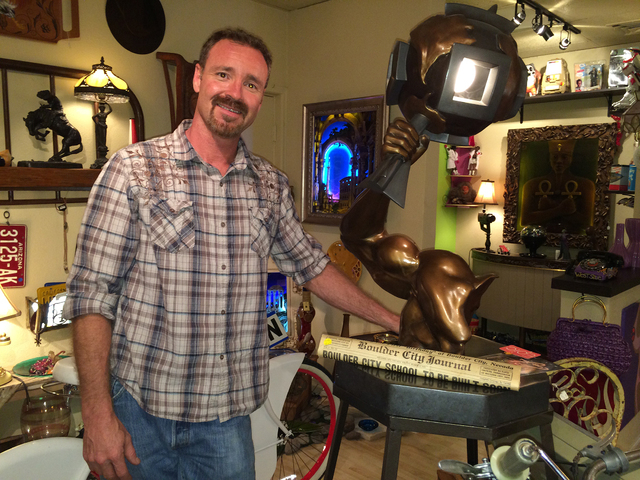 Editor's Note: This article is part of an occasional series showcasing new businesses in town.
If you took a blender and added equal parts of Mr. Peabody's WABAC time machine, "MacGyver" and Pablo Picasso, you might end up with Epic Artware's Eric Leins.
For as long as he can remember, Leins enjoyed creating items that would "roll, float or fly."
"As I matured, it developed into a passion for the fine arts and I found myself working with a variety of mediums."
His unique creations, often a blend of everyday items put together in usual ways, fill his small gallery-store at 501 Nevada Way, Suite 2, which opened recently. It is home to upcycled décor, fine art, jewelry, furniture, collectibles and vintage clothing.
Among his more popular pieces are lamps featuring items such as old cameras, suitcases and typewriters.
Leins said he always starts with a lamp in good working order and then modifies it. He is particularly conscious about the artistic value of each lamp's shade.
He also transforms items such as a car ramp or bicycle into planters and has transformed an old headboard into a decorative shelf. A recent creation is a wine rack made of a shutter and horseshoes.
"With my love for the old and new, I'm now able to upcycle not only keeping the vintage look but making it functional and giving it a new-world look," he said.
He said he believes his wares, many with a vintage look, will complement Boulder City's myriad antique stores.
The stores, in turn, fuel his passion and creativity, he said.
"I'm not a pack rat, but I can't stop," Leins said about gathering up items from the various thrift stores, antique shops, yard and estate sales and galleries he frequents. "If you put out there what you are looking for, things find you."
A self-taught artist, Leins said he prefers three-dimensional work and sculpting, which translates well into his upcycled home décor items.
He also borrows skills he learned during the more than 17 years he has worked designing and building décor for special events.
"I have also had my own business, Artworxs, creating decor and window designs for a variety of corporations.
Jay Hughes of the Hottest Dam Boutique in the same plaza said Epic Artware is a great addition to the area.
"As soon as they opened, I started sending our clients over there," she said.
Hughes said she has seen many businesses come and go since she opened her boutique in 2008 but hopes the gallery-store "remains a part of our plaza" for a long time.
Francisco Santoyo of Oro Jewelers also hopes Epic Artware will bring new visitors to the plaza. He said the summer months didn't bring too many people to his store, but cooler temperatures and a variety of events in town should help.
Most of the pieces in the store were made by Leins, but he also showcases the work of a few local artists, including longtime friend Tommy Calabrese, who often provides inspiration or items for Leins to transform, and Debbie Planells, who contributed much of the vintage jewelry.
He said he decided to open the store in Boulder City because of the challenges and politics involved with other galleries.
"My whole life I've been involved with design and fine art and always imagined owning my own store," Leins said. "Although as I ventured around town and other states, nothing felt right until a friend said there was a space for rent in Boulder City and that set everything in motion. There was no thought other than that's what I wanted my whole life."
Leins said everything about owning and operating Epic Artware is "rewarding." He said he enjoys showing his art, as well as selling it, and inspiring others with his work is a bonus.
For additional information, call the store at 702-675-3808.
Hali Bernstein Saylor is editor of the Boulder City Review. She can be reached at hsaylor@bouldercityreview.com or at 702-586-9523. Follow @HalisComment on Twitter.