Doodlebug marks 40th anniversary
November 26, 2014 - 1:30 pm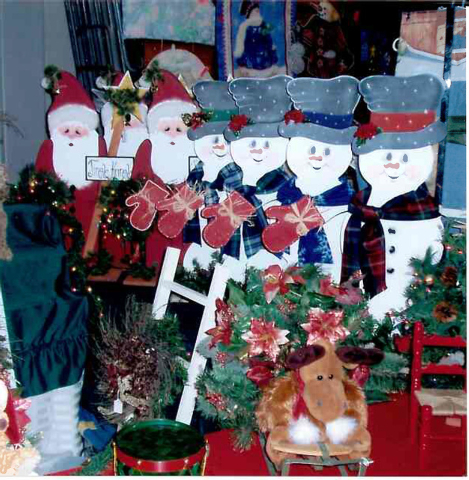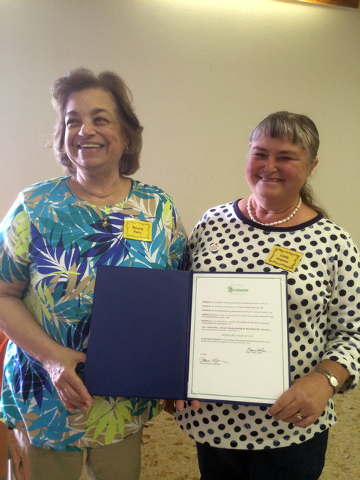 As it has done for the past four decades, the Doodlebug Bazaar will help herald in the holiday season when the doors open at 9 a.m. Dec. 6.
The craft bazaar, which celebrates its 40th anniversary this year, will be from 9 a.m. to 4 p.m. at the city's Recreation Center, 900 Arizona St. There will be booths in both gyms and outside the facility. The bazaar is presented by the Community Club.
Traditionally held the first Saturday in December, the event is so popular with local residents and visitors it has been proclaimed Doodlebug Bazaar Day in perpetuity by Mayor Roger Tobler.
The official proclamation, presented in late October, recognized that the bazaar "is a phenomenon that brings the community together," complimenting the efforts of the club members and the donations they make to city organizations with proceeds from the event.
"It all has to be handcrafted. That's our claim to fame," said Cindy Lochner, who is in charge of securing vendors for the bazaar. "We are unique in that way. We have that small-town, craft-fair feel."
Club member Phyllis Holsey, who is marking her 20th year with the Doodlebug, started her affiliation as a crafter.
"It was just a small, family kind of thing," she said about the event's beginning.
Each year it has continued to grow until they could squeeze no more vendors in, Holsey said.
"There is always a waiting list of people wanting to get in," she added.
About 130 vendors at the bazaar feature a variety of holiday and home decor items, toys, clothing and jewelry, according to Lochner.
"There will be many new vendors and old favorites," she said, noting they come from Boulder City, the Las Vegas Valley, Pahrump, Arizona and Utah.
Holsey said it is the personal touch the vendors received from club members that keeps them coming back.
"We call to check on them, see what they need and welcome them to the Doodlebug," she said.
Holsey served as event chairwoman for 13 years before stepping down this year, although she remains in charge of the raffle. At one point, she was chairwoman of the event, head of the raffle and president of the Community Club.
"It's become a part of my life. I live and breathe the Doodlebug," she said.
Lochner said it is the people that keep her involved. "Everyone is so nice."
New this year is Santa's Picture Party presented by the Boulder City Chamber of Commerce. Santa will be on hand from 11 a.m. to 2 p.m. for pictures and will be accompanied by Jingle Cat, who will hand out goodie bags to children.
According to Jill Rowland-Lagan, CEO of the chamber, the move from Bicentennial Park to indoors at the bazaar should eliminate weather issues, as well as bring more people to the Doodlebug.
Last year, extremely cold temperatures and winds forced Santa's Picture Party to close early.
Each year, the bazaar nets about $10,000 for the Community Club, which donates the money to Boulder City organizations that need help, such as Emergency Aid of Boulder City, Safekey, Boulder City police and fire departments, and needy teens at Boulder City High School.
"The Doodlebug is our main fundraiser and gives us the opportunity to give away money all year long," President Linda Graham said. "We invite area charities to come speak and we give them money."
"Every penny we raise stays in Boulder City. We vote to make sure of that," Holsey said.
It's the primary reason Holsey is dedicated to the Doodlebug Bazaar.
The club makes its money from rental of the craft booths, food sales and the raffle, which features a $200 grand prize, a $100 second-place prize along with items donated by the vendors and area merchants.
Graham said she is very proud of the club and how much the small group does. Currently, the club has about 40 members.
"It such a small group and we are able to give away so much," she said.
And the best part, with only one event to organize and a year to plan and plenty of time to socialize, everyone has been able to remain friends, she said.
Hali Bernstein Saylor is editor of the Boulder City Review. She can be reached at hsaylor@bouldercityreview.com or at 702-586-9523. Follow @HalisComment on Twitter.