Dodge named Emergency Aid's Angel of Year
February 8, 2017 - 3:10 pm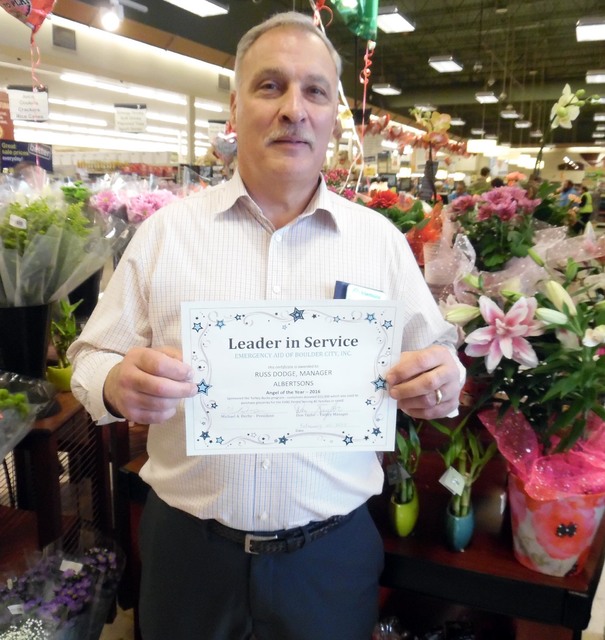 Albertsons manager Russell Dodge was caught by surprise when members of Emergency Aid of Boulder City presented him with a cake and a certificate honoring him as the nonprofit's Angel of the Year for 2016.
Dodge was presented the annual award Feb. 1 to recognize his efforts in substantially increasing the donations given to Emergency Aid since he joined the store in 2013.
Every Albertsons has an outlet to which they donate food that hasn't been sold but is still usable, according to Dodge. Most locations donate to the Three Square food bank in Las Vegas, but for years the Boulder City store has kept that food in local pantries by partnering with Emergency Aid.
After he became the manager of the Albertsons at 1008 Nevada Highway, Dodge decided to expand the relationship to include the company's annual Turkey Bucks fundraiser, during which stores raise money to donate Thanksgiving meals to local food pantries.
"The people from Emergency Aid are already here four or five days a week picking up food," Dodge said. "For most of the stores the Turkey Bucks money also goes to Three Square, but I thought it was another opportunity where we could keep it in the community."
Two years ago, Dodge received permission to make the switch and his team raised over $5,000 for the local nonprofit, but he saw a chance to do even more. Dodge had his team make signs for each register, alerting people that all the money raised would stay in the community, with Emergency Aid.
"We received over $15,000 in donations in 2016, and I credit the town for that," Dodge said. "It's one thing to donate a few bucks to help people across the entire valley, but when you're taking care of people in your own backyard, people are even more receptive and really want to help."
Don Taylor, pantry manager for Emergency Aid, said the number of donations the group received from Dodge and his team was incredible, but their generosity didn't end there.
"Russ didn't just raise an incredible amount of money for us, but he helped us make the most of it," Taylor said. "Instead of just donating meals for Thanksgiving, he let us put together a list of items we don't usually have access to, like peanut butter, cereal and toilet paper, and then he ordered them for us at cost, making the money go so much further. And then he continued raising money through Christmas."
"I accepted the award for the whole store, as my cashiers really pushed it hard, but also for the whole town," Dodge said. "All of the donations came from people here in our town. We live in a unique community; I've been with the company for 44 years and I've never had a store with a community that is so tight and so supportive of each other. I feel very lucky to be in this town. This is by far my favorite store, and I hope to stay here until I retire."