Dillinger's annual block party set for Saturday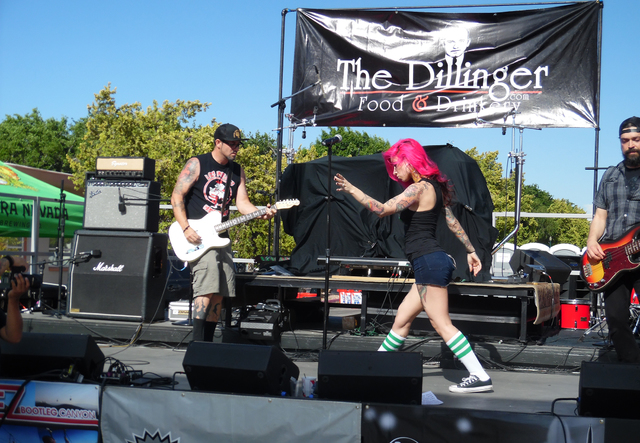 The sixth annual Dillinger Block Party is on Saturday, and its organizer is anticipating it will be bigger than ever.
"Our main focus this year is enhancing the atmosphere," said Tsvetelina Stefanova, entertainment director at The Dillinger Food and Drinkery. "We are stepping up our lighting game and including an art installation in the theme of this year's flyer design. We're also adding a new contest, 'Best Dog on the Block,' and instead of the standard footlong, this year we're opting for a Teenie Weenie Hot Dog Eating Contest (mini hot dogs made from Australian Wagyu beef)."
The flyer features anthropomorphic party animals, and Tg Miller's art was commissioned especially for people to take pictures with during the festivities.
Miller also is a member of the band Black Camaro that will be playing at the event.
A goal of the block party is to bring the community together, and Stefanova hopes this year will do that as well as exposing attendees to original music. Some of that new music will come from live bands, including Boulder City's Junkyard Dogs, who have been part of the block party since it began.
The Junkyard Dogs was formed in 1980 by Steve Patton, Chris Long and Gerry Bletsch. Their name came from Bletsch's family's auto wrecking yard that was next to their rehearsal room.
In the next several years, Junkyard Dogs added two more members, Jason Holt and Andy Cattoir. Junkyard Dogs has had some personnel changes, leading to its current lineup of Bob Krause, John Kingbiel, Todd Wolter, Cattoir and Bletsch. Patton, who died about five years ago, was the uncle of the late Shane Patton, the Navy SEAL who was killed in action in 2005.
"The goal of JYD has always been, and remains so today, (to) perform all original music," Bletsch said. "The Dogs have shared the stage with acts such as Blue Oyster Cult, The Marshall Tucker Band, Outlaws, Black Oak Arkansas and Montrose. The Dogs were heavily involved in the Las Vegas music scene in the '80s and '90s, being selected to appear on four of five KOMP (radio station that plays classic rock) albums, and finally inducted into the Las Vegas Rock and Roll Hall of Fame in 2013."
"The Dogs love to play, and the Turners/Dillinger are great people to work with; also our performance fee is always donated to the Shane Patton Foundation," he added.
The block party will also feature a raffle, with all proceeds going to the Shane Patton Scholarship Foundation, as well as games, vendors and food trucks.
Admission to the block party, to be held outside the bar/restaurant at 1224 Arizona St., is free, and the bands start playing at 4 p.m.
Contact reporter Celia Shortt Goodyear at cgoodyear@bouldercityreview.com or at 702-586-9401. Follow her on Twitter @csgoodyear.
What: The Dillinger Block Party VI
When: Saturday, May 13. Bands start at 4 p.m.
Cost: Free. There is as a raffle for prizes. All proceeds go to Shane Patton Scholarship Foundation.
Contests: Best Dog on the Block Contest (first place wins a PBR doghouse), Teenie Weenie Hot Dog Eating Contest (mini hot dogs made with Australian Wagyu beef in a natural sheepskin casing), and a beer drinking contest.
This year's lineup
■ The Junkyard Dogs
■ Lenguas Largas from Tucson, Arizona
■ Black Camaro
■ Sandy Nelson
■ Same Sex Mary
■ The Dirty Hooks
■ Fuzz SoLow
■ Dogyear
■ Bargain DJ Collective