Dancer parlays television stint into Cirque show job
August 15, 2013 - 1:03 am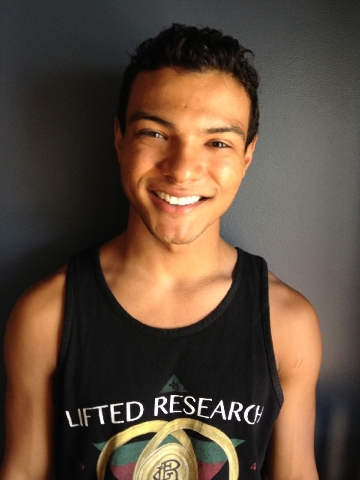 Dareian Kujawa, local dance teacher at Dance Etc., goes from reality show star in "So You Think You Can Dance" to a full-time dancing position for "Love," a Cirque du Soleil work inspired by The Beatles.
Kujawa was a contestant on the Fox reality show in season nine last year of "So You Think You Can Dance," finishing in the top 20 finalists
Jayme Server, Dance Etc. co-worker, said his performance on the show was a huge motivation for his students.
"I think that Dare being on 'So You Think You Can Dance' inspired more kids to pursue their dreams of dancing, along with more boys participating in our studio as a whole," Server said.
Server finds Kujawa's work at the local studio influential to both his fellow teachers and students.
"Dare is always easy going and keeps everything positive," she said. "He is such a kind-hearted guy; we are so lucky to have him around our studio and around Boulder City."
The show enabled Kujawa to receive many dancing opportunities, such as performing at a One Drop Foundation benefit, an organization established by Cirque founder Guy Laliberte to fight poverty by supporting access to water.
Kujawa was scouted at the event to dance in "Love" at The Mirage.
"I was doing a performance called One Drop last year which is a benefit to raise money for children in Africa," Kujawa said. "While I was doing that performance, one of the stage managers and artistic directors saw me performing in the show. The next day I got a phone call to do an audition.
"I went in, did the audition, and a couple weeks later they called me and told me I got the job."
Server is happy for his co-worker.
"I could not be more excited for Dare to be in The Beatles' 'Love' show," Server said. "He has so much talent and he deserves nothing but the best."
The 21-year-old performs both in a group and solo setting for "Love"
"In the show, I'm in the dancer ensemble," Kujawa said. "What they call it is a 'lover.' I do gun-booting, which is where we have big rain boots on and we stomp, hit our boots, and scream. We do a whole lot of different styles."
In addition to the ensemble, Kujawa serves as the understudy for the Walrus in the show. The character portrays passion and psychedelic body art. The solo routine is performed at the beginning of the show.
Kujawa auditioned against one other male dancer for the position.
"I went in and it was me and one other guy," he said. "They taught us a combination from the show, and a partnering section. We then had to do a solo routine, and finally we had to do an improv routine. Then I got the call and signed the contract. They had me improv for the Walrus routine, and that is how I became the understudy."
Although Kujawa will be very busy with his show schedule, performing 10 shows a week, he will continue teaching at Dance Etc.
"I teach classes here and there, but now I'm just going to have one class on Thursdays that I'm going to teach regularly," Kujawa said. "It's going to be kind of tough, but I don't do Beatles 'Love' until later on in the night, so my mornings are usually free. Hopefully it doesn't get too crazy."
Luckily, "Love" is a residential show so Kujawa will not have to travel, so he will be able to continue teaching hip hop and other styles of dance at the dance studio.
The dancer signed a yearlong contract with Cirque du Soleil. At the end of the year, he hopes to renew his contract.
"It's perfect," Kujawa said. "It's exactly what I wanted. I make great money. The music, the dancing, everything about it fits everything I am. I want to stay for a while."