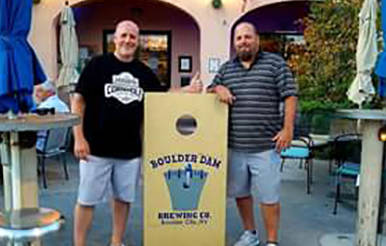 Boulder City's new Cornhole League began competition with its first tournament held Wednesday at Boulder Dam Brewing Co.
Cornhole is a team game played by throwing bags filled with dried corn into the hole of a wooden platform to score points.
John Langley founded the league during the summer. According to Langley, he launched the Boulder City Cornhole League to see if the community had interest in the activity.
"I noticed there are leagues in Las Vegas. I'm trying to start up a league in Boulder which could bring more people into our beautiful town," he said.
Langley joined forces with 702 Cornhole, an organization meant to connect cornhole players in Southern Nevada.
"702 Cornhole is a group for players to find the next great tournament or the newest leagues that are starting up," Langley said.
Langley worked with Mark Speegs from 702 Cornhole to create the Boulder City league.
"Boulder City Cornhole is new so as of right now we are still building," Langley said.
The league's next tournament will be Aug. 24 at the Brewpub and weekly Wednesday meetings there are also planned.
"We are looking at 30-plus confirmed for our Aug. 1 opening night tournament," Langley said prior to the event.
He added, the league hopes to take advantage of Boulder City's family-friendly atmosphere to secure its future.
"I look at Boulder City as a family town; cornhole is a game for all ages," Langley said. "You can play at the lake, your backyard, pretty much anywhere."
For more information, visit the Boulder City Cornhole League Facebook page at http://bit.ly/2LMpn8z.
Contact reporter Jayme Sileo at jsileo@bouldercityreview.com.