December 17, 2014 - 2:08 pm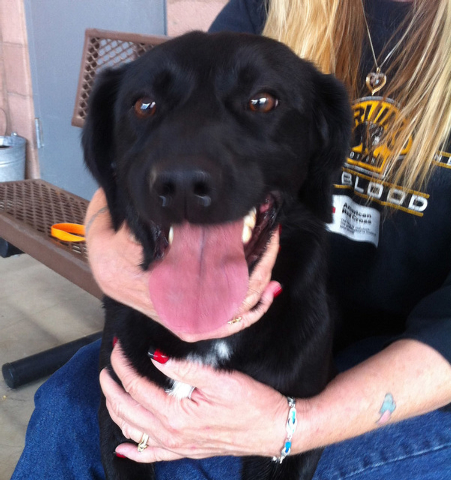 'A Christmas Wish' to be performed at theater tonight
Dance Etc. will present "A Christmas Wish" at 7 and 8:15 tonight at the Boulder Theatre, 1225 Arizona St.
The holiday show will feature dancers and singers from Dance Etc., Intensive Dance Co. and the Rising Stars.
Tickets are $15 and can be purchased at Dance Etc., 525 Hotel Plaza, or by calling 702-293-5001.
Retired Public Employees set monthly meeting, lunch
The Boulder City Chapter of the Retired Public Employees of Nevada will meet at 11 a.m. today at The Homestead of Boulder City, 1401 Medical Park Drive.
Members will attend a no-host lunch after the meeting at a local restaurant.
For additional information, contact Bernard at bernardpaolini@cox.net or call 702-294-0636.
See Spot Run continues drive to gather food, litter for needy's pets
See Spot Run continues with its December drive to gather pet food and cat litter for Emergency Aid of Boulder City. The food will be given to needy Boulder City residents for their cats and dogs.
Donations of canned or dry dog and cat food, and cat litter can be dropped off at the dog park through Dec. 25. Donations should be placed inside a large black trash can inside the gate; they will be picked up each evening.
For those who need help with heavy bags, call 702-539-7526 or email seespotrun@bcseespotrun.com.
Also, the group is offering 2015 calendars featuring local dogs playing at the dog park. The calendars are being sold for $15 each. Proceeds from sales will help the nonprofit maintain and operate the dog park.
Tickets available for annual Santa Train at railroad museum
Tickets are now on sale to ride the annual Santa Train at the Nevada State Railroad Museum, 601 Yucca St.
Train rides with Santa and Mrs. Claus will depart hourly from 10 a.m. to 3 p.m. Saturday and Sunday.
Tickets are $5 per person for anyone older than 1. Advance purchase is recommended as trips usually sell out.
Visit www.nevadasouthern.com for additional information or to buy tickets online.
Library schedules variety of activities, events
Boulder City Library, 701 Adams Blvd., has several activities planned for the coming weeks. These include:
■ Lego challenge, 3:30 p.m. today in the community room. The session is designed for those 6 and older.
■ Holiday movie, 1 p.m. Saturday in the community room. "The Muppet Christmas Carol" will be shown. Bring blankets, chairs and snacks.
■ Holiday movies, Monday in the community room. "Miracle on 34th Street" will be shown at 10 a.m. "Home Alone" will be shown at 1 p.m. "Elf" will be shown at 4 p.m. Bring blankets, chairs and snacks.
■ Holiday movies, Tuesday in the community room. "Santa Claus is Comin' to Town" will be shown at 10 a.m. "Frosty the Snowman" will be shown at 11 a.m. "Rudolph the Red-nosed Reindeer" will be shown at 11:30 a.m. Bring blankets, chairs and snacks.
Note, the library will be closed Wednesday and Dec. 25.
Call 702-293-1281 for details, reservations or more information.
Friday auction at antiques market will raise money to help needy
Darwin's Auctions at the Boulder City Antique Market, 1101 Arizona St., will hold a special auction to benefit Giving Life Ministries at 6 p.m. Friday.
All proceeds from the auction will benefit the ministry, that helps feed and clothe needy people in nearby Henderson.
The auction will include items such as NASCAR tickets, golf and vacation packages and homemade cakes and pies. Donations of collectibles or specialty food items will be accepted.
Anew Women's Network to hold monthly meeting Dec. 27
Anew Women's Network will meet at 2 p.m. Dec. 27 at Christian Center Church, 571 Adams Blvd.
The group is for women whose husbands have died; it meets the fourth Saturday of each month offering friendship, resources and support.
A free lunch will be served.
For more information, call Fran Jordan at 702-293-0620 or Pastor Marjorie Kitchell at the church, 702-293-7773.
Free tai chi classes offered Saturdays in Broadbent Park
A local tai chi master is offering free classes at 9 a.m. Saturdays in Broadbent Park, 1301 Fifth St.
The sessions will focus on physical strengthening and conditioning, and self-defense applications.
For more information, visit www.elementaltaichi.com or call instructor Dale Napier at 702-478-9413.
Writers group meets, talks shop every Thursday at library
The Boulder City Writers Group meets from 7-8:20 p.m. each Thursday in the community room at Boulder City Library, 701 Adams Blvd.
Writers of all levels are welcome to attend to learn more about writing and receive feedback on their work.
Membership is free.
For more information, email jenballif@gmail.com.
American Legion breakfast on served Thursday mornings
All veterans and their families are invited to the American Legion's varied menu breakfast from 6-8:30 a.m. Thursdays at the American Legion Hall, 508 California Way, between Boulder Bowl and Grace Christian Academy.
There is no cost to attend, but donations are welcome.
Legionnaires and eligible veterans are invited to the American Legion meeting at 7 p.m. the first Tuesday of the month at the hall.
Call Cmdr. Gregory Hall at 702-293-6374 for more information.