December 5, 2013 - 5:28 am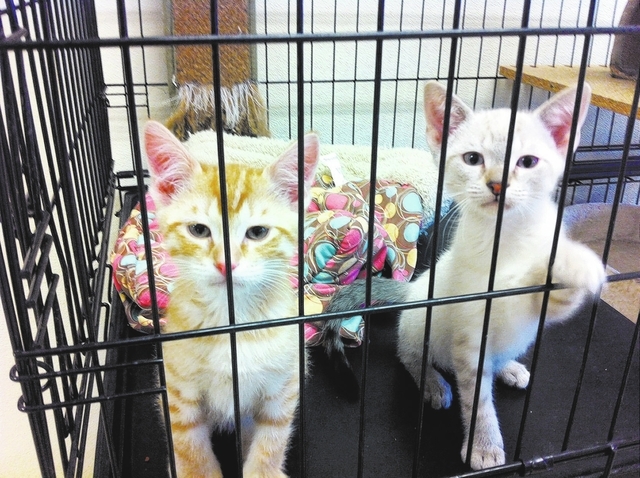 Community blood drive scheduled for today
The Boulder City Community blood drive will be held from 1-7 p.m. today in the chapel gymnasium at The Church of Jesus Christ of Latter-day Saints, 916 Fifth St.
Appointments can be scheduled online at www.unitedbloodservices.org, sponsor code: BoulderCity, or by calling Lee McDonald at 702-795-8335.
All donors must bring photo identification. A free cholesterol screening is provided with each donation.
Library health care meetings explain Affordable Care Act
Boulder City Library and CARE NV will be hosting meetings at the library, 701 Adams Blvd., to assist residents with understanding and signing up for health care under the Affordable Care Act or Obamacare. The meetings will be Friday, Jan. 3, Feb. 14 and March 14. The visits are scheduled by appointment; call 702-836-9033 to make an appointment.
Cox to broadcast annual holiday parade
Santa's Electric Night Parade will be shown live on Cox Communications' Channel 96/1096 HD.
Live parade coverage is scheduled to begin at 4:30 p.m. Saturday and will be hosted by Parade Chairman Mike Pacini and John Dabkovich, morning anchor at KVVU Fox 5.
The annual parade is in the city's Historic District on Nevada Way. It features businesses, organizations and residents who light up their floats and join in the merriment of the holiday season, including welcoming Santa to town.
The parade also will be rebroadcast on Channel 96 at 6 p.m. Dec. 17, 21 and 24.
Annual Santa Train slated
The Nevada State Railroad Museum is selling tickets for its 12th annual Santa Train, which is set for 10 a.m. to 3 p.m. Saturday and Sunday, Dec. 14 and 15 and Dec. 21 and 22. Tickets are $5 per person.
For more details, call 702-486-5006. The museum is at 600 Yucca St.
Library to host monthly craft time, sets events
An open craft time has been scheduled for the first Saturday of the month, starting Saturday and continuing through April at the Boulder City Library, 701 Adams St.
The session is open to crafters of all ages and is intended to encourage socializing. People are welcome to bring in whatever project they are working on, as well as food and beverages.
Additionally, the library has a variety of events and activities scheduled this month. These include:
n Craft hour between 10-11 a.m. Dec. 18 in the board room. It is open to those of all ages.
n Teen holiday craft from 3-5 p.m. Dec. 12 in the board room. The crafts can be given as gifts. Reservations are required for this session.
n Lego challenge for children 6 and older from 4-5 p.m. Dec. 19 in the community room. Legos will be provided.
n Family story time with science, crafts, games, Legos and stories for all ages from 6-7 p.m. Wednesday in the board room.
n The movie of the month, "White Christmas," will be shown at 1 p.m. Dec. 28 in the community room. Those attending are welcome to bring chairs and blankets.
Call 702-293-1281 for details or more information.
Democratic club to hear of ProgressNow Nevada
Members of the Boulder City Democratic Club will meet at 6:30 p.m. Dec. 12 in the meeting room of the Boulder City Library, 701 Adams Blvd.
The guest speaker will be an executive with ProgressNow Nevada and ProgressNow Nevada Action.
The group regularly meets the second Thursday of the month. All interested people are welcome to attend.
For more information, call 702-530-6604 or visit www.bouldercitydemocraticclub@gmail.com.
Republican women to mark holiday, install officers
Boulder City Republican Women will meet at 11:30 a.m. Dec. 12 at the Railroad Pass Hotel Conference Room, 2800 S. Boulder Highway, Henderson.
Norma Barth will present a special Christmas musical program. Also, new officers for 2014 will be installed. They are Lori Piotrowski, president; Sharon Peterson, first vice president; Beverly Mazza, second vice president; Elizabeth Younggren, treasurer; Vicki Keller, recording secretary; and Nancy Gildner, corresponding secretary.
All interested persons are invited to attend. To ensure seating, reservations for the $20 luncheon and program should be made by Dec. 7. They can be made by calling 702-393-1228 or emailing bcgop@yahoo.com.
University Women to host annual home tour
The Boulder City branch of the American Association of University Women will hold its 38th annual Home Tour from 1-4 p.m. Dec. 14.
Proceeds from the tour benefits the group's local scholarships.
Tickets are $10 each and are available from AAUW members and at the Boulder Dam Hotel, 1305 Arizona St.
For additional information, call 702-294-4204 and leave a message.
Youth choir to celebrate season with concert
Red Mountain Youth Choir reminds us "'Tis the Season" with a concert at 7 p.m. Dec. 14 at the Elaine K. Smith Center, 700 Wyoming St. This will be conductor Pamela Barlow's final concert with these children.
Tickets are $5 for adults and free for children and students. They can be purchased at the Boulder City Chamber of Commerce, 465 Nevada Way, or at the door. For additional information, call Rose at 702-293-5455.
Ring in the Christmas season with handbell concert
The Harmony Handbell Choir under the direction of Janet Ty will present a concert of Christmas music at 3 p.m. Dec. 15 at the Senior Center of Boulder City, 813 Arizona St.
The concert is hosted by the Boulder City United Methodist Church.
Harmony is a community group of 13 experienced ringers from throughout the Las Vegas Valley and includes Barbara Paulsen of Boulder City.
Hubbell Trading Post to visit Lake Mead center
Lake Mead National Recreation Area will host a special event from 9:30 a.m -4 p.m. Dec. 14 and 15. Several items from the Hubbell Trading Post, a national historic site in Arizona, will be available for sale at the Lake Mead Visitor Center.
Hand-crafted Navajo rugs, silver and turquoise jewelry, and baskets will be on display.
The visitor center is south of Boulder City, near the intersection of U.S. Highway 93 and Lakeshore Road at 10 Lakeshore Road.
For more information, contact the visitor center at 702-293-8990.
Fitness classes for children offered at recreation center
The Boulder City Parks and Recreation Department offers a variety of fitness classes for children, including Zumbatomics, jujitsu, tennis, belly dancing and Mindful Yoga for kids.
For more information on these or any of classes, call the recreation department office at 702-293-9256 or visit www.bcnv.org.
January music show to benefit area charities
A musical celebration, the Boulder City Circle Show, will be presented at 3 p.m. Jan. 5 at St. Andrew Catholic Church, 1319 San Felipe Drive.
The holiday concert will feature songs performed by Phil Marcus Esser, Charlie Shaffer, Arno Marsh, Bob Baker, Bruce Harper, Greg Langley, Nancy Porter, Paul Klouse, Francyl Gawryn, Terri Cola, Susan Slykerman, Lois Foree and drummer Sandy Nelson.
Proceeds from the show will benefit Emergency Aid of Boulder City and Lend A Hand.
Doors will open at 2 p.m. Tickets are $20 and can be purchased at Plaza Realty, 581 Hotel Plaza, or by calling 702-293-2440.
For additional information, call Peggy Caspar at 702-293-9984.
Walking Group meets at Veterans Park
Boulder City United Methodist Fellowship has a walking group that meets at 8 a.m. Monday, Wednesday and Friday at Veterans Memorial Park. Group members walk 30 minutes before they begin their day.
Everyone is invited to come out and improve their health and make new friends. They meet at the duck pond next to Pratte Field.
For more information, contact the Rev. Sandy Johnson at 702-293-9240 or email sandy_L_johnson@hotmail.com.
Emergency Aid sponsors Christmas Angels
Emergency Aid of Boulder City's Christmas Angel Program is now underway at the Boulder Dam Credit Union, 530 Avenue G. The program is for low-income families and seniors, and children at St. Jude's Ranch.
Boulder City residents have typically provided 400 to 500 gifts each year.
Those who are eligible should contact the Emergency Aid office at 600 Nevada Way or call 702-293-0797. The office is open from 9 a.m. to noon Monday through Friday.
Volunteers will administer the Christmas Angel Program during the credit union's hours of 9:30 a.m. to 5 p.m. Monday through Thursday and 9:30 a.m. to 6 p.m. Friday through Wednesday. To volunteer call the office. Gifts will be distributed at the credit union Dec. 14.