November 21, 2013 - 7:00 am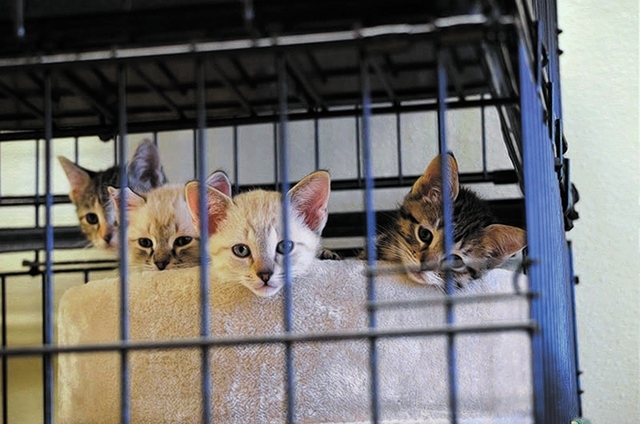 High school fall carnival to be held today
Boulder City High School will hold its Fall Carnival from 3-5 p.m. today in the courtyard in front of the gym, 1101 Fifth St. There will be games, food and prizes. Admission is $1; tickets are 25 cents each.
The clubs and sports organizations participating this year are the Future Business Leaders of America, Ten 80 remote control car racing team, girls basketball team, flag football team, library book club and creative writing club.
Boulder City boy collecting jackets for homeless, needy
For the sixth year, 10-year-old Boulder City resident Blaze Trumble is collecting new or clean, gently used blankets and jackets for the Las Vegas area homeless and needy.
At age 5, Blaze decided he wanted to help the homeless as his "birthday wish." Blaze will turn 11 Monday.
Last year more than 700 items were collected, and Blaze said he hopes to surpass that number this year.
To help him reach his goal, Blaze invited 20 of his friends from his 11U Club baseball team, Southern Nevada Crew, as well as children from his former team, the Nevada Wildcats, and members from his 2013 Boulder City All Stars team. Each friend is being asked to collect 10 blankets or jackets and will join Blaze and his family members when they distribute the items Wednesday at the Las Vegas Rescue Mission.
Donations will be accepted at Boulder Dam Credit Union, 530 Avenue G; Christian Center Church, 571 Adams Blvd., The Coffee Cup, 512 Nevada Highway, and Plaza Realty, 581 Hotel Plaza. Donations boxes will be picked up Tuesday. For more information, visit www.BlazesWish.com or call Don Trumble at 702-985-1001.
University Women to host annual home tour
The Boulder City branch of the American Association of University Women will hold its 38th annual Home Tour from 1-4 p.m. Dec. 14. Proceeds from the tour benefits the group's local scholarships.
Tickets are $10 each and are available from AAUW members and at the Boulder Dam Hotel, 1305 Arizona St.
For additional information, call 702-294-4204 and leave a message.
Red Mountain choir to present concert
The Red Mountain Choir concert "Shall We Dance?" will be presented at 7:30 p.m. Friday and Saturday at the Elaine K. Smith Center, 700 Wyoming St. Tickets are $10 for adults and can be purchased at the Boulder City Chamber or at the door.
Children and students ages 5-18 are free. Call Rose at 702-293-5455 for more information.
Retired Public Employees meet today
The Boulder City Chapter of the Retired Public Employees of Nevada will meet at 11 a.m. today at The Homestead of Boulder City, 1401 Medical Park Dr. Guest speaker will be Phyllis Bachhuber with Lend a Hand of Boulder City.
Each month the group has lunch at a local restaurant after the meeting.
For further information, contact President Bernard Paolini at bernardpaolini@cox.net.
Walking Group at Veterans Park
Boulder City United Methodist Fellowship has a walking group that meets at 8 a.m. Monday, Wednesday and Friday at Veterans Memorial Park. Group members walk 30 minutes before they begin their day.
Everyone is invited to come out and improve their health and make new friends. They meet at the duck pond next to Pratte Field. For more information, contact the Rev. Sandy Johnson at 702-293-9240 or email sandy_L_johnson@hotmail.com.
Republican Women to meet today
Boulder City Republican Women will meet at 11:30 a.m. today in the conference room at Railroad Pass Hotel, 2800 S. Boulder Highway, Henderson. Guest speaker will be Alan Stock, a talk show host on KDWN Newstalk 720.
Stock has worked in the television and radio industry for 30 years and in Las Vegas since 1999. In addition to his morning show, he hosts a nightly television interview program on KTUD-TV Channel 25 and 14.
Also, Barbara Cegavske, who has served in the Nevada Assembly or Senate since 1996, will discuss her political plans.
A silent auction, featuring items valued from $25 to more than $1,000 donated by local merchants and members, will also take place.
Emergency Aid needs help
Emergency Aid of Boulder City is seeking donations. The nonprofit organization's funding is used throughout the year to provide utility and rental assistance to those in need. For more information or to donate, call 702-300-6187.
Library health care meetings explain Affordable Care Act
Boulder City Library and CARE NV will be hosting meetings at the library, 701 Adams Blvd., to assist residents with understanding and signing up for health care under the Affordable Care Act or Obamacare. The meetings will be Dec. 6, Jan. 3, Feb. 14 and March 14. The visits are scheduled by appointment; call 702-836-9033 to make an appointment.
Local churches join for weekday worship
Boulder City United Methodist Church and St. Christopher's Episcopal Church have begun a weekly Wednesday night worship called WOW or "Worship on Wednesday." The 6:45 p.m. worship service is at St. Christopher's Episcopal Church, 812 Arizona St., and is a combination of contemporary praise music, prayer and a short reflection. The Revs. Sandy Johnson and Jim Lyons will lead the service.
The service is casual and all are welcome. For more information, call Johnson at 702-293-7240 or visit www.bouldercityumc.org; or Lyons at 702-293-4275 or www.stchristopherschurch.org.
Emergency Aid sponsors Christmas Angels
Emergency Aid of Boulder City will open its Christmas Angel Program Monday at the Boulder Dam Credit Union for a three-week run. The program is for low-income families and seniors, and children at St. Jude's Ranch.
Boulder City residents have provided 400 to 500 gifts each year. Donations for the program will be accepted at several locations including Ace Hardware, 541 Nevada Way; Taco Bell, 1600 Nevada Way; True Value, 706 Canyon Road; Boulder City Police Department, 1005 Arizona St.; Senior Center, 816 Arizona St.; Grandma Daisy's, 530 Nevada Way; and PostNet, 1022 Nevada Highway.
Volunteers will administer the Christmas Angel Program during the credit union's hours of 9:30 a.m. to 5 p.m. Monday through Thursday and 9:30 a.m. to 6 p.m. Friday through Dec. 11. To volunteer, call the office. Gifts will be distributed at the credit union Dec. 14.
Those who are eligible should contact the Emergency Aid office at 600 Nevada Way, or call 702-293-0797. The office is open from 9 a.m. to noon Monday through Friday.
Boulder City Library schedules events
Boulder City Library, 701 Adams St., has a variety of events and activities scheduled for the month of November. These include:
n Preschool story time for children ages 3-15 from 10-10:30 a.m. Wednesday in the board room.
n Toddler story time for children younger than 36 months from 10:30-11 a.m. Wednesday in the board room.
n Lego challenge for children 6 and older from 4-5 p.m. today in the community room. Legos will be provided.
n Family story time with science, crafts, games, Legos and stories for all ages from 6-7 p.m. Sunday in the community room.
n The Teen Book Club for those 13 and older will meet in the youth department at 2 p.m. Sunday; call 702-293-1281 for details.
Annual Santa Train slated
The Nevada State Railroad Museum is selling tickets for its 12th annual Santa Train, which is set for 10 a.m. to 3 p.m. Dec. 7 and 8, Dec. 14 and 15 and Dec. 21 and 22. Tickets are $5 per person.
For more details, call 702-486-5006. The museum is at 600 Yucca St.
Association of University Women BC branch to meet
The Boulder City Branch of American Association of University Women meets the third Monday of each month in the Boulder Dam Hotel, 1305 Arizona St.
Meetings are open to the public and held in the Gene Segerblom Meeting Room in the Boulder Dam Museum &Historical Society.