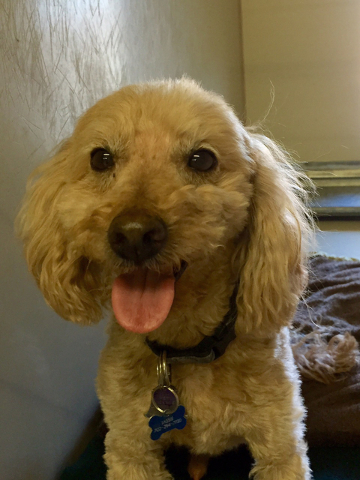 Trinkets and Treasures on tap for club
The Community Club will hold its monthly meeting at noon today in the dining room at Grace Community Church, 1150 Wyoming St.
A pizza luncheon will begin the session, which will be followed by the annual Trinkets and Treasures sale.
Guests and potential new members are welcome to attend.
See Spot Run sets annual meeting
See Spot Run, which operates the dog park at Veterans' Memorial Park, will hold its annual meeting at 7 p.m. Wednesday at the Elaine K. Smith Center, 700 Wyoming St. All interested people are welcome to attend.
Art guild partners wit lodge for show
The Boulder City Art Guild, in conjunction with the Hoover Dam Lodge, is presenting Southwest USA, an exhibit of fine art by guild members. It continues through May 31 at the resort, 18000 U.S. Highway 93.
Works by 25 artists are on display.
The success of the first collaboration prompted Hoover Dam Lodge to double the amount of exhibit space for this show.
Church seeks donation for Country Store
Grace Community Church is now accepting donations for its annual Country Store.
Donations of clothing, hardware, furniture and household items will be accepted.
They can be brought to the church at 1100 Wyoming Ave. from 9-11 a.m. on Mondays.
For additional information, call the church at 702-293-2018.
Library to hold club, board meetings
Boulder City Library, 701 Adams Blvd., has several activities planned for the coming weeks. These include:
Lego challenge, 3:30 p.m. today in the community room. The session is designed for those 6 and older.
Keeping Kids Fit club, 3:30 p.m. Friday in the community room. For those 6-11 and their caregivers. The six-week program will use fun activities to teach families about the importance of exercise and healthy eating. Advance registration requested.
Library board of trustees meeting, 7 p.m. Tuesday in the board room.
Teen time, 2:30 p.m. Wednesday in the community room. Those 12 and older are invited to come play games, work on homework or just hang out.
Crazy 8s math club, 3:30 p.m. Wednesday in the community room. For those in kindergarten through second grade. The eight-week, hands-on program will include activities to get children excited about math. Reservations required.
Call 702-293-1281 for details, reservations or more information.
Myriad special events on tap at Lake Mead
Lake Mead National Recreation Area has a variety of special events happening in the coming weeks.
These include:
Ranger hike: March Migratory Madness, Saturday. Join a ranger for a hike along the shoreline where wetlands meet the lake to learn why birds migrate and why they stop at Lake Mead. Bring binoculars. Advance registration required.
Ranger chat: "Outdoor Fun: A Child's Nature Prespective," 11:30 a.m. and 1 p.m. Saturday and Sunday at the Alan Bible Visitor Center, 10 Lakeshore Road. Learn about ways children can discover the recreation and and get in touch with nature.
Great American Cleanup, April 2. Volunteers are invited to participate in the cleanup event. To register, visit www.getoutdoorsnevada.org. Contact Alissa Demmer at 702-293-8711 or Alissa_Demmer@nps.gov for more information.
Call 702-293-8990 for additional information or to make reservations.