Children chill out at boat race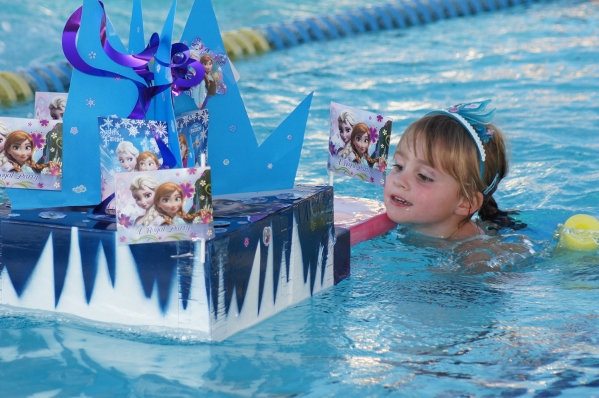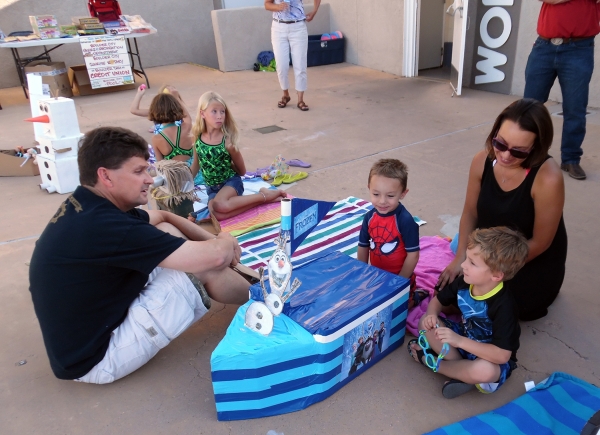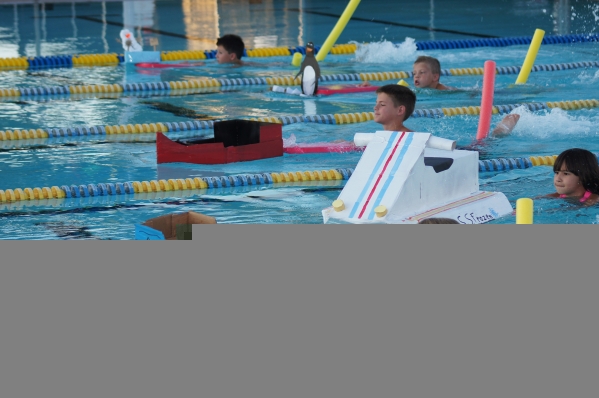 The temperature outside may have be high enough to make most people hot, but the atmosphere was chilly at the municipal pool Wednesday evening. In fact, things were downright "Frozen."
The popular animated film was chosen as theme for the 15th annual Cardboard Boat Races presented by the city's parks and recreation department.
The children's creations featured lots of snowflakes, snow flurries and sleighs. Snowmen — one named Olaf in particular —were plentiful.
In all, 23 boats were entered into the competition, said Jacob Andersen, assistant aquatic coordinator for the city.
Before the boats were put in the water to race, they were judged for their craftsmanship and appearance. Awards were presented in three categories: funniest, most historic and most original.
Winners were:
Funniest: Josie McClaren, "Grand Pappy," first; Caleb Walker, "Max the Monster," second; and Steven Craig, "Otter Pops," third.
Most historic: Alex Polak, "Skeleton" first; Lee Sheldon, "Dragon," second; and Zachery Croft, "U.S. Freighter," third.
Most original: Phoebe McClaren, "Olaf," first; Carson Conway, "Olaf's Sleigh," second; and Caden Angell, "Olaf the Fisherman," third.
A special Mayor's Choice Award was presented to Taylor Reeves for her boat "Elsa-Anna."
Boulder City Mayor Rod Woodbury was one of four judges for the competition. He was joined by Councilmen Cam Walker and Duncan McCoy. Bobbe Wilson, who recently retired from her post as aquatic administrative clerk for the city and is a member of the city's parks and recreation commission, completed the judging panel.
Once the awards and a variety of raffle prizes were presented, the children headed to the water to race. Each rode a pool noodle like a stick pony and pushed their boat with a kick board.
Several heats were held, with the first- and second-place winners of each receiving a medal.
Additionally, the Titanic Award was presented to Caleb Walker after his boat "Max the Monster" was the quickest vessel to sink.
"Thanks goes out to our sponsors that help make this great even free for the kids," Andersen said.
Sponsors for the boat race were Boulder City Parks and Recreation Department, Boulder City pool, Boulder Dam Credit Union and Boulder City Sunrise Rotary.
Hali Bernstein Saylor is editor of the Boulder City Review. She can be reached at hsaylor@bouldercityreview.com or at 702-586-9523. Follow @HalisComment on Twitter.