Cheers for beers: Festival raises funds for military families
Updated March 22, 2018 - 4:03 pm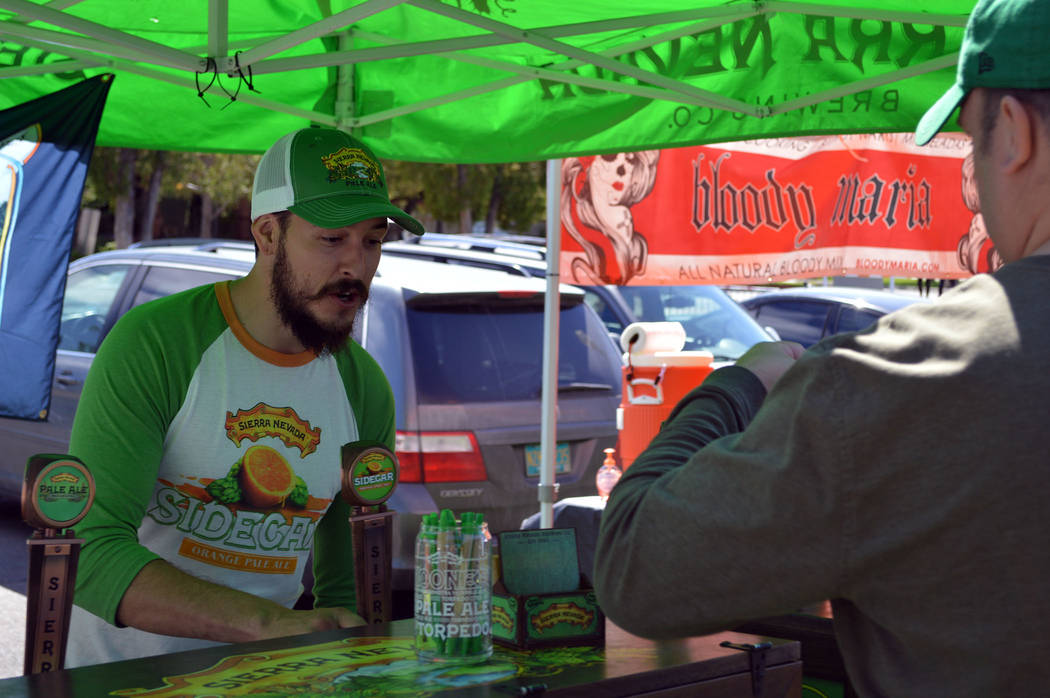 Beer will once again give people in Boulder City a reason to have a good time and raise money for charity during the sixth annual Boulder City Beerfest.
The festival takes place from 1-7 p.m. Saturday, March 31, at Wilbur Square Park.
All proceeds go to Operation Homefront, a nonprofit organization that supports the families of military personnel who are deployed overseas. Its mission is to build strong, stable and secure military families so they can thrive in the communities they have worked hard to protect.
Boulder Dam Brewing Co. is the official host brewery, and Todd Cook, event organizer and brew guru at the brewery, said he is expecting 1,800 people to attend.
"Obviously, the appreciation of beer and brewing is what beer festivals are all about. The Boulder City Beerfest, though, is much more," he said. "It's a day of fun with family, friends and community."
Cook is also hoping to raise at least $10,000 for Operation Homefront.
In addition to the more than 30 breweries dishing out samples, there will be food available to purchase from eight food trucks and beer specialty vendors as well as live music including The All-Togethers, Thee Swank Bastards, The Rick Berthod Band and The Moanin' Blacksnakes.
"There's a lot of factors that contribute to this that are unique to this festival," Cook said. "It's the only beer festival in the valley entirely on grass, and Wilbur Square is a great park with some fantastic mature trees shading it. … We get a lot of brewers, owners and staff from the breweries, and they enjoy themselves as much as the attendees. The organization and smoothness of the event allow them to have fun. … Fresh beer, fresh food, fresh air — what more do you need?"
There is no cost to attend the festival, but tickets must be purchased to sample the beer.
There are 2,100 tickets available, and general admission ones are $35 and VIP ones are $45. A VIP ticket provides early entrance at 1 p.m. General admission ticket holders can start sampling beer at 3 p.m.
Tickets can purchased online through March 24 at https://www.eventbrite.com/e/the-6th-annual-boulder-city-beerfest-tickets-40164400804.
While they last, they can also be purchased at the Boulder Dam Brewery, 453 Nevada Way, or at Khoury's Fine Wine &Spirits, 9915 S. Eastern Ave., No. 110, Henderson through Friday, March 30. Advance tickets are $35 general admission, $45 VIP.
The day of the festival general admission tickets can be purchased for $45 and VIP tickets for $60.
To see a complete list of breweries that will be at the festival, go to http://bouldercitybeerfestival.com/.
Contact reporter Celia Shortt Goodyear at cgoodyear@bouldercityreview.com or at 702-586-9401. Follow her on Twitter @csgoodyear.
If you go:
What: Boulder City Beerfest
Where: Wilbur Square Park
When: 1-7 p.m. March 31
Cost: Free to attend. Beer sampling: In advance: $35 general admission; $45 VIP in advance. Day of: $45 general admission, $60 VIP
Info: http://bouldercitybeerfestival.com/