Business at Home: Flexible career allows Walker to help others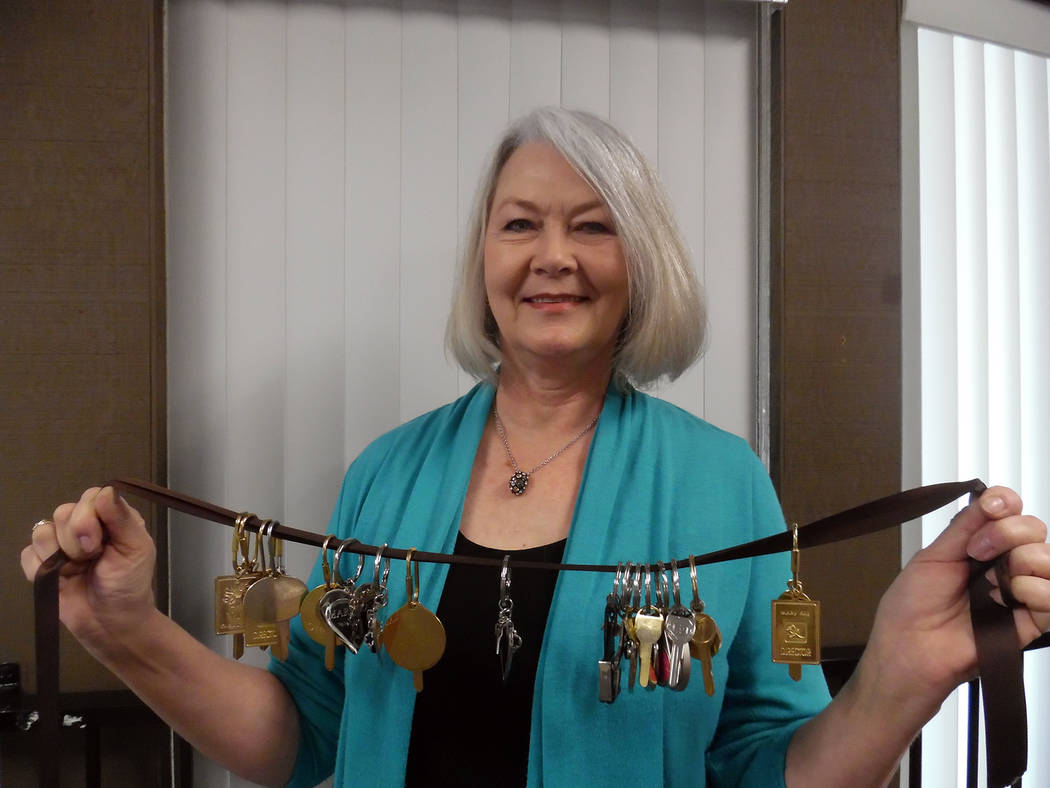 From engines to eyeliner, Dawn Walker knows that it takes precision and skillful application to succeed.
A former engineer for NASA, she now runs her own Mary Kay business and recently earned her 18th car for outstanding sales performance. She marked her 30th year with the company in February.
Walker earned the use of a new Chevy Cruze, but opted to take the cash option so she and her husband, Dean Leas, could purchase a vehicle that would tow their boat.
Walker earned her first car in March 1989, not too long after devoting herself full time to her new career. Among the cars she has earned are three iconic pink Cadillacs, the ultimate reward offered by the company, as well as a Mustang.
She said she can earn a new car, moving up the levels, in as few as three months, otherwise, consultants can keep a car for two years.
"All you have to do is sign the papers. They pay the tax and insurance for me and my spouse," she said.
In addition to cars, the company's incentive program offers a variety of "Cinderella prizes, things women won't buy for themselves" like diamonds and jewelry, Walker said.
While she appreciates the incentive program, she said it's the praise she receives that continues to motivate her.
"It all ties into the marketing program that praises people to success," she said.
Walker has been with Mary Kay full time since 1988, working her way up from independent sales consultant to senior sales director, training and mentoring others across the United States.
"Our business is all about the relationships we build," she said.
Her ability to build those relationships has translated into other aspects of her life, the biggest of which is her devotion to helping fellow veterans.
After graduating high school in North Dakota, the native of Ontario, Canada, joined the U.S. Army, serving as an air traffic controller for three years.
When she returned to civilian life, she earned a bachelor's degree in computer science and statistics from the University of North Dakota before heading to Houston to work for NASA as a performance engineer on the space shuttle program.
Her career then took her to Colorado Springs, Colorado, where she worked for NORAD.
After earning her master's degree in systems engineering from the University of Southern California, she went to work for Aerospace Corp. in Los Angeles, specializing in launch and satellite system engineering.
She began her career with Mary Kay while in Los Angeles.
Walker said she likes the flexibility her career provides, allowing her to move as needed for her husband's work. They decided to settle in Boulder City in 2009 because of its proximity to Lake Mead National Recreation Area, as well as McCarran International Airport in Las Vegas. The two travel often for work and to visit family.
Once in Boulder City, she became involved with the American Legion, Post 31, helping with its yellow ribbon sign program. In 2013, she became involved with Honor Flight, which sends World War II, Korean and Vietnam veterans to Washington, D.C., to see the monuments erected in their honor.
"She is a great businesswoman and has a servant heart, giving of herself tirelessly to help our veterans with her involvement in Honor Flight," said Dyanah Musgrave, who is part of an informal women's network with Walker. "I personally know families who have had their World War II veteran family members go on this flight and they say 'It was an experience of a lifetime' thanks to Dawn Walker and all her efforts."
Ironically, Walker's father, a World War II veteran who died in 2009, had been on an Honor Flight in 2007 and never told her about his experience.
Additionally, Walker supports many causes that aim to make life better for women, including Soroptimist International, Greater Las Vegas Chapter, and the Mary Kay Charitable Foundation.
Both organizations aim to stop domestic violence.
"We can't look away from abuse," she said, explaining Mary Kay's new program, Don't Look Away, that provides compact mirrors to women containing information that discreetly lets them know how to text for help.
The foundation also raises funds to research cancers that affect primarily women.
Hali Bernstein Saylor is editor of the Boulder City Review. She can be reached at hsaylor@bouldercityreview.com or at 702-586-9523. Follow @HalisComment on Twitter.