Boulder's Best: Top spots to discover antique treasures
September 7, 2016 - 2:04 pm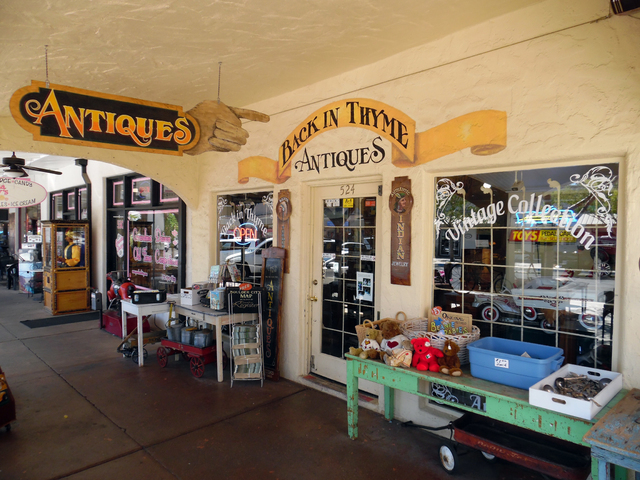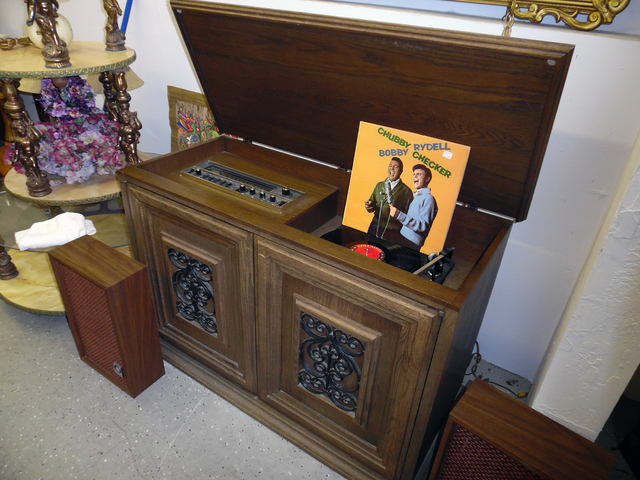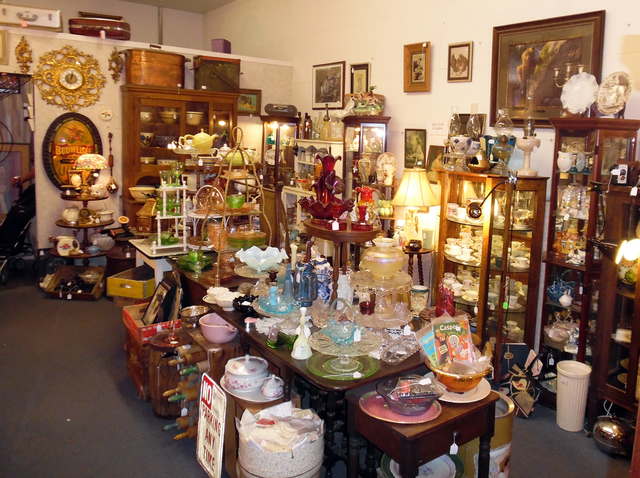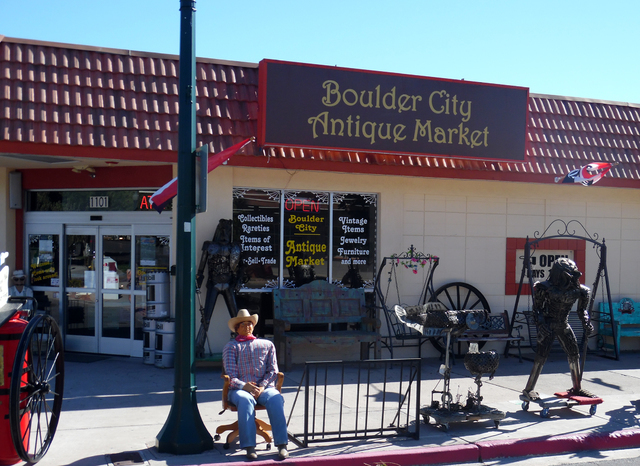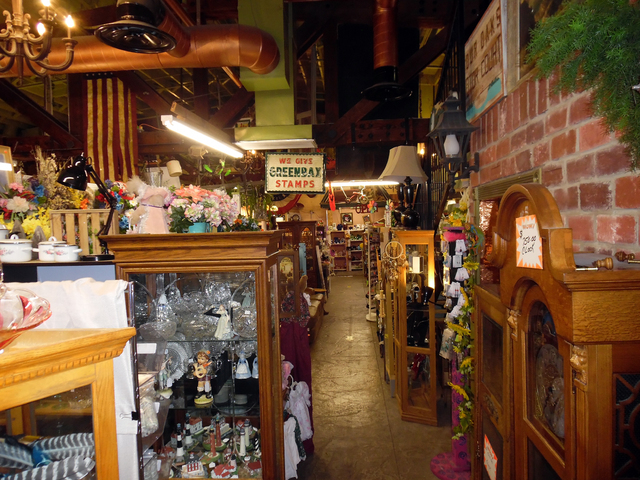 History is an intrinsic part of Boulder City, a community that has made a concerted effort to keep the past alive and has become a bit of authentic tourist destination because, in large part, of those efforts.
Whether you're in search of long lost treasures, artifacts of Americana or just childhood nostalgia, here are some of the best places to rifle through the past in Boulder City.
Back in Thyme, 524 Nevada Way
Glena Dunn open Back in Thyme in 2001, planting the seed that has grown into Boulder City's bustling antique scene. In the ensuing decade and half, the town that built Hoover Dam has become a veritable hot spot for collectors and tourists interested in antiques and vintage treasures.
Back in Thyme features all of the items you'd expect to find in your standard antique store, including decorations, periodicals and art as well as an extensive collection of silver and World War II era flatware. Dunn's antique hub has set itself apart, however, with an unparalleled collection of authentic handmade Native American jewelry and their specialty, original pedal cars.
There are dozens of the classic miniature cars at the store, each restored and functional, many hanging along the walls over the heads of curious customers. Back in Thyme and its pedal cars have not only captured the attention of countless visitors, they have also earned Dunn and her store some television notoriety with appearances on the History Channel's "American Restoration."
Fifteen years after opening its doors, Back in Thyme is still a popular destination in downtown Boulder City, despite the influx of competition from competing antique dealers and vintage shops. In fact, the competition may even make things better.
"The other shops have actually helped, we may have been the first one to open on the street, but having a lot of options is what turned the area into a destination," said Bill Smith, who works with Dunn. "The hard part is staying ahead of the interests. When I first started doing this in the '70s, turn-of-the-century antiques were where the interest was, now you can't give that stuff away."
Sherman's House of Antiques, 1228 Arizona St.
Sherman and Brenda Wright opened Sherman's House of Antiques just over five years ago and in that time they have becomes an important part of the ever-growing antique element downtown.
The husband and wife work as a team to make their shop stand out among the great shops that surround them. Sherman has been collecting for 25 years and still goes out every week in search of old treasures in need of some love, and sometimes a little care.
Even before walking into the store Sherman's is unmistakable with large wooden statues and an array of furniture lining the sidewalk and the exterior of the building.
"He's so talented, so good at what he does," said Brenda, about her husband. "He goes out and collects so many of the pieces himself, and he's the one that does all of it himself. He finds these great old dressers and furniture and he fixes them, makes them better than new."
Inside the store is where Brenda works her magic with music set to specific time periods and rooms carefully curated to fit particular themes, including toys, Old West, vintage kitchen and Coca Cola.
"Every day everyone is amazed by what she's done here," Sherman said. "They look around and get lost in the different rooms; so many people tell me they've never seen anything like it."
Antique Depot, 525 Avenue B
Antique Depot was actually opened in 2003 by Dunn, but Kathy Jacobs took over ownership in 2005, and since then Jacobs and her daughter Melissa have made the shop their own.
They were the first local shop to focus on vintage clothing from the midcentury. According to Melissa they pioneered the concept of themed rooms. Their Christmas room is always a favorite, she said.
The Depot has made music one of its distinguishing features, with a wide selection of vinyl albums and restored audio equipment.
Another thing that separates the Jacobs from their competitors has been their eye for pre-World War II and Victorian items, finds that are uncommon even in Boulder City.
"Our focus has been on customer service and on authentic antiques," Melissa said. "We have household items, vintage clothing and jewelry for women and men, something for everyone really. But we don't do reproductions and we don't upcycle or repaint things; we think people are here for the original classic pieces."
Boulder City Antique Market, 1101 Arizona St.
Chris Alo took over the Boulder City Antique Mall three years ago and when he did so, he not only procured the family business he now runs with his son, Josnii Hernandez, he also became the proud owner of the only antique store around to feature its own auction house.
Inside what Hernandez says is the largest antique store in town are dozens of rooms, row after of them, each rented by a different collector offering a variety of goods to interested pickers. Some of the nooks are neatly organized with a unifying theme while others are incredibly busy, featuring a variety of items from decades gone by.
Throughout the store shoppers will find items new and old, and outside the store there are a few eye catching characters standing guard and welcoming the customers, among the more notable are Jar Jar Binks from "Star Wars" and a Predator, the alien from the eponymous film series.
"My dad orders the metal character sculptures from the guy that builds them in California," said Hernandez. "They stand out and always draw people in; they're pretty cool and you don't really see them anywhere else."
But the real feature of the market is the auction house, which is put to use at 6 p.m. on the first and third Friday of each month.
Goatfeathers Emporium, 1300 Wyoming St.
Looming large on Wyoming Street, Goatfeathers Emporium is not a traditional antique store, full of colorful collectibles that don't all fit into the usual box.
Although it does carry more than a few antiques, Goatfeathers also carries a seemingly endless supply of upcycled crafts, kitschy collector's items and unique gifts.
"We carry a little bit of everything," said Goatfeathers employee Pam Tope. "We have a mix of old and new, unique products made just for us and awesome vintage and antique pieces from as far back as midcentury."
While such a varied selection of products may have been a bit unusual a decade ago, there are now a plethora of shops that cater to more of a vintage sensibility than a pure antique aesthetic.
Many of the products eschew the requirements of aging and instead appeal to a more recent nostalgia and the appropriation of older items by artists with a newer sensibility.
Contact reporter Hunter Terry at hterry@bouldercityreview.com or call 702-586-6711. Follow him on Twitter @HunterBCReview