Boulder's Best: Dam good burgers you need to try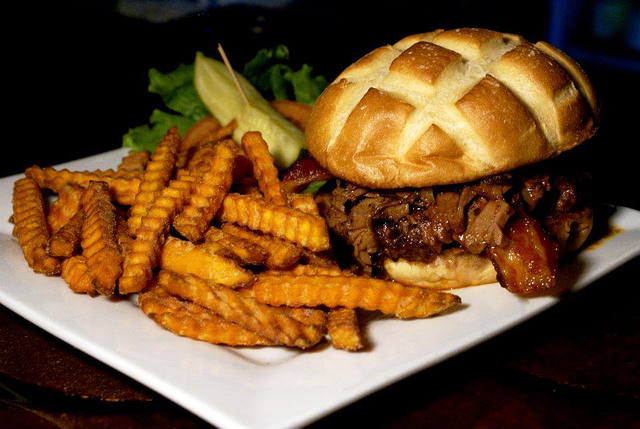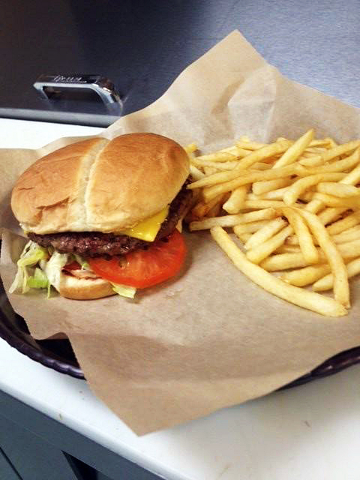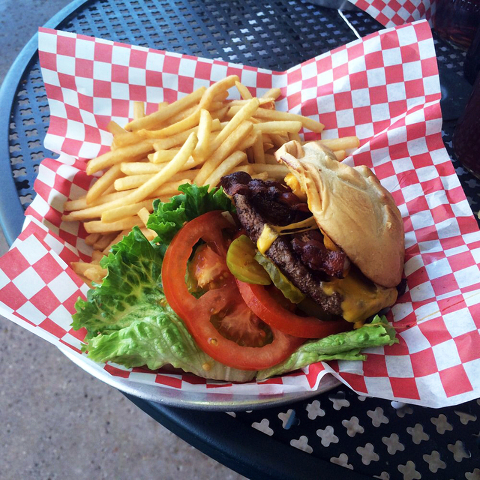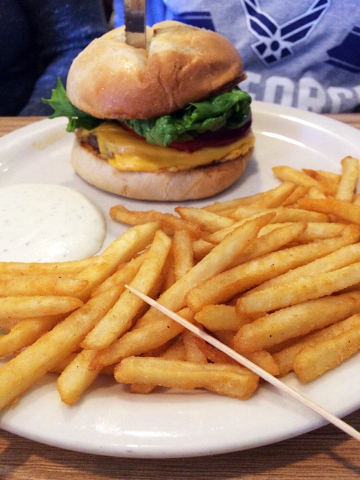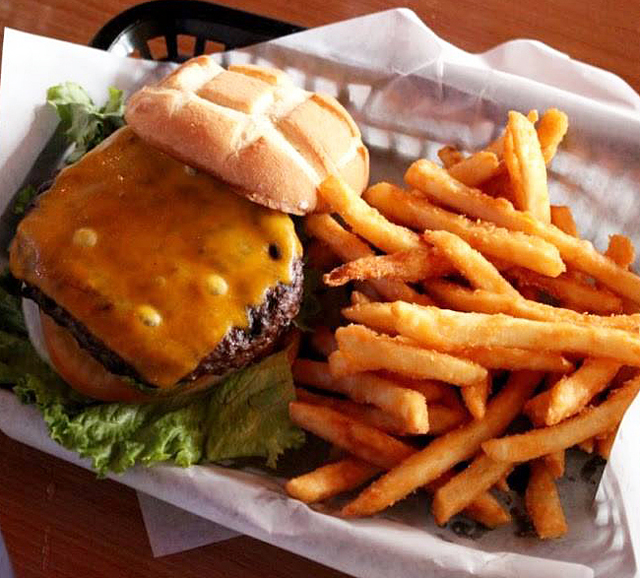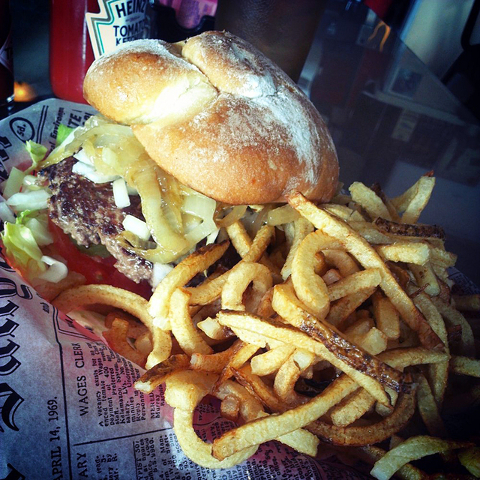 For many people there are few things in this world that make one's mouth water like a juicy burger and fries. Luckily, for Boulder City residents there are some great places in town to satisfy their cravings.
Here are some of the best places to get a handmade burger not too far from home.
The Dillinger Food and Drinkery, 1224 Arizona St. The No. 1 burger place according to our reader vote is The Dillinger. Putting it simply, the place is known for its variety of gourmet burgers. The restaurant features 13 burgers on the menu not including burger specials.
Fan favorite: The Dillinger: It is not much of a surprise that the Dillinger is the favorite burger of the restaurant's patrons. It's a half-pound burger topped with applewood-smoked bacon, cheddar cheese and the signature serving of beef brisket on top of everything else.
Dillinger head chef Luis Ruiz said the brisket really puts the burger's taste over the top.
"I really love the brisket," he said. "We make the barbecue sauce with our own special recipe. The brisket really brings the Dillinger burger over the top and it is by far our best-selling burger."
Employee choice: One of Ruiz's favorite burgers is not a mainstay at the restaurant. The Poncho Villa is a must for fans of mouth-burning heat. The burger is smothered in pepper jack cheese with jalapenos and to top it all off some jalapeno bacon.
"It is one of our best burgers," Ruiz said.
Burgers at the Dillinger start at $9.
Boulder Pit Stop, 802 Buchanan Blvd. This restaurant placed second in our reader poll. It's a great place to eat if you are looking for the classic burger and fries combo.
Fan favorite: Pit burger: You can't go wrong with a classic and the Pit burger topped with lettuce, tomato, onion and special sauce is the perfect example of a burger that doesn't try to be fancy, just good. Of course for a little bit extra you can add cheese, green chili, mushrooms, jalapeno or avocado. The Pit burger starts at $4.95, with toppings costing extra.
Employee choice: Boulder Pit Stop owner Robert Czarniak said you can't go wrong with the Pit burger. "Our burger is made with really high-quality ingredients. The Pit burger is the perfect size and quality. It is made out of some really good stuff," he said.
Southwest Diner, 761 Nevada Way. This diner is well-known for its breakfast food, but some of our readers seem to really love the restaurant's burgers because the eatery placed third in our poll.
Fan favorite: Frisco burger: It's a burger with cheddar cheese, lettuce, tomato and onion sandwiched between two pieces of fresh sourdough bread. Southwest Diner owner Cindy Ford said the sourdough is what really makes the Frisco taste so good.
"The sourdough just makes the burger taste really good," she said. "We get our bread shipped fresh from Great Buns Bakery."
Employee choice: Barbecue bacon burger. This burger smothered in barbecue sauce with an onion ring on top is another burger favorite for the patrons of Southwest Diner.
"The BBQ sauce just soaks into the meat and it taste so good," Ford said.
Burgers at Southwest Diner start at $8
Boulder Dam Brewing Co., 453 Nevada Way. This is the place to go in Boulder City if you are looking for a burger with your pint. The Brewpub a variety of gourmet burgers to pair with its large selection of craft beers. Cost of a burger ranges from $8.45 to $9.45.
Fan favorite: Brewpub burger: A classic burger of lettuce, tomato, onion and cheese. Boulder Dam Brewing Co. General Manager Mark Clements said the Brewpub burger is the go-to burger of choice for customers who need some food with their beer.
"People will spend 30 minutes picking out a beer, but they always eat a classic burger like the Brewpub burger."
Employee choice: Bleu-ery burger: A patty drenched in steak sauce and bleu cheese crumbles sprinkled on top makes this Clement's burger of choice.
Jack's Place, 544 Nevada Way . A relaxing little sports bar with over 15 beers on tap and a full food menu, Jack's is a great place to kick back, watch a game and get a burger.
Fan favorite: Jack's burger: Jack's Place only has one burger that is a mainstay on the menu, but according to Jack's Place owner Jack Gaal it is one of his best selling items.
"It is an incredibly high-quality product," Gaal said.
The burger is served with lettuce, tomato, onion, pickles, and Thousand Island dressing on a half-pound patty. The burger is $9 and you can add cheese for an extra $1.
Employee choice: Sunrise burger: Jack's Place server Chelsea Rozycki said her favorite burger is a special one that is not always on the menu. The Sunrise burger is topped with ham and a fried egg.
"You really can never go wrong with an egg on your burger," she said.
Little City Grille, 825 Nevada Way. This tiny restaurant host a huge list of gourmet burgers. Each burger is hand pressed and placed on a homemade potato bun. The restaurant has a selection of 11 burgers starting at $5.50.
Fan favorite: Green chili burger: Little City Grille owner Lee Bennett said restaurant patrons love all of his burgers, but he is constantly cooking up orders for the green chili burger. It's a third-pound burger with tomatoes, ranch, pepper jack cheese and, of course, green chilies.
"All of our burgers have their own fan following, but our customers give a lot of love to the green chili burger," Bennett said.
Employee choice: Five Alarm burger: If Bennett had to choose between one burger, it would be the five alarm burger. This burger is smothered in pepper jack cheese, salsa and jalapenos. "The five alarm has a real zip to it," Bennett said.
The Restaurant at Boulder Dam Hotel, 1305 Arizona St. The restaurant has a number of burgers on its menu throughout the year.
Fan favorite: Silver Street burger: A specialty burger that is not always on the menu, the Silver Street is topped with Swiss cheese, mushrooms and a piece of ham. It's a big seller whenever it comes around.
"It sells really well when we have it," head chef Craig Cole said.
Employee choice: If you are out to lunch at The Restaurant and don't have the opportunity to try the Silver Street you can get its classic burger that you can customize with whatever toppings you want.
World Famous Coffee Cup, 512 Nevada Way. This local diner is mostly known for its breakfast, but the menu also features a few gourmet burgers starting at $9.
Fan favorite: Dakota burger: Coffee Cup chef Jay Lavetoria said the most popular burger by far is the Dakota burger. It's the Coffee Cup's take on a barbecue bacon cheeseburger with an onion ring and Thousand Island dressing added for a little extra taste.
"It is a really good burger," Lavetoria said. "I make it all the time."
Employee choice: Kahuna burger: Lavetoria said he is partial to the Dakota burger, but that you can't go wrong with the Kahuna burger. It's a third-pound beef patty topped with teriyaki sauce and a slice of pineapple.
Contact reporter Max Lancaster at mlancaster@bouldercityreview.com or at 702-586-9401. Follow him on Twitter @MLancasterBCR.