Bogart makes world's best chili
November 19, 2014 - 4:44 pm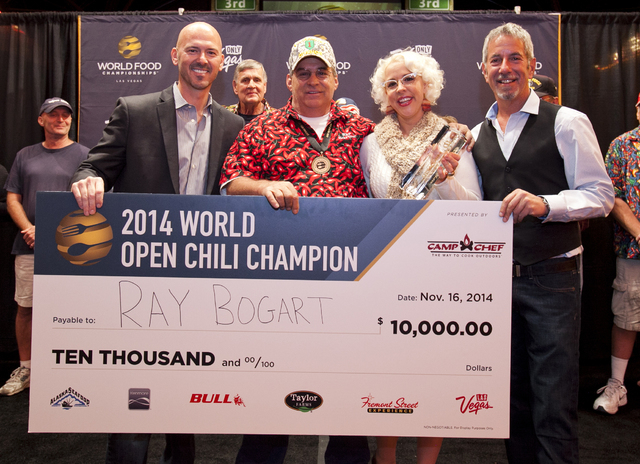 Wisconsin has cheeseheads, other places have lemonheads or orangeheads, but Boulder City has it's very own "chilihead."
Ray Bogart, New York transplant and Boulder City resident "off and on" for the past 30 years is not only a chilihead, he is a champion chili chef.
The champ was in fine form this past weekend, being named World Open Chili Champion Sunday at the World Food Championships in Las Vegas. Bogart "tastily" bested a packed field in two rounds of competition and won $10,000. He moved on to compete Tuesday night for the $100,000 grand prize, placing sixth out of the nine category champions in the grand finale.
The 2014 World Food Championships featured 400 of the world's best cooks, pitting everyday chefs and professionals in head-to-head competition to battle it out for thousands of dollars and the title of the World Food Champion in nine food categories: BBQ, chili, burger, sandwich, recipe, dessert, bacon, pasta and seafood.
Bogart moves on to Blythe, Calif., this weekend. He competes 30 times a year and has been unstoppable since winning the Nevada State Championship in 2011.
Bogart and his wife, Mary, compete on the circuit throughout the year and in November 2015 will defend his back-to-back World Open Chili Championships from 2013 and 2014 in Kissimmee, Fla.
This father of three and grandfather of seven has been competing professionally for the past nine years and loves it.
"It's a great hobby for us. I cook, and my wife cleans up behind me; we love it," Bogart said.
"I was in Oregon and was goaded into competing against the professionals when they came to town. I beat them all and they asked me to join the competitions professionally," he said.
Having retired from the local Laborers Union and spending another eight years at the Hacienda before retiring again, he has found the perfect niche to begin his next career. The Bogarts enjoy the camaraderie and friendships that they have formed during the past years and always welcome the opportunity to see friends and cook.
"If someone is missing an ingredient or needs a pot, everyone is willing to share. If a competitor needs a place to stay, folks will open up their homes. It's just good friendly competition," Bogart said.
Bogart said his favorite chili to cook is his chili verde because he loves the green chiles.