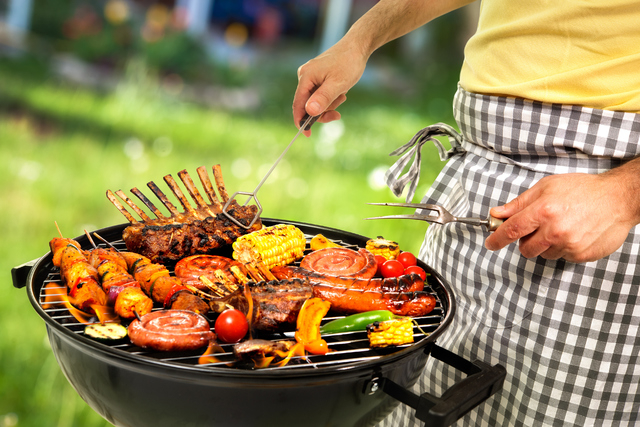 Cancel your Memorial Day weekend plans and arrive with an empty stomach Friday and Saturday for Boulder City's tastiest competition of the year.
About 40 barbecue teams will roll their smokers onto the Bicentennial Park lawn and fire them up Friday afternoon, hoping to win the judges's hearts with their signature ribs, pork, brisket and chicken recipes in the 12th annual Best Dam Barbecue challenge.
A panel of professionally-trained barbecue judges will pick their favorite dishes on Saturday and award $12,000 in cash prizes to the teams with the best food.
Whoever wins the challenge, designated by the state as the Nevada State Barbecue Championship, will automatically qualify for the Jack Daniels World Championship Invitational Barbecue, also known as "The Jack," in October.
And the good news for attendees: you don't have to be a trained professional to sample some of the best barbecue around. The event will feature several booths serving racks of ribs and pulled pork sandwiches, among other cookout favorites.
Wash down the smoked meats with beer, margaritas and lemonade and then head back for more festival favorites such as Dole soft-serve, cotton candy, funnel cake, fresh kettle corn and more.
Patrons can ogle restored classic cars at the Best Dam Car show and enjoy live acoustic guitar performances while your food digests, and don't miss the annual rib-eating contest between the Boulder City police and fire departments, where the police department will defend it's five-year title as the rib-eating champion.
The event, which is the Rotary Club of Boulder City's biggest fundraiser, is free to the public and also caters to kids: There will be a "KidsQue" grilling lesson and competition where children 6 to 17 years old and with all levels of cooking experience will be split into two age groups and compete for a $200 award (and trophy!) for best barbecue.
The event runs 4 p.m. to 10 p.m. Friday and 9 a.m. to 6 p.m. Saturday and will feature games, rides, a giant inflatable slide, a rock wall and bounce house for the little ones, and vendors selling clothing and barbecue tools and products for their fashion- and grilling-inclined parents.
Contact Kimber Laux at klaux@bouldercityreview.com or 702-586-9523. Find @lauxkimber on Twitter.