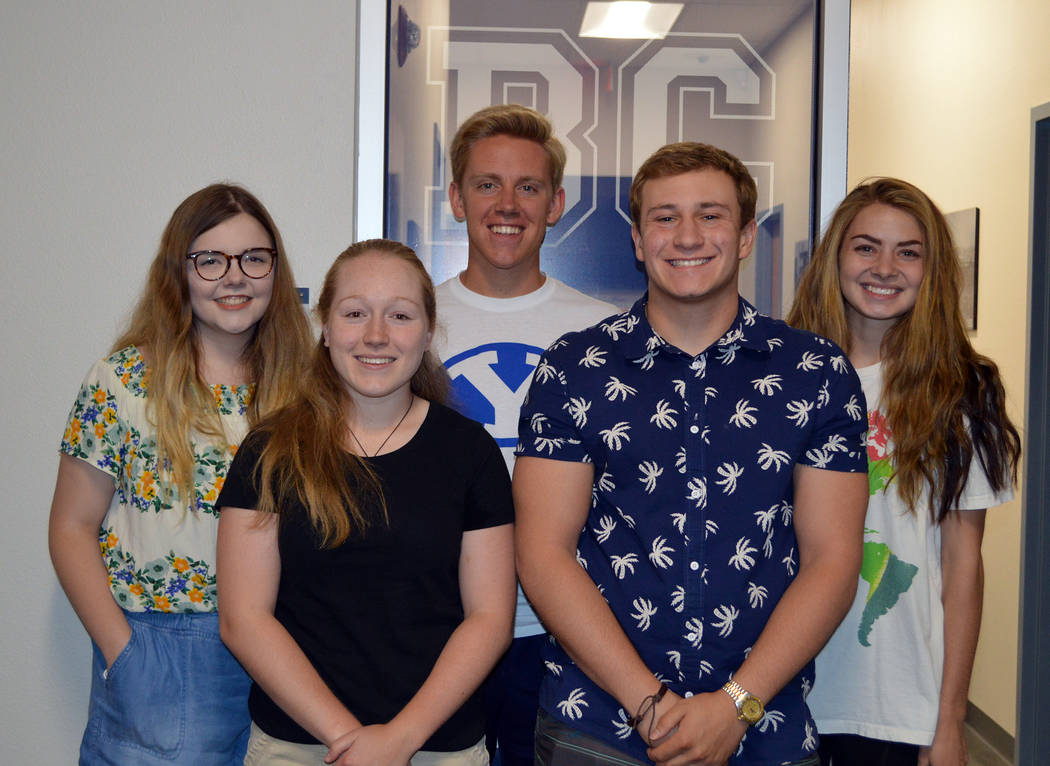 As their high school careers draw to a close, the valedictorians and salutatorian of Boulder City High School reflect on their pasts and weigh in on their futures.
All five are all thankful for their time in high school and looking forward to college and what lies beyond it.
"I'm excited to make an impact in the world," said valedictorian Kenadee Bailey. "I'm excited to learn about things I want to learn about and become the individual I want to be."
Fellow valedictorian Mira Newby is looking forward to be taken seriously.
"In college, I don't think they care how old you are," she said. "Everyone is respected and taken seriously."
Salutatorian Alea Lehr said that she is looking forward to experiencing new things, research opportunities and cultures, as she is going to college in the Midwest. She's added that she is also looking forward to experiencing real life without it completely being real life.
The two other valedictorians are looking forward to the freer aspects of college life versus high school living.
Tyler Campbell said he is excited to finally be in control of his own life, and Michael Martinelli said he is looking forward to not having to justify everything he is doing.
"No one is going to ask why did you wear that shirt?" Martinelli said. "You don't have to feel like you have to answer for everything."
They are also thankful for what they endured in high school, and its preparation for their upcoming college experience.
"I feel like high school has helped us because it's a time where there's a lot of change going on, and you learn who you are in that," Campbell said.
"I've struggled with migraines," Newby said. "I missed a ton of school in the first two years, but I feel like that's made me want to do more and exceed everyone's expectations."
As graduation approaches, the seniors also had the opportunity to reflect on their favorite parts of high school.
Campbell said his favorite part of the four years was lunch because it was a time to socialize with friends and eat food.
"Food is a must-have," he said, who burns hundreds of calories a day as part of the school's athletic teams.
Bailey's favorite part of high school was sports.
"It was so fun to be involved, meet people and stay active," she said.
Martinelli also enjoyed spending time with people during high school whether at school, practice or games.
"I just like being around students and teachers," he said. "They're pretty cool, too."
Newby enjoyed volunteering during high school because she didn't grow up in Boulder City.
"I came here in sixth grade," she said. "I was able to meet people and volunteer at the elementary schools, so I could experience it even though I didn't go there."
Lehr said she enjoyed something different about high school: seeing the changes it brought.
"Coming from middle school, it's a change … just seeing how people and society changes over a four-year time has been great," she said.
All five are going to college in the fall.
Campbell and Bailey are attending Brigham Young University in Provo, Utah, where Campbell will study mechanical engineering, and Bailey will study accounting with a minor in business management.
Martinelli and Newby will be students of the honors program at the University of Nevada, Reno. Martinelli will study computer science and secondary education, and Newby will study veterinary science.
Lehr is attending Wisconsin Lutheran College where she will study marine biology.
While at Boulder City High, all of the students maintained at least a 4.0 GPA. Counselor Rebecca Ballistere said to be named a valedictorian they must have achieved a 4.8 GPA
Contact reporter Celia Shortt Goodyear at cgoodyear@bouldercityreview.com or at 702-586-9401. Follow her on Twitter @csgoodyear.