BCHS students' films honored at annual awards show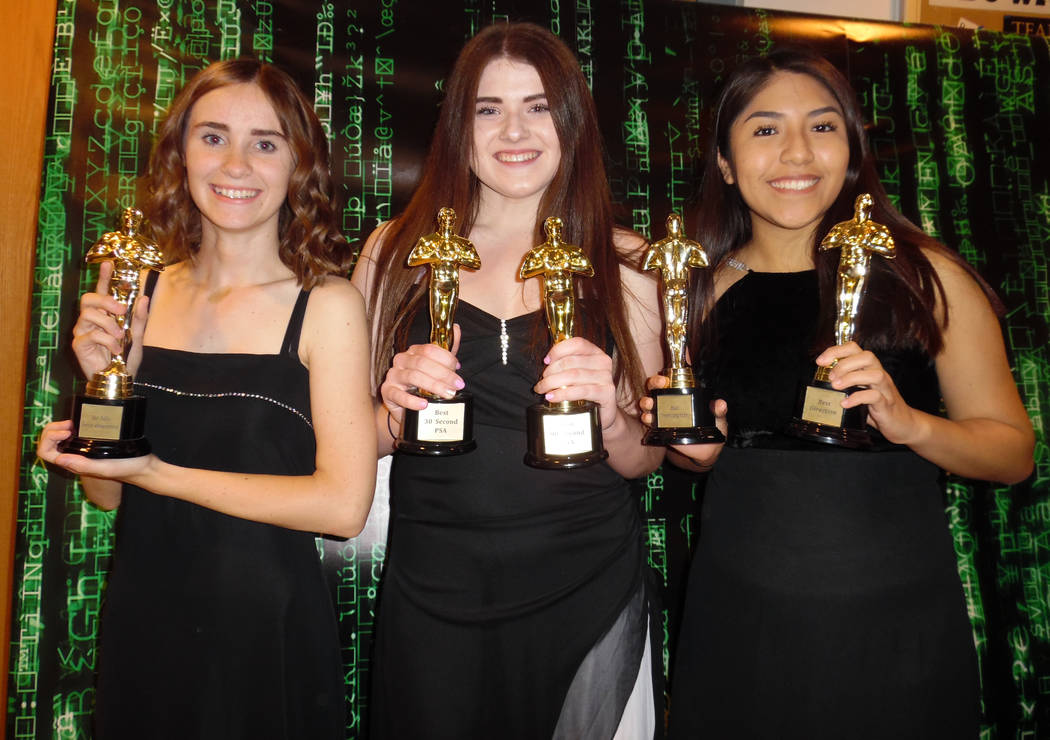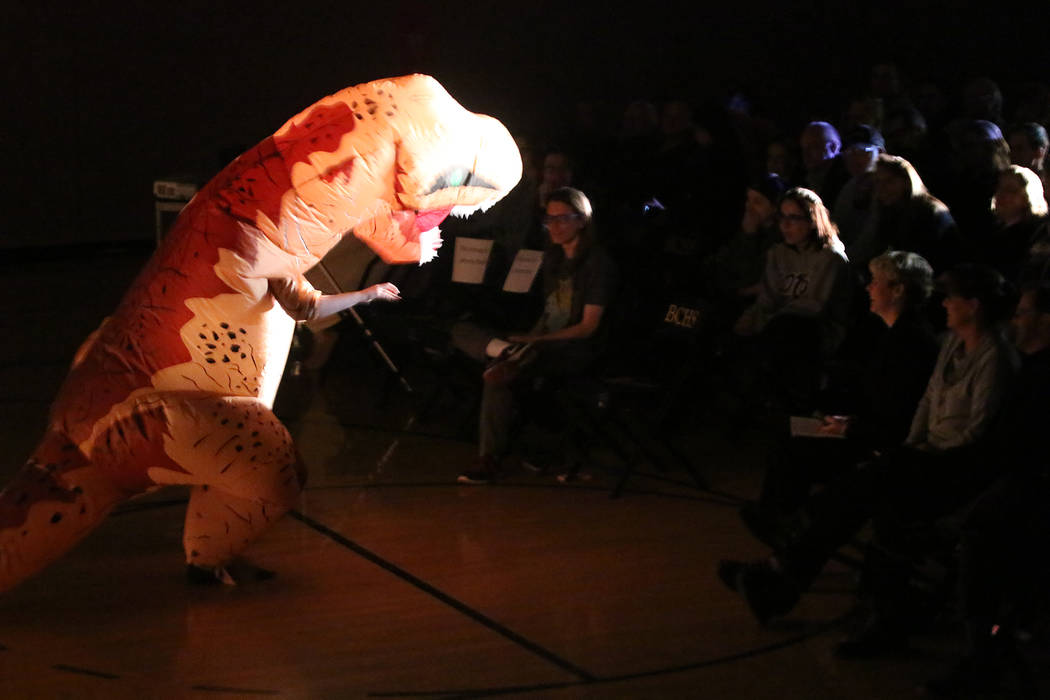 Like the Academy Awards, but on a slightly smaller scale, Boulder City High School film students' achievements were recognized March 30 during the fifth annual Boulder City Movie Awards.
Jessica Smith, a third-year film student, was the evening's big winner, walking away with four awards: best picture, best direction and best cinematography for her short film "The Magician," and best music video for "In My Veins."
Her short film also garnered the best actress award for Aimee Finn.
Smith, who also co-hosted the show along with Josephine Lucas and Denis Victorino, said she was happy to be involved with the film program at the school.
"This has influenced me immensely. I found a new talent and a new interest," she said, adding that she plans to major in film when she starts at UNLV in the fall.
She said before she took the class she had no idea she was interested in film making, and her time in the classes made her realize how much she enjoyed it.
Jillian Gentz also walked away with multiple awards, winning three for her short film "Dead End." She was honored with best sound, best effects and best editing.
"Students did an incredible job this year with producing their films, and true talent was on display at the BCMAs," said teacher and film program adviser Canaan Petersen. "The individual students who helped make the fifth annual Boulder City Movie Awards a success deserve a ton of credit as well. Specifically, my emcees Jessica Smith, Denis Victorino and Josephine Lucas, did an amazing job not just in the show but helping me produce the entire thing. After all, hosting a show designed for the theater in an auxiliary gym isn't exactly ideal, but it turned out well."
The awards ceremony was dedicated to the 1990s, with Lucas, Smith and Victorino portraying characters from the film "Clueless."
"I was really exciting to be picked as the hosts because 'Clueless' is an awesome movie," Smith said.
There also were tributes to the films "Men in Black," "Forrest Gump," "Titanic" and "Jurassic Park" as well as the television show "Friends."
Victorino said getting ready for the awards ceremony was pretty stressful because the event was moved to the auxiliary gym because the theater is being torn down and replaced.
"Then it all came together," she said.
"Everything kinda clicked," added Lucas. "Everybody worked well with the situation."
Hali Bernstein Saylor is editor of the Boulder City Review. She can be reached at hsaylor@bouldercityreview.com or at 702-586-9523. Follow @HalisComment on Twitter.
Movie Award Winners
Best picture
■ Film I: Jackson Tobler and Maida Nelson for "Project Night Watch"
■ Film II: Jessica Smith and Greta Bassano for "The Magician"
Best music video
■ Film I: Olivia Hyde, Tori Spinkelink, Madisan Walker, and Hailey Powell for "You and Me"
■ Film II: Jessica Smith for "In My Veins"
Best direction
■ Jessica Smith for "The Magician"
Best actress
■ Aimee Finn for "The Magician"
Best actor
■ Cole Smyth for "Insomnia"
Best screenplay
■ Josephine Lucas and Samantha Ortiz for "The Colors of My Heart"
Best editing
■ Jillian Gentz for "Dead End"
Best effects
■ Jillian Gentz for "Dead End"
Best sound
■ Jillian Gentz for "Dead End"