Artist paints with fabric
September 6, 2017 - 2:29 pm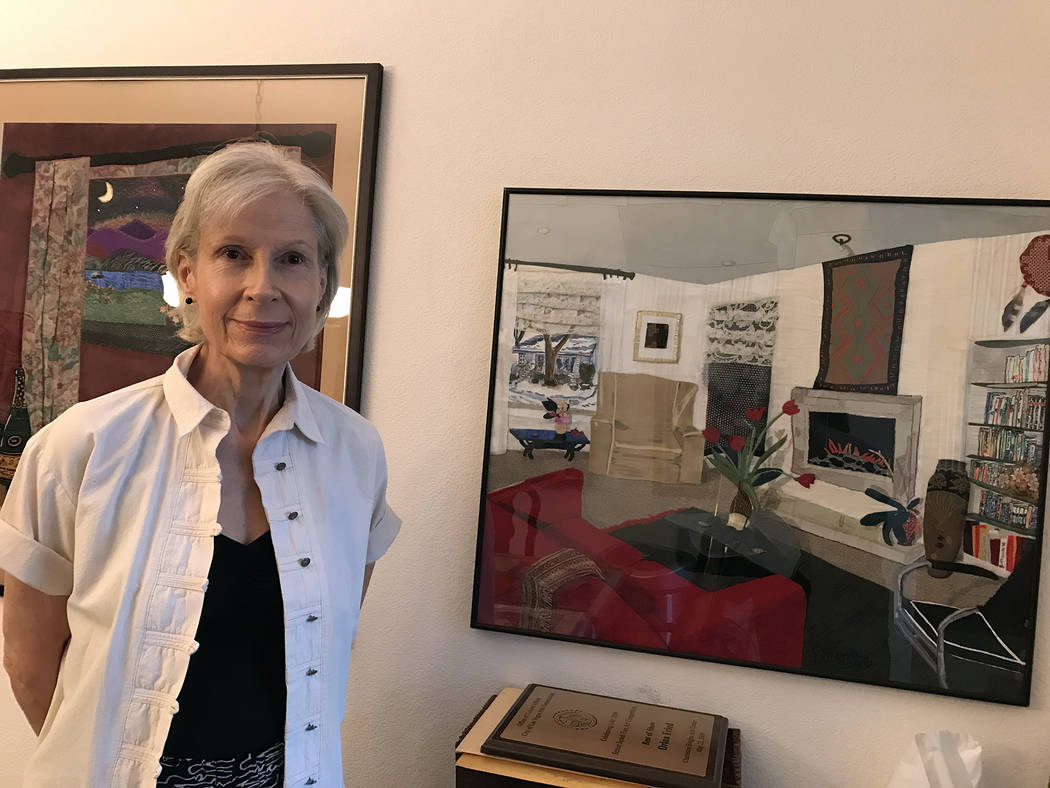 Drina Fried sees the world in colors and textures — but not ordinary colors and textures. She sees the world in fabric swatches.
Exposed to fine fabrics as a young girl by her father, who made displays for fine jewelry, she learned to combine her skills as a watercolor artist with a newfound love for sewing, which she discovered in the mid-1990s.
Her work, showcasing embellished fabric collages, is on display this month in the Boulder City Art Guild's gallery inside the Boulder Dam Hotel.
Fried says she typically starts with a piece of linen and then begins "painting" by adding various fabrics such as brocade, organza, lace, lame and velvet to create her design.
Once all the fabric has been added, she embellishes the work with pieces of crystal, glass, broken bracelets and paint.
Although each piece is unique, images from one painting can often be found in another of her works.
"I could paint, but this is my niche," she said of her work.
Fried has been an artist since she was a child. She was inspired to paint and draw after winning a coloring contest and its $25 prize when she was 8 years old.
After a career in dental hygiene, she became a school psychologist and was working in Bakersfield when she began sewing.
Fried said the home economics teacher's class was next to her office and she asked for sewing lessons.
Pieces of fabric can be found everywhere in her home, as can pictures she created. Fried even has a room set aside for her "failures," which are collages that didn't come out quite as she intended but are beautiful and unique nevertheless.
Just as she carefully applies pieces of fabric to her "canvas," Fried carefully selects a name for each creation.
"What you name a picture determines what people want to see," she said.
A native of New York, Fried had been a resident of Southern Nevada since 2008 and is a member of the Boulder City Art Guild. She is a three-time cancer survivor.
In addition to showing her own award-winning work, Fried helps manage the work of her late grandmother, author Taylor Caldwell, who wrote 33 best-selling novels.
A reception in Fried's honor will be held from 4 to 8 p.m. Saturday, Sept. 9, in the gallery. All are welcome to attend.
The gallery is at 1305 Arizona St. It is open from 10 a.m. to 4 p.m. Monday through Saturday and 10 a.m. to 3 p.m. Sunday.
Call 702-293-2138 for additional information.
Hali Bernstein Saylor is editor of the Boulder City Review. She can be reached at hsaylor@bouldercityreview.com or at 702-586-9523. Follow @HalisComment on Twitter.
Artist reception
When: 4-8 p.m. Saturday, Sept. 9
Where: Boulder City Art Guild Gallery, 1305 Arizona St.
Cost: Free
Info: 702-293-2138