'Alabam' statue wins 'Outrageous' award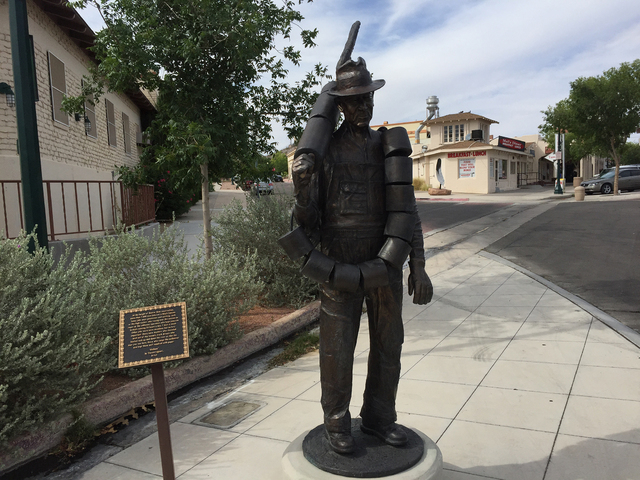 That recognizable statue of the man carrying toilet paper on Wyoming Street and Nevada Way is more than just a Boulder City staple.
The bronze statue known as "Alabam" is now nationally recognized after Sunset magazine named it the Most Outrageous Roadside Attraction of the West for 2015.
According to Sunset magazine, "Alabam" collected more votes than the other five entries combined, including the International U.F.O. Museum in Roswell, N.M., and Randy's Donuts in Inglewood, Calif.
It was the only one of the 28 travel awards that was selected by readers.
The statue, sculpted by Steven Liguori, shows the less glamorous job of the men who stocked the outhouses while working on the Hoover Dam. Complete with 15 rolls of toilet paper and two rolls of paper towels, "Alabam" was based on an actual photograph of a man who held the job, according to Darlene Burk, chairwoman of the Boulder City Public Art Scape.
"The Bureau of Reclamation hired a person, and that's all they did. They kept the outhouses filled with toilet paper. That part is very, very authentic," she said.
"Alabam" was the first statue the city bought in 2007. According to Public Works Director Scott Hansen, it was around that time when former City Manager Vicki Mayes organized a committee of local art enthusiasts to ask for proposals of different statues to display around town.
Burk, who was part of that committee, said "Alabam's" history has been great for the town. The city has since purchased more than 20 statues, Hansen said, but "Alabam" was the first.
"I think it's very exciting and a big plus for the city," Burk said about "Alabam's" recognition. "The city should be really happy and complimented for having some of the history of Boulder City. I'm very pleased."
Paid for through grants from the city's redevelopment agency, the statues have provided tourists with ample photo opportunities. Their brief, historical anecdotes help to educate those who aren't familiar with Boulder City.
Hansen said the statue was put into place just as the city opened up a new restroom at the old Los Angeles Department of Water & Power building where "Alabam" currently stands. He said "Alabam" was like the unofficial welcome to the new restroom in the downtown district.
"I think it's great. Our very first goal is that brand and image of Boulder City as a community that tourists want to visit," he said.
Contact reporter Steven Slivka at sslivka@bouldercityreview.com or at 702-586-9401. Follow him on Twitter @StevenSlivka.