A Boulder Taste: Former classmates Marty, Lois Bush reunite, blend opposite lifestyles
January 20, 2016 - 4:18 pm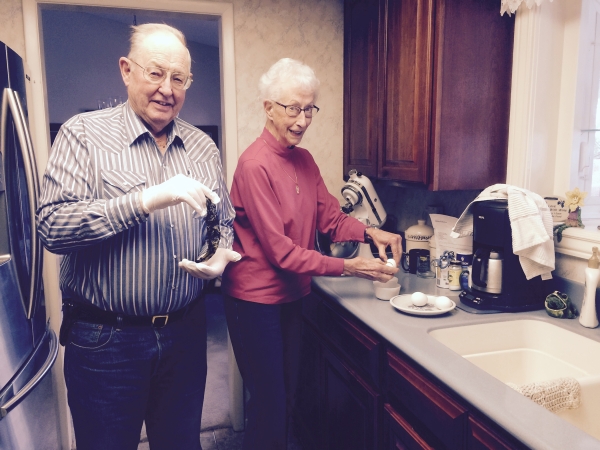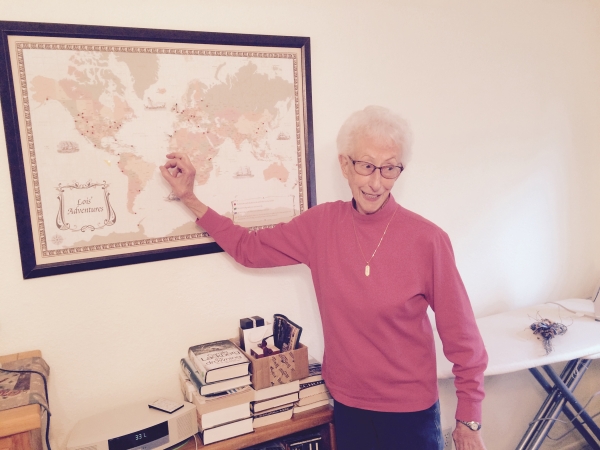 It's true what they say: Opposites attract.
Lois and Marty Bush are living proof of that statement.
When they were classmates at Boulder City High School, Lois was tall, for a girl, and Marty wasn't.
Lois graduated and moved to the East Coast. Marty didn't quite finish that final year; having enough credits he left midyear and joined the Navy Seabees.
Later he returned to BCHS and received his diploma.
"Mrs. (Lillian) Honeycutt, the counselor, talked for at least an hour before she would give it up," Marty said.
When their class held its 50th reunion in 2006, he almost didn't show.
"I didn't want to go see a bunch of old people," Marty said.
He finally decided to go and that is where he and Lois were reunited.
Marty has led a westerner's life working for multiple corporations and government agencies as a "lineman" for power systems and eventually ended up with the Bureau of Land Management.
During his BLM days, his job was finding and mapping ancient Indian campsites and helping to preserve the artifacts and history throughout the Western U.S.
"I learned to read the Indian petroglyphs and a lot of times the archaeologists didn't think I could understand what they meant. It wasn't that the Indians were trying to be mystical or anything, they were just writing down instructions and information for the next feller coming along," Marty said.
"One time we saw a path down a cliff that looked like a dead end halfway down. Beside the path was a drawing of three sheep, one of which was missing its head. The archaeologist was puzzled and couldn't figure it out so I scrambled down the side to see what was there. I found a hidden passageway under the boulder and to the rest of the path. So what the drawing meant was keep your head down," chuckled Marty.
While traveling the West, Marty learned to carve using natural elements such as elk or moose antlers or wood. When he wanted to draw or paint he even resorted to store-bought pads and canvas to document some of the sights and scenes he saw during his travels in the Sierras and other areas. He also taught himself to "chip" obsidian arrowheads and other pieces of sculpture, which are strikingly accurate and detailed.
He seems to see a picture in almost everything and has the talent to bring it to life.
Meantime on the other side of the country, Lois wasn't resting on her laurels. Having moved to the Canadian border country in New England, she attended Syracuse University where she majored in home economics. She became editor of the yearbook and taught home economics for more than 30 years.
"It was always my dream to come back to Boulder City," she said.
Her daughter was in "pony club" with Olympian skier and gold medalist Diann Roffe and Lois was involved with teaching. She also became a professional dog breeder and at one time was a part owner of a kennel, raising English setters.
"I loved working in the arena with the dogs and even had the opportunity to show at Westminster," Lois said.
Unfortunately, a skiing accident ended her career in the arena and she moved on to other adventures.
Those adventures are what keeps her on the move now. Traveling constantly, sometimes with Marty and other times with friends, she has seen many exotic locales and some of the more unusual areas of the world.
"I just sit here and wave as she passes through," Marty jested.
"I've slept or walked on every continent and never pass up a chance to try everything at least once," Lois added.
"My next trip is to Cuba with some friends, but probably my favorite was snorkeling in the Galapagos (Islands) with the beautiful water and the turtles. I recently came back from Turkey and India, which was truly exciting," she said.
She quilts and is currently involved with making lap robes for the long-term residents at Boulder City Hospital as well as being active in Philanthropic Educational Organization, Chapter AF, and her church, Grace Community Church.
When she slows down a moment she enjoys cooking for her friends and Marty, who is quite the "kitchen hand" himself.
In their kitchen the term "East meets West" takes on a whole new meaning. Although after many years of teaching students to cook Lois said she is happy to relinquish most of that "chore" to Marty.
Chiles Rellenos
6 slices Monterey jack cheese
6 Anaheim chili peppers, roasted, peeled and seeded
3 eggs, separated
2 tablespoons flour
¼ teaspoon salt
¼ teaspoon baking powder
Oil for frying
In a small bowl, beat egg yolks with flour, salt and baking powder.
In a large bowl, whip the whites until soft peaks form. Fold the whites into the yolks.
Chilies should be roasted, peeled and seeded. Cheese is to be stuffed into the center. Refrigerate for one hour.
Fill a heavy skillet with oil to a depth of ½ inch. Heat oil to 375 degrees or until a cube of bread browns in 60 seconds.
Dip a few chilled rellenos in egg batter and fry in the hot oil until golden on one side; turn and fry until golden on the other side. Drain on a paper towel and keep warm while frying the remainder.
Serve on warmed plates with green chili or ranchero sauce.
Sauerbraten
4-pound rolled rump roast
1½ cups vinegar
Water to cover
5-6 carrots, thinly sliced
6 onions, thinly sliced
4 bay leaves
12 peppercorns
4 cloves
Handful of pickling spice
Put all spices in a cheesecloth or spice bag.
Wipe meat with a damp cloth, then sprinkle with salt and pepper.
Place in earthenware or plastic dish. Add vinegar, water, spice bag, thinly sliced carrots and onions. Refrigerate, covered, for 3-5 days.
Drain, reserving the juices. Brown meat on all sides in a Dutch oven. Add enough liquid for braising. Cover and cook until tender, about 3-4 hours.
For gravy, add ¼ cup sugar, 12-15 crumbled gingersnaps, cornstarch and salt, if needed. It will take about 10 minutes for the gravy to thicken.
Serve with potato dumplings.
Potato Dumplings
4 cups cold, riced potatoes
1 cup fresh bread crumbs
4 teaspoons melted butter
1 teaspoon grated onion
Dash of pepper
3 eggs
1 teaspoon salt
¼ cup flour
Fried, buttered croutons
Boil potatoes and rice while hot. Cool.
Add all other ingredients except croutons. Mix well.
Put 3-4 croutons in the center of a ball of dough. Roll in flour. Boil in salted water, uncovered, for 3-5 minutes (untill they rise to the surface).
Baked Caramel Corn
1 cup margarine
2 cups brown sugar
½ cup corn syrup
½ teaspoon salt
½ teaspoon baking soda
1 teaspoon vanilla
6 quarts popped popcorn
Peanuts, optional (cocktail peanuts are best)
Melt margarine; stir in brown sugar, corn syrup and salt. Bring to a boil, stirring constantly. Boil without stirring for five minutes. Remove from heat; stir in baking soda and vanilla.
Using two large, shallow baking pans, gradually pour over popped corn, mixing well. It will be hard to evenly cover the popcorn, but it will cover after it has been in the oven for 15 minutes.
Bake in a 250-degree oven for one hour, stirring every 15 minutes.
Remove from oven; cool completely. Break apart.