40 kids participate in cardboard boat race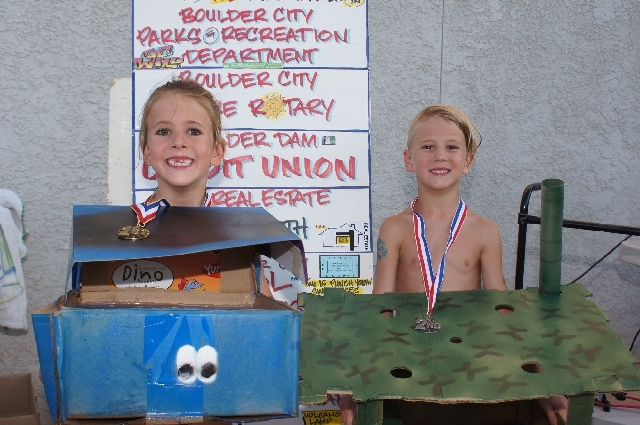 Approximately 40 local kids participated in the city's Parks and Recreation Department's 13th annual Cardboard Boat Race on July 17. Nearly 100 boat "cheerleaders," mostly parents and families, learn-to–swim participants, and deep water aerobics class members that also stayed to cheer the participants on.
This year's main sponsors included the Sunrise Rotary and the Boulder Dam Credit Union. Boulder City Dairy Queen, BC Real Estate's Cokie Booth, Ace Hardware, Grandma Daisy's, Boulder Bowl, Southwest Diner, and Periwinkle Cottage also generously donated to the event.
Every child participated at no cost because of the sponsors, went home with a raffle prize and was given a goodie bag and a participant ribbon. Special awards were judged by Mayor Roger Tobler, Mayor ProTem Cam Walker and Councilman Rodney Woodbury.
Top winners for most original went to Avery Huysentruyt; historic to Jared Benson; funniest to Ashlyn Lappin; and a single Mayor's Award, which went to Katie Kucik. The Titanic Award went to Elodie Beutler.
First- and second-place medals were awarded for the top two finishes in two heats in three age groups, and one heat in one age group.
Phoebe McClaren and Zack Hesterman took first place in the two heats for ages 6 and younger; Jonathan Maynard and Sidney Selinger won the age 7-8 group; and Ethan Porter and Ariana Acosta won the 9-10 heats. Lauren Olson won the lone heat for ages 11-12.
Participant ribbons were given during the water races in all four age groups.
The Cardboard Boat Race is hosted every July. Feel free to contact the Boulder City Pool and Racquetball Complex, 861 Avenue B, for further information on this event, learn-to-swim classes, programs, events and more at 293- 9286.