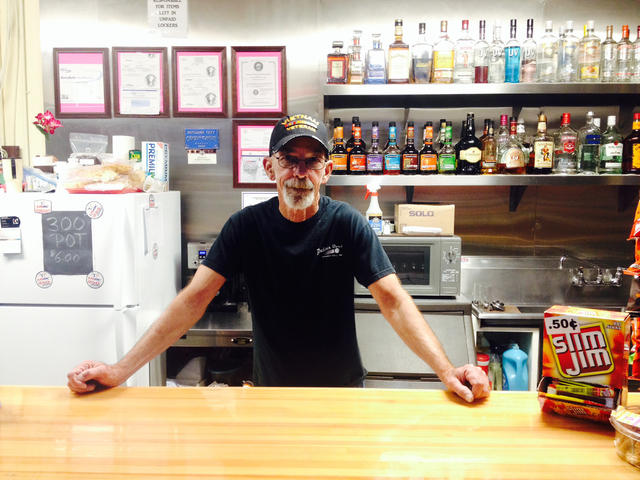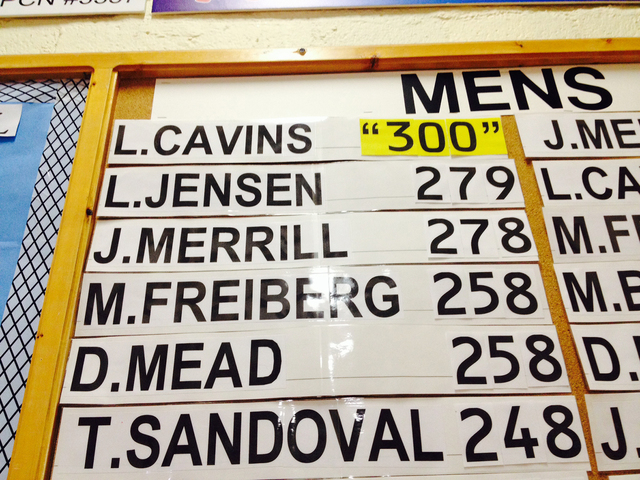 Lonnie Cavins wasn't supposed to bowl a 300 at Boulder Bowl. The odds were just too stacked against him.
Before Cavins bowled a 300 on June 20, there had only been five perfect games shot at the bowling alley that opened its doors in 1947.
Cavins had bowled a couple of 300s before in practice, but neither of them were sanctioned in league or tournament play by the U.S. Bowling Congress. But after throwing 12 perfect strikes during his Friday night league two weeks ago, Cavins did what only a few people had done before him.
And even though his first 11 strikes were solid shots, Cavins said he wasn't really confident as he stepped up to throw his final ball. That's what happens at Boulder Bowl when missing your mark by a single board can be the difference between a beautiful strike and a heart-breaking split.
There's a reason there have only been six perfect games bowled there in 67 years.
"I've thrown shots that I thought were perfect, and I'd leave a 7-10 split," Cavins said. "You just throw the ball and hope."
According to the USBC, there were 57,635 perfect games bowled across the country during the 2012-13 season, and 447,932 since the organization began keeping track in 2005.
Cavins won $566 from Boulder Bowl's "300 pot," a prize fund where bowlers put in a dollar and claim all the money in the pot if they shoot a 300 game. He also took home $300 from the Boulder Dam Credit Union, which gives $300 to anybody that bowls a perfect game at Boulder Bowl.
After hugs were shared and high fives were given, Cavins' wife, Diana, studied the lanes to see where her husband had thrown his shots. As a rare left-handed bowler, it was easy to point out the line he was playing.
"I looked back at his lay down point and it was just one ball on top of the other," Diana Cavins said. "He laid that ball down on the same board for all three games."
The mystery of Boulder Bowl is what makes Cavins' 300 so incredibly unusual. After he and Diana bought the place in 2012, Cavins became familiar with his new business investment. He said it's unlike any other bowling alley he's been in.
"You can leave at night, and all the machines will be running perfectly, but you come back the next morning, turn the lights on and you've got all kinds of problems," he said. "It's just part of the deal here. It's not normal at other bowling alleys. It's like there's ghosts in here or something."
Cavins grew up in Fairfield, Calif., and used to bowl as a way to pay the bills. He was forced to put his game on hold in 1969 when he was sent to fight the North Vietnamese in the city of Hue as an 18-year-old in the U.S. Army. While serving in Southeast Asia, Cavins nearly lost his left hand after an explosion happened right in front of his face, severing his fingers and lodging metal inside his hand.
Even after surgery to repair it, Cavins said he would still have to lay his hand on a flat surface and pound it to make it look right. Bowling, in the scheme of things, was one of the furthest things from his mind.
It wasn't until 2006 when he decided to get back into bowling, and in 2012 he and Diana bought Southern Nevada's oldest bowling alley and made the move to Boulder City from Northern California.
Even after they remodeled the bowling alley and replaced the outdated wooden lanes with new synthetic ones, the perfect games still weren't coming. Cavins, who carries a 212 average at Boulder Bowl, said it's because of the way he oils the lanes.
"I could make it a lot easier to where you could just close your eyes and throw the ball, but that doesn't make a whole lot of sense to me," he said. "Go to some of these other houses and they have four to five 300s a night. I keep it to where you have to make a good shot. If you can make a good shot here, you can make a good shot anywhere."
Cavins said he enjoys a challenge, much like the life-changing experience he had while serving in Vietnam. It's an experience he struggles to put into words.
"It's very difficult to explain to someone what that's like who's never been there. It's like, 'What's your worst nightmare?' " he said.
But his strong psyche is what makes him a great bowler, and an even greater person, according to Diana Cavins.
"I don't know of anyone that could touch him mentally," she said. "You're not gonna rile him up no matter what you do. He's just so mentally tough, and once he decides he's going to do something that's it. But, he'll give the shirt off of his back to you."
Now that Cavins has his first sanctioned 300 game under his belt, he's confident it will lead to more perfect games being thrown at his bowling alley that isn't exactly known for high scores.
"We've got some excellent bowlers here," he said. "There's no doubt in my mind (we'll have more)."
Diana Cavins said she is optimistic for more perfect games at Boulder Bowl, too, but she isn't as confident they'll come right away.
"No matter how well you throw it, you better have Lady Luck on your side that day," she laughed. "I think the 300 pot will be up to about 500 bucks before it happens again."