Summer baseball league gives players needed field time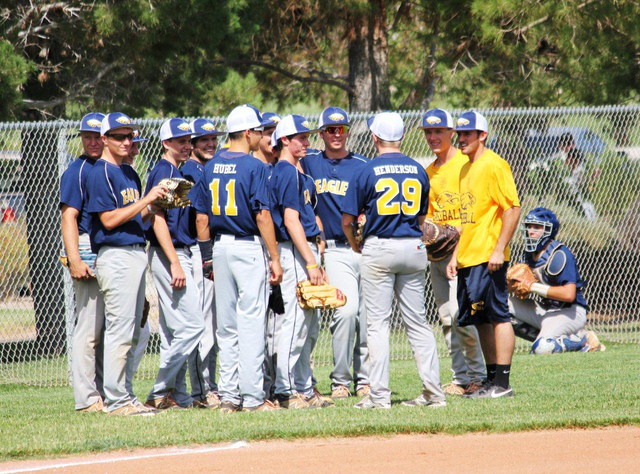 For the second consecutive summer Boulder City will have two baseball teams competing in the Connie Mack Summer League.
The 16-under team began play last week with a victory and the 14-under team begins play Friday.
"We are looking for a good summer of competition for all our players that will be leading the school's teams in the coming years," coach Bobby Reese said.
A year ago, Boulder City's high school baseball program and head coach Reese dropped their longtime American Legion summer-league affiliation in favor of joining the newly formed Connie Mack League.
The 16-under Eagles will be coached by Ron Hubel, Al Kermode, Nick Morelli and Brian Shea, while the 14-under team is coached by Reese, Alex Moore and Johnny Nelson.
The seasons conclude with state tournaments in mid-July.
The team is led by juniors-to-be Peyton Koopman and Nolan DeSantis.
Other players with varsity experience expected to play summer ball for the 16-under Eagles are Austin Wishard, Austin Shepard, Nick Giunta, Bradley Henderson, Will Knudsen, Patrick Garvin and Seth Kermode. Junior Steve Wagner, who just transferred to Boulder City, also will be a great addition to the team, according to Reese.
Preston Van Diest had an excellent freshman high school season on the varsity. Also on the 16-under team from this year's junior varsity team are Jacob Hubel, Kodey Rahr, Aaron Kehoe and Jared Barton.
The core of players helped lead the high school team to a second-place finish in the Sunrise League and a berth in the Southern Region tournament this past spring.
The Eagles will have a lot of options on the mound as eight of the roster players have pitching experience.
"As a coach it will be fun to watch these kids develop," Reese said. "With the extra innings in the summer, a lot of guys who did not get the much-needed innings on the mound this past season will get the work and a chance to improve."
The Eagles and others in the county helped to create the Connie Mack League because a lot of schools were tired of the American Legion system. American Legion does not give any flexibility when it comes to substitutions and the designated hitter rule.
The new league also allowed coaches the opportunity to build their own schedules rather than play a mandated schedule, which American Legion required. This gives coaches a chance to schedule days off from games so they can work on needed fundamentals.
Joining Boulder City in the Connie Mack League are: Foothill, Las Vegas, Bonanza, Eldorado, Arbor View, Shadow Ridge, Centennial, Palo Verde, Green Valley, Faith Lutheran, Spring Valley, Del Sol and Utah's Dixie, Snow Canyon and Desert Hills.
The 14-under team includes five soon-to-be eighth-graders, Jimmy Dunagan, Shaun Jones, Darin Bailey, Hayden Moore and Cason Segundo, and nine incoming freshman, DJ Reese, Teddy Lobkowicz, Nolan Herr, Andrew Kovacevich, Gabe Lawrence, Anthony Pacifico, Vinnie Mayo, as well as Patrick Hood and Mitch Dolinar, who are both new to Boulder City. The team also has two freshmen from the current junior varsity, Colin Shepard and James Embro.
"The summer program gives kids a great opportunity to play some extra baseball," Reese said. "It also gives the younger kids an opportunity to start playing together on one team instead of different Little League teams and club ball teams.
"We are very excited about the summer program. This year we have 32 players participating, which is more than last year. If the program continues to grow at this pace, we have a very good shot of having three teams next year. That is our goal, to have a 14u, 16u as well as an 18u team for the summer of 2015 season."