Stanton reels in award-winning 6.9-pound bass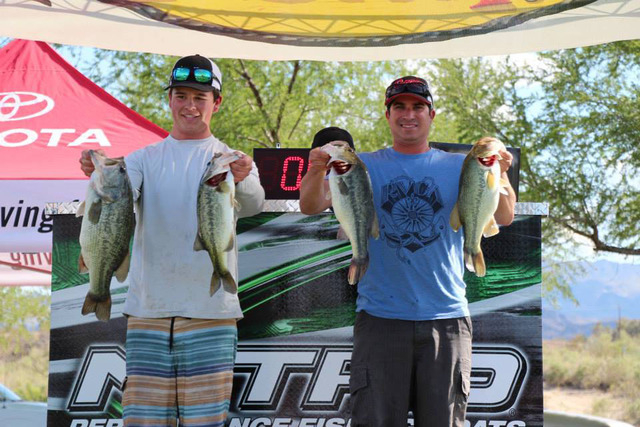 Gunnar Stanton has some fish tale to tell. And this time the big one didn't get away.
Stanton, 16, caught a 6.96 pound bass during the Lake Havasu Open presented by JML Outdoors in Lake Havasu, Ariz., Saturday and Sunday. The fish, one of 10 he and his professional fishing partner, Justin Kerr, caught during the two-day tournament, helped them place third overall.
The two split the $1,700 prize for third place. The big fish netted them an additional $150 award.
"The 6.9 pounder was the biggest bass I ever caught in a tournament," he said.
The two were one of 90 pro-am teams competing in the tournament. They were each given about 10 hours a day to catch the five biggest fish possible, he said.
Stanton said morning and afternoons are usually the best times of the day to catch fish.
"The first day we had our limit of five fish in four hours. The second day we did not have our first fish until noon," he said.
The junior at Boulder City High School said he has been fishing all of his life but only seriously began focusing on catching bass about two years ago.
"I like the challenge and being outside on the lake," he said.
Fishing in the tournament requires using top-water baits. Stanton said they cannot use live bait, only artificial lures.
Stanton will relinquish his amateur status later this year, turning professional to captain his own boat for the U.S. Open at Lake Mead on the Won Bass tour in September.
Until then, Stanton said he will continue to hone his skills, fishing two or three times a week.
To help offset the costs of participating in tournaments, Stanton has obtained several sponsors including Shawn Fleming of the CSF Civil Group, Tim Washburn of Charger Construction, and his father, Olaf Stanton, of Characters Unlimited.