Stanton earns third in college fishing tourney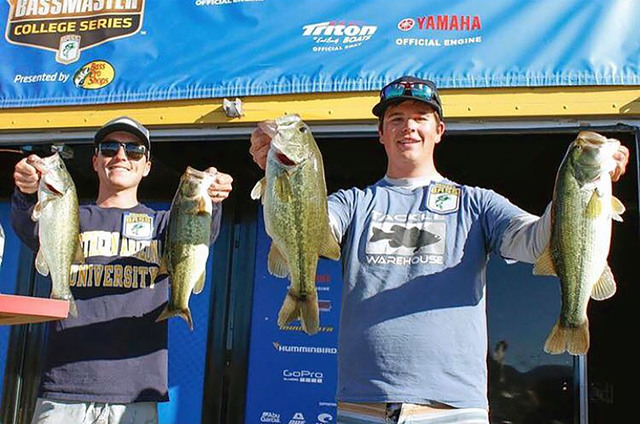 Boulder City High School graduate Gunnar Stanton and his teammate Gunner Campbell brought home third place out of 16 teams in the 2016 Carhartt Bassmaster College Western Regional angling tournament held recently on Lake Mead.
The regional qualifier for this summer's collegiate national championship was held Saturday through Monday, with each team out on the lake for eight hours per day.
Representing the Northern Arizona University Lumberjacks, Stanton and Campbell started out hot, leading the field after the first round with the heaviest haul of fish, as well as the largest single bass caught that day.
The second day on the water was not as kind and afterwards the two said they found themselves in a hole that was too deep for them to climb back to the top, with only a single day remaining.
Though the pair said they regret missing their opportunity to bring home the win, they did qualify for the championship, which will be held in July at an as yet unannounced location, and they brought home a $750 prize.
"I'm pretty disappointed; I had really hoped to do better on my home lake," said Stanton, who graduated from BCHS last year. "But I'm really thrilled that we made the cut for national championship this summer."
According to Stanton, the size of the weigh-ins were a little underwhelming overall and looking back he thought the fish seemed a little skittish.
Stanton said that might be because the bass were seeing an unusual amount of bait as it was a fairly crowded on the lake with boats from two other tournaments, including about 120 anglers participating in the Pat Donohoe Memorial Tournament as well as dozens more practicing for this week's B.A.S.S Nation Western Regional.
The winning team at the national championship will be rewarded with a head to head matchup against their partner that will see the victor earn a berth to bass fishing's biggest professional tournament, the Bassmaster Classic.
Contact reporter Hunter Terry at hterry@bouldercityreview.com or call 702-586-6711. Follow him on Twitter @HunterBCReview.