August 6, 2014 - 12:18 pm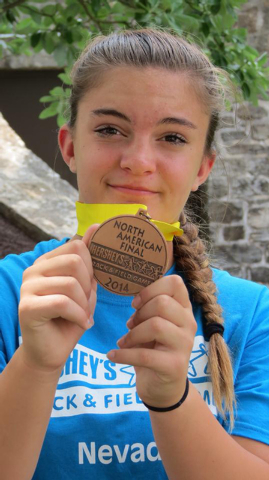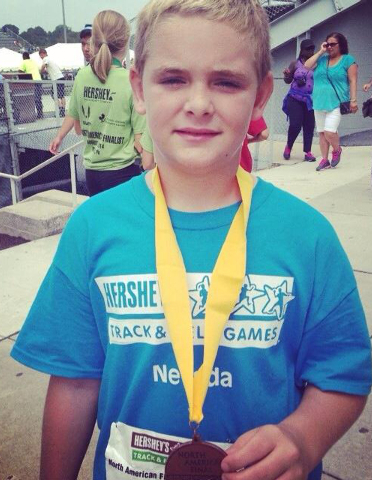 Students return from Hershey competition with medals
The two Boulder City students who competed in the Hershey's Track and Field Games returned home with medals after competing in the North American Finals that featured 450 9-14-year-old children from across the U.S. and Canada.
Logan Freeman, 10, competed in the standing long jump and placed ninth, with a jump of 5 feet, 10 inches. There were 11 competitors in his event and age division.
Lily Osman, 14, came in fourth place with her softball throw of 158.9 feet. She competed against 12 others in her age division.
"Although I wish I had done better, I'm thankful for Hershey for giving me this opportunity. I had a great time," Lily said.
More than 150,000 children competed in the run, jump and throw qualifying events, seeking one of the 450 spots in the final competition in Hershey, Pa.
Registration continues for British soccer camps
This is the final weekend to register online for the British Soccer Camps that begin Monday at Veterans' Memorial Park.
Working with Boulder City Parks and Recreation, Challenger Sports will host British Soccer Camps Monday through Aug. 15 at the park's Pratte Soccer Fields, 1650 Buchanan Blvd.
Ages 3 and 4 will do the First Kicks camp from 6-7 p.m. The fee is $83 for the week. Ages 4 and 5 will do the mini camp from 6-7:30 p.m. The fee is $97 for the week. Ages 6 to 16 will do the half-day camp from 6-9 p.m. The fee is $132.
The campers will be split into "countries" and will create a soccer chant, wear the team colors of their country, bring flags and learn about the country they represent.
It is the fourth consecutive year that Great Britain's Challenger Sports will include Boulder City as a stop in its summer-long tour of America.
For more information, contact Nick Howitt by cellphone, 760-849-4111, or by email, nhowitt@challengersports.com.