Southern Utah resplendent in fall
September 17, 2014 - 12:33 pm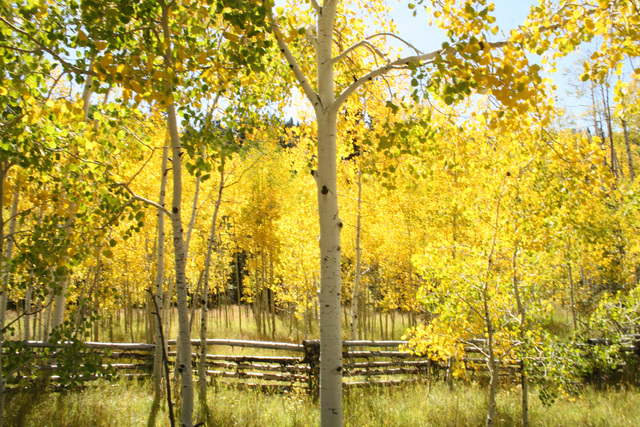 A blessing of living in Southern Nevada is easy access to landscapes of different elevations. That circumstance is especially fortunate in September, when outdoor people start to fancy fall foliage. Because of the great disparity in elevation, fall colors will be at their peak, somewhere within easy driving distance, on any given day for at least six weeks. The annual show will be playing in nearby Southern Utah from now until early November.
Right now, the aspens are golden in high-elevation areas such as the Markagunt Plateau, east of Cedar City. Lower elevations, such as Zion National Park's main area, usually peak in late October and early November.
The Markagunt Plateau, with elevations generally ranging from 9,000 to 10,000 feet, includes Cedar Breaks National Monument, Brian Head, Panguitch Lake and Duck Creek Village. A good drive in the area is what is known as the "Fall Color Loop." It takes motorists through a variety of elevations so you are almost guaranteed to find good color somewhere along the route any day within the next two weeks.
This good leaf-peeping route starts in Parowan just off of Interstate 15 and travels up Highway 143 to Brian Head. From here you continue following the road over to Panguitch Lake. You will turn right onto Mammoth Creek Road and follow this over to Highway 14. Head west on Highway 14; you'll travel past Duck Creek Village, Navajo Lake, then drop in elevation and end the drive in Cedar City. I would recommend allotting at least half a day for this excursion so you can stop to enjoy the scenery and the overlooks, and take pictures.
If you can't find time to visit the Markagunt Plateau during the next few weeks, I would wait till the end of October or early November and head to the main area of Zion National Park just east of Springdale. Merely driving along the Virgin River, the last 10 miles or so before the park entrance, is usually quite nice that time of year, for the Fremont cottonwood trees flanking the river will be resplendent with yellow and gold.
Once you reach the park, of course, the 6-mile scenic drive up Zion Canyon is a must. Until the end of October you'll need to take the free shuttle bus, but starting in November and through March you can drive your own vehicle. Spectacular as the drive might be, the 2-mile round-trip Riverside Walk is even better. On foot you not only can see the foliage up close but also smell it, hear it as the wind makes it rustle, feel that same wind on your own skin, and stand there till your senses are sated. The walk begins where the drive ends, at the Temple of Sinawava shuttle stop.
This paved trail follows the rich riparian environment along the North Fork of the Virgin River. There are Fremont cottonwoods, bigtooth maples and some velvet ash and box elder trees so you can get quite a color palette of yellow, red and gold leaves, arrayed against the backdrop of Zion's signature red, pink and orange sandstone cliffs and monoliths.
Of course, Mother Nature doesn't always cooperate by following a precise timetable for coloring fall foliage. There are several reasons why leaves turn their vibrant colors. The primary one, shortening hours of daylight in fall, is completely predictable, but rainfall, wind and the amount of sugar stored in the leaves in a given year are not easily forecast.
The ideal conditions also would include sunny days, cool but without a killing frost. With so many variables, weathermen don't know what Mother Nature will do; she seems to decide at the last minute.
But even if you travel to Southern Utah and don't happen to win the fall-foliage lottery, you surely won't waste the weekend. For the colorful monoliths of Zion glow winter and summer, and the hoodoos haunt Cedar Breaks National Monument and Bryce Canyon National Park at all seasons.