Soccer camp to stop in Boulder City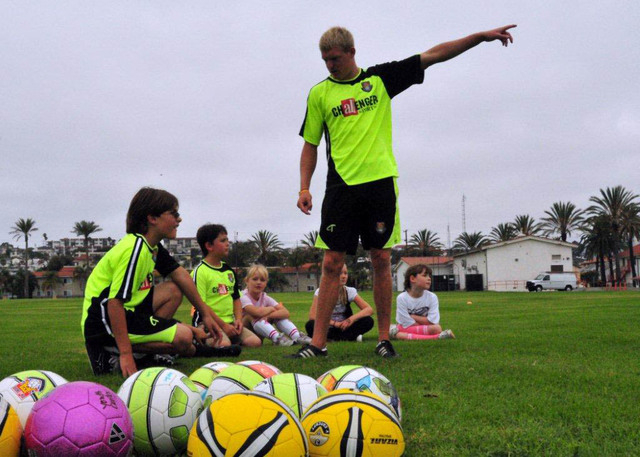 For a fourth consecutive year, Great Britain's Challenger Sports will include Boulder City as a stop in its summerlong tour of America.
Working with Boulder City Parks and Recreation Department, Challenger Sports will host British Soccer Camps Aug. 11-15 at Pratte Soccer Fields, 1650 Buchanan Blvd.
This is the final week for online registration; visit www.challengersports.com for details.
In addition to the usual age-group camps, 3-year-olds can participate.
Ages 3 to 4 will do the First Kicks camp from 6-7 p.m. The week's fee is $83. Ages 4 to 5 will do the minicamp from 6-7:30 p.m. The week's fee is $97. Ages 6 to 16 will do the half-day camp from 6-9 p.m. The fee is $132.
"Boulder City has been a very successful stop with lots of enthusiasm each year. This is a great experience for all the kids in the community," Challenger Sports spokesman Nick Howitt said. "As the number of soccer players in the U.S. nears 20 million, we are proud to teach and expand the knowledge at all levels. The interest is always higher on the local levels because of the World Cup this past month."
Interest is high because the U.S. National Team played well in the World Cup and advanced out of the Group of Death (Germany, Ghana and Portugal) to the knockout stage along with eventual champion Germany.
"Space is limited for the camps and parents are encouraged to sign up online in advance to avoid disappointment," Howitt said. "We want to be able to accommodate everyone who wants to participate, so registering early online is very important."
Each camper will receive a free personalized skills performance evaluation, T-shirt, soccer ball and poster.
The camps will be coached by members of Challenger's team of 1,100 British soccer coaches flown to the U.S. to work on the summer programs. Boulder City is one of 3,500 soccer camps this summer, which will have more than 130,000 kids ages 3 to 19 participate.
Challenger Sports has been conducting soccer camps in the U.S. for more than 20 years. It also conducts hundreds of free parent/coach soccer clinics throughout the country in its partnership with the National Soccer Coaches Association of America.
"Challenger's 1,000 touches coaching syllabus provides an innovative daily regimen of foot skills, moves, juggling, tactical practices and daily tournament play," Howitt said. "Challenger also weaves in lessons on respect, responsibility, integrity, leadership and sportsmanship into each camper's daily routine."
The campers will be split into "countries" and will create a soccer chant, wear the team colors of their country, bring flags and learn about the country they represent.
For more information, contact Howitt by cellphone, 760-849-4111, or by email, nhowitt@challengersports.com.