Smooth sailing for man's boats at Lake Tahoe show
August 12, 2015 - 3:05 pm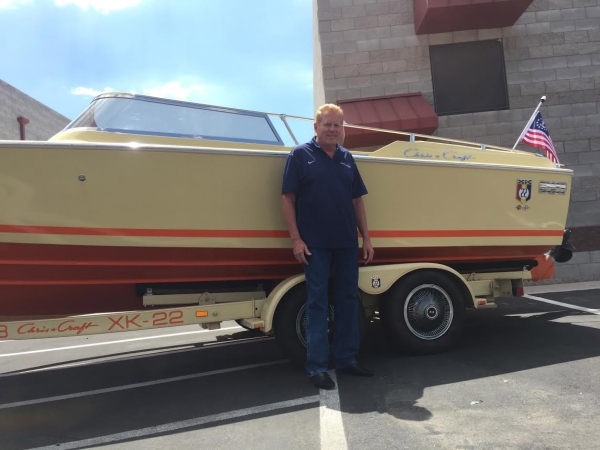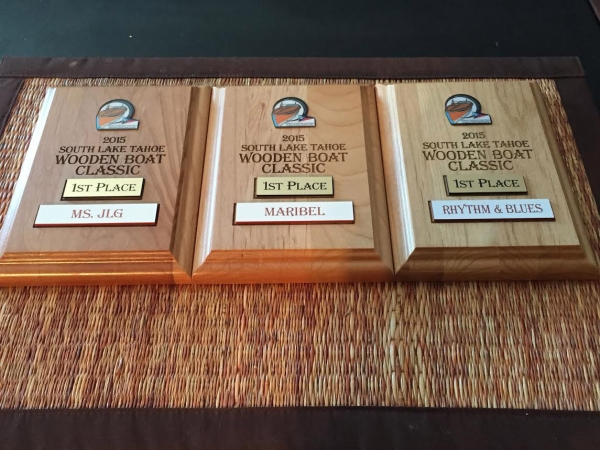 Boulder City resident Robert Joyce and his two classic boats stole the show during the South Tahoe Wooden Boat Classic in Lake Tahoe on July 24-25.
"Maribel," Joyce's 1972 Chris Craft XK-22, won the award for "Most Original Boat," and "Ms. JLG," also a 1973 Chris Craft XK-22, won an award for its restoration during the competition that featured nearly 70 boats.
The show was sanctioned by the Antique and Classic Boat Society, an organization that has about 70,000 members throughout the United States.
"Any real shows, those are ACBS-sanctioned," Joyce said. "To win these awards was quite an event for us for sure."
Joyce, who moved to Boulder City from Los Angeles in 2004, always loved boats growing up. But it wasn't until he moved to the desert that he really gained an appreciation for vintage boats, especially Chris Crafts.
"My uncle used to have a wooden Chris Craft, and he used to take me out on that. I couldn't wait to get on that boat," he said. "When I moved here from Los Angeles, I started buying vintage ones. As soon as I saw the style I said, 'That's what I want.'"
Joyce acquired Ms. JLG in 2004 and gave the boat a full restoration, including a rebuild of the drive train and electrics, as well as a brand new interior. The creamy orange and light yellow paint helps keep its 1970s origins alive and well.
Joyce also put Corvette steering, Corvette badges and a Corvette shifter into Ms. JLG, just like the 1965 Corvette he used to own.
With Maribel, which Joyce bought in 2005, everything was left the same. The interior, drive train and paint are all from 1972, and the boat has a 320 horsepower Corvette 350 engine that reaches speeds of more than 50 mph.
When Maribel won the award for Most Original Boat, Joyce said he couldn't believe it because of some of the other boats he had seen throughout the show. He said a few entries were from the early 1900s, and some boaters were on their hands and knees cleaning them with toothbrushes.
"That's a very big win in the world of boating. It's like winning a Best in Show," he said about Maribel's award.
Maribel and Ms. JLG are two of just 220 XK boats Chris Craft produced between 1971-76. Joyce said whenever he's out on his vintage boats, which are both made of handmade fiberglass, it grabs the attention of everyone around him.
"When you take any of these boats out on the marina, people just come right over to you. It's very similar to having rare cars," he said. "The looks I get when I pull up to the marina are the same looks I get when I pull up at the burger stand."
Joyce's longtime friend, Michael Johnson had his boat, "Rhythm & Blues" restored in Southern Nevada along with Ms. JLG and Maribel. Johnson, who's already restored numerous muscle cars, said Joyce inspired him to get his own boat.
"I had seen Rob's first boat, and I really liked the shape of it," Johnson said.
Johnson had Rhythm & Blues towed to Boulder City from Sarasota, Fla., where it underwent an eight-year restoration. He based its light blue color from the 1950s turquoise and white Chevy Bel Airs he's restored throughout the years.
With lake levels continuously dropping, Joyce said he prefers boating on Willow Beach. Boaters are risking damage to their boats by going anywhere close to shore, he said.
"You've just got to be real careful. I love Lake Mead, but you're just taking a chance," he said.
Joyce is also proud of the fact that he owns four of the 28 total registered Chris Craft XK-19 and XK-22's allowed to be on water across the country.
He plans on taking Ms. JLG and Maribel out to more competitions next year, but until then, he'll take them out on the Colorado River where he enjoys the warm, blue water and beaches.
"That's just the best," he said.
Contact reporter Steven Slivka at sslivka@bouldercityreview.com or at 702-586-9401. Follow @StevenSlivka on Twitter.