Schaper makes good on cleats for clubs trade
February 4, 2015 - 1:34 pm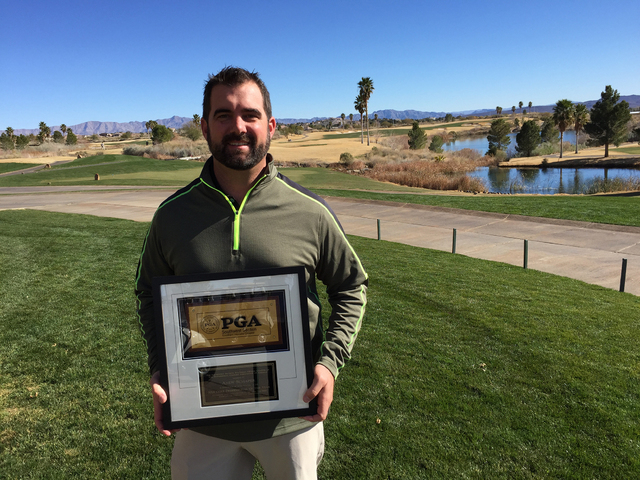 In the span of 20 years, Andy Schaper has gone from never having swung a golf club to being named the PGA's 2014 Golf Professional of the Year for the Southern Nevada chapter.
Schaper, 38, has been the head golf professional at Boulder Creek Golf Club since it opened 12 years ago. Now a master of his craft, Schaper wasn't even introduced to the sport until his late teens while growing up in Apple Valley, Calif.
He played wide receiver and linebacker for his high school football team, where he won the team's most valuable player award. At the age of 17 Schaper landed a job at the Apple Valley Golf Course, formerly known as Apple Valley Country Club. He was out of his element and, at the time, was unaware that his entry-level job on the golf course would eventually lead to a prosperous career.
"I was never anyone who played golf, or even thought about playing golf," Schaper said. "I was just excited to get away from working at Little Caesars. I didn't know it at the time, but I was working for somebody who was well-known in the business and a big name in the golf industry in California."
That big name was Cliff Moore, a man who Schaper credits with showing him everything he needed to know about the game he had never played.
"Cliff was 55 and I was 17," Schaper said. "He became my best friend, like my father."
Moore recalled the time when he first brought Schaper on at Apple Valley Golf Course. He said he was working as a cart boy and also helped retrieve golf balls on the driving range.
"He's about the best assistant that I ever had. He kept wanting to learn and was a quick study," Moore said. "He decided he wanted to get into golf, so I put him in the (pro) shop."
Schaper learned quickly and worked at various golf courses in Southern California while going to college. After graduating from California State University, San Bernardino, with a geography degree, Schaper said his plan was to become a teacher and coach.
But instead of putting that geography degree to use, Schaper used the knowledge he's gained on the golf course to help develop a Boulder City course that has hosted some of the most prestigious events in Southern Nevada.
Since Schaper became the head pro at Boulder Creek, the course has hosted numerous junior tournaments, high school matches, state championships, and UNLV's women's team. Every October, Boulder Creek also hosts the qualifying round of the PGA's Shriners Hospital for Children Open.
"Winning this award is a great thing and I'm proud of it. But to be honest with you, what we've created at Boulder Creek I'm probably the most proud of," Schaper said. "We started from zero. My goal has always been to create an environment that's welcoming, friendly and appreciative of everyone that comes. I don't need any awards to earn that, but I'm most proud of the fact that we've done a very good job of that through the years."
Providing fun for his guests throughout the years has come with a price. In an industry that has grown tremendously, Schaper has been forced to work on holidays and has canceled family vacations to keep business going.
Despite winning the prestigious award, however, Schaper remains humble and credits his staff for maintaining a successful course in Boulder City.
"Winning this award has a lot to do with the people around me who make me look good," he said with a laugh. "I'm just showing up and doing my job each day."
Schaper said one of his goals for the next decade is to develop a stronger youth program where junior golfers can hone their skills and eventually land themselves college scholarships. As the current coach of the women's golf team at Boulder City High School, Schaper said he enjoys spending time with golfers of all ages.
"He saw what a great benefit it was just to get these young people involved," Moore recalled of Schaper's early experiences in Apple Valley. "We promoted a junior program that was just as strong as you could promote."
Even with an office full of trophies and a wall full of personal accolades, the former high school football player with the geography degree said it's all about showing people a good time on the course, and maybe giving them a few tips along the way.
"The good thing about this business is that each and every day is a little bit different. You're dealing with people where most of the time they're coming out to have fun, and it's enjoyable to help them enjoy their day," he said. "Golf had such a big impact on me, and some of my best memories are on the golf course. I want to share, and hopefully get other people to see the same thing."
Contact reporter Steven Slivka at sslivka@bouldercityreview.com or at 702-586-9401. Follow him on Twitter @StevenSlivka.