Sanford to represent state at Phoenix gymnastics event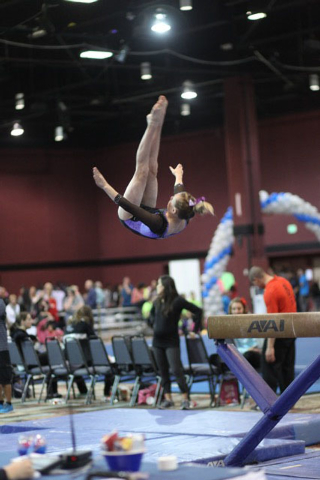 Breann Sanford of Boulder City will represent Nevada as part of the state team competing at USA Gymnastics' regional championships April 18 and 19 in Phoenix.
The 15-year-old qualified for the 12-person team after placing 11th overall in Level 8 competition at the state championships in Reno on March 28.
She competed in four events, placing first on beam, second on vault and floor and fourth on bars, resulting in a first place win in the all-around for her age division even though she had a broken toe.
"She is a spunky little gymnast with an outgoing personality," said Kim Snape, her coach at Gymcats in Henderson, where she has trained for the past nine years.
Snape said Breann will compete individually and as part of the state team at the regional championship. It will feature gymnasts from Nevada, Arizona, Utah and Northern and Southern California.
Breann, a Boulder City High School ninth-grader, said she began taking gymnastics classes when she was 2 through Boulder City Parks and Recreation Department. Now, she trains about 24 hours a week.
"She was selected for one of our special programs as being recognized as having great potential and ability in this sport," Snape said. "She has been progressing and moving up the levels here at Gymcats ever since."
Breann said she likes the sport's "demandingness of my physical and mental state."
Her favorite event to compete in is the beam, where she scored at 9.375 out of 10 in the state championship.
Breann is the daughter of Matt and Gayle Sanford of Boulder City.
Hali Bernstein Saylor is editor of the Boulder City Review. She can be reached at hsaylor@bouldercityreview.com or at 702-586-9523. Follow @HalisComment on Twitter.