Ruby Mountains stun summer visitors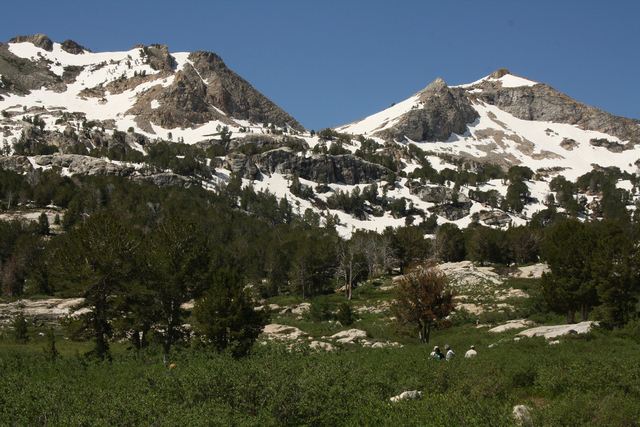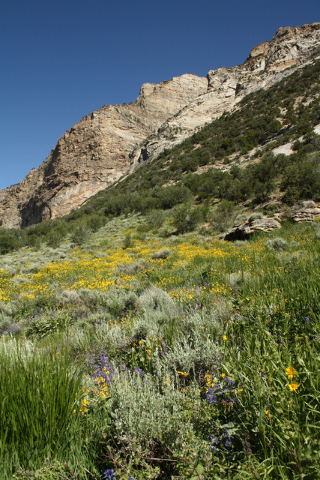 With the arrival of warm weather and the children almost through school for the semester, this is the time to think about a summer visit to the cooler climates of Northern Nevada. One of the most stunning areas you can visit lies just east of Elko — the Ruby Mountains.
For summer touring and hiking, the Ruby Mountain Ranger District is ideal.
Here you'll find elevations ranging from about 6,000 feet to 11, 387 at the highest peak, Ruby Dome. The district contains about 450,000 acres, encompassing the East Humboldt Range to the north and the Ruby Mountains Range slightly to the southwest.
A great way to start your visit is by driving up Lamoille Canyon, a 12-mile scenic byway. The road takes you up into the heart of the mountains and offers access to some of Nevada's top hiking trails. Along the way you will be treated to waterfalls, cascades, avalanche chutes and wildflowers. Many people refer to this area as Nevada Alps or Nevada's Yosemite. This area often receives 6-10 feet of snow a year, and even in summer, it's not unusual to still see some remaining in the higher elevations.
Along the drive you will find some campgrounds. Even if you're not camping, stop and check them out because some of those good trails leave from them. The 1½-mile round-trip Nature Trail leaves from Terraces Campground, and the 4-mile round-trip Thomas Canyon Trail leaves from the Thomas Canyon Campground.
Other great trail heads are at Road's End. One good way to invest a day is hitting the trail up to Lamoille Lake. It is about a 3.5-mile round-trip with an elevation gain of 940 feet, that is considered moderately strenuous. The hike takes you into the back country where you will find flowing streams, a couple of crystal-clear alpine lakes and a good chance to see the resident wildlife.
For a superb backpacking adventure I would recommend the Ruby Crest National Recreation Trail. As advertised, it mostly does follow the crest, and it's strenuous. It is most often done as a point-to-point from Road's End, 34 miles one-way south to Harrison Pass.
Bears don't live in this range but you might see mountain goats, unusual for Nevada, or find tufts of their wool caught on the rocks or brush. You may also see Rocky Mountain bighorns, pronghorn antelope, beavers, porcupines or marmots. If you are fortunate, you might catch a glimpse of a Himalayan snowcock, an exotic bird introduced here between 1963 and 1979.
The weather in this range can be changeable, especially in late summer and early fall, when afternoon thunderstorms are common. It is always a good idea to check with the forest service for weather updates prior to setting out. In early summer it's also common for the trails to be quite muddy, so bring the appropriate footwear.
One of the advantages of this trip is that it also takes you through the city of Elko, one of the last places in America where people wearing cowboy hats tend to be actual cowboys. Its famous National Cowboy Poetry Gathering is held in January, but the National Basque Festival is held the first weekend in July, and advance room reservations are absolutely necessary during either event.
A good place to start planning the trip is at the local visitor's bureau, 775-738-4091, www.exploreelko.com. But if you're just passing through, the excellent Northeastern Nevada Museum, and the town's justifiably famous Basque restaurants are open almost every day.
Many of Deborah Wall's columns have been compiled in the book "Base Camp Las Vegas, Hiking the Southwestern States." She is also the author of "Great Hikes, a Cerca Country Guide" and a co-author of the newly released book "Access For All, Seeing the Southwest With Limited Mobility." Wall can be reached at Deborabus@aol.com.