Players use summer to sharpen skills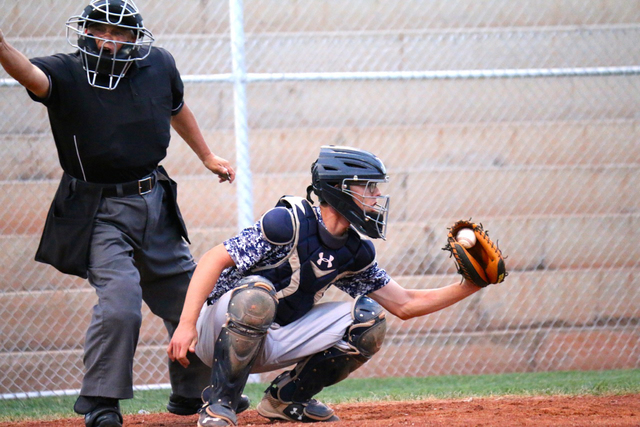 This summer, Boulder City baseball players are all about improvement.
The Connie Mack Baseball League 18 and younger team is using the summer to get players in top-notch condition for the next baseball season. With four seniors leaving the varsity team, the summer games are a great way to let other players to step up and lead, coach Bobby Reese said.
So far, the 18 and younger team has played three games. The opening game of the summer ended in a 15-2 win over Mojave.
"That's what summer ball is for," Reese said. "We're just giving kids opportunities to see where they can play, what they can play, what they can do for next year, and see quality pitching. That's all our goal is and we're going to accomplish that every week."
On May 28, Boulder City played a home game against the Patriots, losing 7-3.
Austin Wishard was 1-for-4, with two RBIs.
Preston Van Diest pitched three innings, throwing 51 pitches, 23 for strikes. Steve Wagner also pitched three innings, throwing 70 pitches, 39 for strikes and one strikeout. Wishard closed out the game with 15 pitches, 10 for strikes.
"Kids are getting good at bats, getting good work and, like I said, it's a split squad kind of deal because we have half JV (junior varsity) kids and half varsity kids and so it's a really young varsity team trying to play 18U," Reese said. "But it's still good practice and that's what summer is. It's just kind of like scrimmage games more than anything else for us. Just good scrimmage practice games."
Saturday, Boulder City traveled to Spring Valley to face the Las Vegas Grizzlies, losing 11-1 in five innings.
Zach Murphy pitched three innings, throwing 70 pitches, 24 for strikes with three strikeouts. Jake Hubel came in to relieve, throwing 44 pitches, 25 for strikes and one strikeout.
Steven Mull was 1-for-2 at the plate, with one RBI.
Mull, who will attend Boulder City High next year after transferring from Foothill during open enrollment, said he is focusing on becoming a more complete baseball player.
"In summer we're just worried about getting better," Mull said. "I'm just putting my work in, getting ready for the season next year … I just want to focus on putting the ball in play, play hard, just getting on base, make runs, (and) just make things happen."
This week Boulder City has a home game at 7 p.m. Friday against the Falcons, followed by an away game at 10 a.m. Saturday at Arbor View High School against the Toros. The Eagles will have a couple of days off before heading to Green Valley High School to play Green Valley Elite at 5:30 p.m. Tuesday.
"We don't worry about the score," Reese said. "We just need experience. Them to get experience, them to get some confidence and, as a coach, for us to be able to see the areas that we need to continue to work on."
Boulder City High School
At the end of the season, notable players from Boulder City High School's baseball teams received awards during a year-end banquet. Van Diest received the Silver Slugger award for having the season's highest batting average, .483.
Wishard received the Golden Glove for being as the season's best defensive player. Austin Shepard and Seth Kermode received the coaches award, with Reese saying they had great senior years. Peyton Koopman was named athlete of the season; he also was the Sunrise League's player of the year.
Nine players from the team made first0 or second-team All-Sunrise.
Named to the first team were Nolan Desantis, Kermode, Koopman, Shepard, Van Diest, Wagner and Wishard
Mike Morelli and Murphy made the second team.
Desantis, Koopman, Van Diest and Wagner also were named to the All-South team.
Desantis, Koopman and Van Diest were named to the Division I-A All-State first team, while Wagner was named to the All-State second team.
Contact Rochelle Richards at BCRsports@gmail.com.