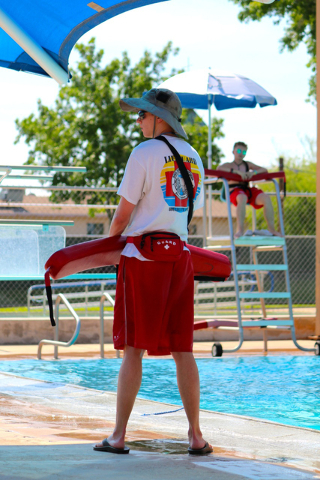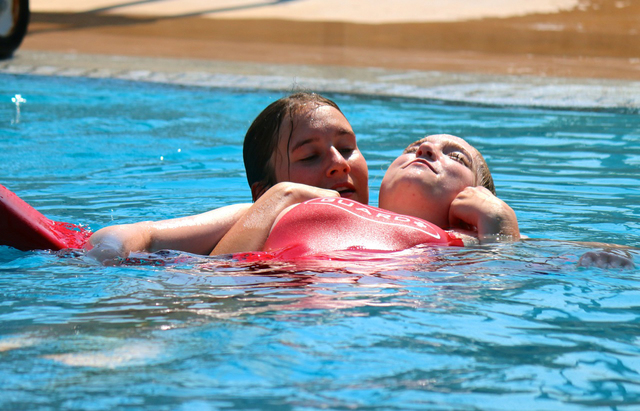 When a man hit his head on a diving board at Boulder City municipal pool, lifeguard Clinton Petty knew exactly what to do.
The veteran guard sprung into action, helping the man exit the pool, and immediately putting him in inline stabilization as they awaited emergency personnel.
It's moments like those that aquatic coordinator Sheri O'Berto works hard to make sure lifeguards are prepared for.
"Your main job as a lifeguard is prevention," O'Berto said. "And then you have to have the knowledge to react to a circumstance that might occur in the pool."
Although occasions like that are rare, the lifeguards at Boulder City pool are trained for situations as serious as those. All lifeguards employed at Boulder City have been certified by the American Red Cross in lifeguarding, CPR and automated external defibrillators or AEDs; and their certifications have to be renewed every two years.
"Our goal is so they don't have to fake a lot when they are reacting to an emergency, but rather just go in there and get the job done," she said.
Petty, who has been a lifeguard in Boulder City for more than seven years, also is a certified water instructor and lifeguard instructor. Those certifications allow him to teach swim lessons and new hires how to be a lifeguard.
For Petty, lifeguarding originally started as a summer job during his transition from high school to college, but he found himself working the winter season, too.
The rest is history.
"It seemed like a good summer job first, and then summer turned into 'Yeah, OK, I'll work the winter, too,' because it's just kind of nice, the people you meet here, the patrons who come here — to talk to them. It feels good when you can help them out," Petty said.
One duty of lifeguards is to look for signs of being a weak swimmer, O'Berto said. Common signs shown by swimmers include holding onto the wall, being out in the middle of the pool and not making any forward progress toward the stairs or wall, as well as facial expressions.
"A lot of times you can get to know their faces, and what a regular expression is on their face," O'Berto said. "When they're in trouble, you can tell. They're not really going to be vocal, because more or less they are just trying to breathe when they're in trouble."
Once a lifeguard has concluded that a patron needs help, he or she makes a distressed victim rescue and retrieves that person from the pool.
If the victim is a child, the lifeguard administers a swim test before allowing that child back into the pool. The swim test consists of simple exercises in the water to test the strength of the swimmer. If a child fails the swim test, he or she must wear a life jacket and be within arms reach of a parent when in the pool.
Aubrey Klouse, a recent graduate from Boulder City High School, has been a lifeguard since May 2014. As a Boulder City High School swim star, the pool has always been like a second home for her.
Between taking swim lessons, practicing, water aerobics, or her mom teaching swim lessons, Klouse said she found herself at the pool at least five hours a day.
"Growing up, I knew all the lifeguards and they were always super duper friendly to me and I knew that they cared about me, and they had my back," she said. "And I just love having the opportunity to do that for other people."
Klouse said that the personable staff at the Boulder City pool is what makes it different from other pools in the Las Vegas Valley. They try their best to make it a friendly environment.
"We don't just stare at water all day," she said. "We're very interactive with our patrons."
At the pool, Klouse uses her swimming knowledge to teach others, currently teaching level one and level two entry-level swim lessons.
Boulder City pool is constantly applauded for the work lifeguards do to keep them safe. A patron said the guards are very attentive, nice and know exactly what they are doing.
"What they say reflects a lot on us, and our team and we try to be positive with our patrons," Petty said. "Everybody here is really respectful … and we try to make it a good experience for everybody here."
"I've got an awesome staff," O'Berto said. "They work really well together, have great teamwork, they're friends away from the job as well. … I am really fortunate that they enjoy what they're doing, and that they take what they're doing seriously."
Contact Rochelle Richards at BCRsports@gmail.com.