Little Leaguers get help from World Series players
January 7, 2015 - 1:36 pm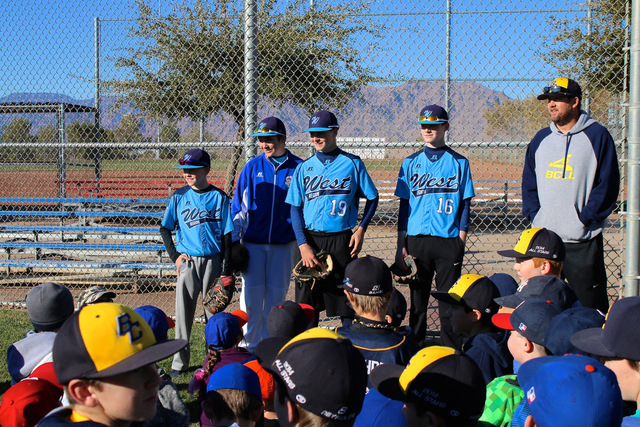 There was still snow on the baseball field at Veteran's Memorial Park early Saturday morning, but the briskness didn't slow down the baseball community. Boulder City Little League held its fourth annual Winter Skills Camp, which was attended by 39 campers from age 5 through 13.
It took the collaboration of six Little League coaches, six board members who aren't coaches, numerous Boulder City High School student athlete volunteers, baseball fan volunteers, and family cheerleaders to make the day a success. Attendees were surprised with an appearance by some of the Mountain Ridge Little League team, which, in 2014, was the first Nevada team to make it to the Little League World Series.
Mountain Ridge players Zachary Hare, Payton Brooks, Bradley Stone and Dillon Jones answered questions about their World Series experience, took pictures and signed autographs before the session started.
The volunteers and guest athletes stretched with the boys and girls before the campers were assigned by age into groups for their skills sessions.
The Mountain Ridge players joined the 8 and under Rookie Division campers for a game of whiffle ball to help them warm up and get the fun rolling. Afterward, the high school baseball players joined the Mountain Ridge players, giving the younger ball players valuable tips and tricks, as well as an experience they will remember for a lifetime.
Older campers were guided through a day of infield/outfield drills, four hitting stations and defensive exercises, ending their day with a bunting and bubble ball competition.
"Besides this year's board members, Al Kermode, Randy Shea, Chris Landerman, Clint Spencer, some former Little Leaguers, with the help of Bobby Reese, many of the current Boulder City High School baseball team, donated their time and experience to teach campers proper technique and form in order to build solid fundamental baseball skills for their future," said Kelly Pingree, information officer/secretary for Boulder City Little League.
Sign-ups for the coming season will be held from 5-8 p.m. Jan. 28 and Feb. 5, and 11 a.m. to 2 p.m. Jan. 31 at Boulder City Library, 701 Adams Blvd.
Opening day will be March 14.
For more information, visit www.bouldercitylittleleague.com.