Lehr's game for games; city's new recreation coordinator eager to get others involved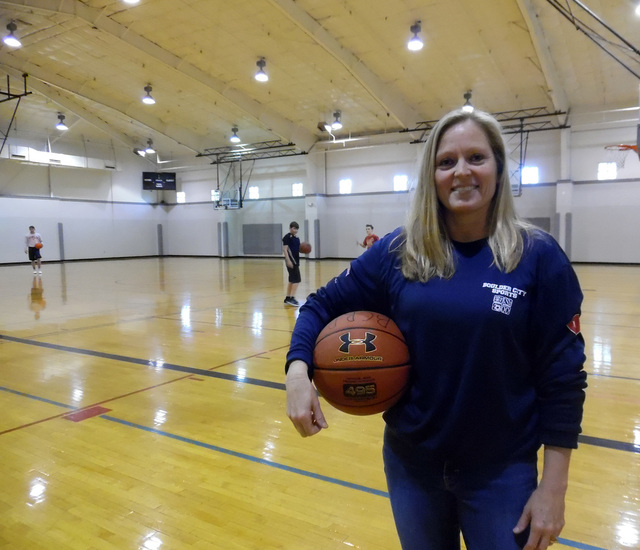 Every day that Kelly Lehr comes to work is play day.
As the new recreation coordinator for youth and adult sports for the city's parks and recreation department, Lehr is ready to engage children and adults in a variety of fun and games.
One of the major goals she would like to accomplish is getting more youth, especially those in the junior high grades, involved in sports.
"There's a big break between little kids and high school (sports programs). I want to help feed the high school," she said. "I know the coaches would appreciate it."
Lehr said she knows keeping kids involved in sports at that age can make a big difference in their play at the high school level. She said she's seen it in action with students attending Bonanza, Faith Lutheran, Durango and Gorman high schools.
"We will never be as competitive as the big schools, but we can bring up the basic level," she said.
Team spirit
She also experienced the camaraderie created from being part of a team when she was growing up in South Lake Tahoe, Calif.
Struggling to fight asthma, Lehr said she was forced to run by her mother when she was an eighth-grader as a way to strengthen her lungs. Though she admits the results of her first events were dismal, she was encouraged by her coaches and teammates. They formed a bond that followed them through high school.
"I hope that happens here in Boulder City," she said.
Eventually, their encouragement and her determination paid off. Lehr went to college on a scholarship to play volleyball.
Today, her life revolves around sports and being active.
"I'm very happy to have Kelly on board," said Roger Hall, director of the parks and recreation department. "I know she will do a fine job."
But this is not Lehr's first stint with the city or with the recreation department. She interned with Hall and Patty Sullivan, recreation program coordinator years ago, and also was in charge of the Safekey program from 2006 to 2010.
Hall said she did an outstanding job with the Safekey program and he is confident in her ability to work with the sports programs.
Lehr is only the fourth person to hold the recreation coordinator position and she said she feels a great responsibility to ensure that all activities run smoothly.
"I'm lucky to have Roger's (Hall) help; he did this for years," she said.
Although she hadn't intended to go to work, Lehr said it was "silly not to apply" when she heard about the opening with the parks and recreation department.
"I have a master's in sports management and leisure services through UNLV, and I love working with Patty and Roger," she said.
Family reunion
Returning to the department is like a family reunion for Lehr. Not only does she know many of the key department staff members, she also knows most of the gym supervisors and score keepers because she coached them.
She has been serving as a coach at Boulder City High School for the past three years, working with the freshman volleyball team and junior varsity girls basketball and softball teams.
Lehr said varsity volleyball coach Cherise Hinman "grabbed" her as soon as she learned she was available to coach at the high school. Their daughters had played club volleyball together.
"Coaching paperwork is hard to get," she added.
Prior to joining the parks and recreation staff, Lehr taught at Las Vegas Day School. She spent 17 years as a teacher, 10 of those while also serving as athletic director.
"That helps me in this position as it taught me about every sport," she said.
According to Lehr, she left her position as a teacher so she could focus on her family instead of constantly driving the kids from one school to another.
"I felt badly about leaving teaching, but I still love being around kids, so it's great to be involved."
Lehr met her husband, Torii, in Thousand Oaks where they were attending California Lutheran University. Torii Lehr, who works as a firefighter in Henderson, is a 1984 graduate of Boulder City High School.
His father, John Lehr, is known for his photography, much of which can be seen at Boulder Dam Credit Union.
Kelly Lehr said spent the early years of their marriage in the Los Angeles area, but they were happy to return to Boulder City, where they are raising their children, Alea, 16, a junior at the high school, and Ty, 10, who attends Lake Mead Christian Academy.
The family enjoys hiking and camping, as well as other outdoor activities.
Hali Bernstein Saylor is editor of the Boulder City Review. She can be reached at hsaylor@bouldercityreview.com or at 702-586-9523. Follow @HalisComment on Twitter.