Lake Mead's proximity makes it ideal spot for sightseeing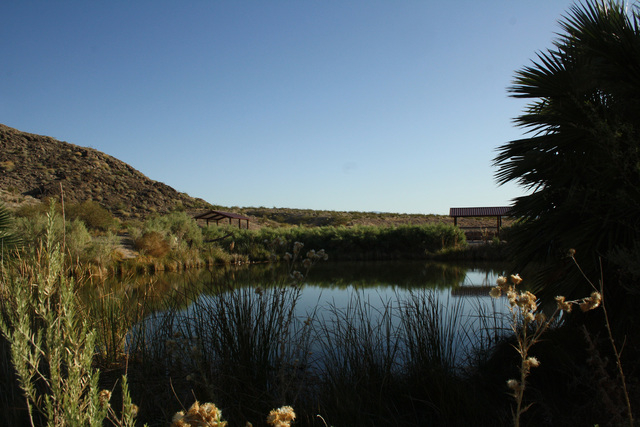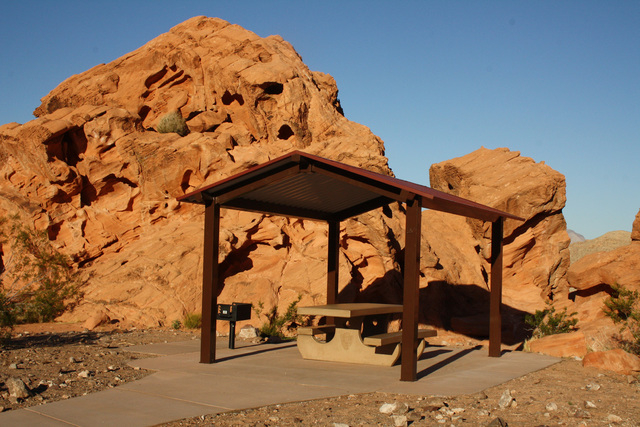 One of the better blessings of life in Southern Nevada is the ease of accessing Lake Mead National Recreation Area. The area's one big drawback is its low elevation and lack of shade, meaning that daytime temperatures become unpleasant by late spring. So the ideal time to go there is in the next few weeks, especially if you wish to hike one of the trails, have a picnic or catch the last of the wildflowers.
To do any of those things, or just to enjoy a scenic drive, a great choice is Northshore Road in the park's northwest quarter. It's an especially good choice for groups or families that have among them small children or elderly people, for the route is rich in attractions that don't require walking very far.
The road travels about 50 miles one way and offers great pull-offs with scenic views, places to take short hikes and a couple of lovely picnic areas at Rogers Spring and Redstone Dune area.
There are a few ways to access Northshore Road. One of the best is heading north on Interstate 15 and turning right through Valley of Fire State Park to its east side, then going right, or south, on Northshore Road. Another option is taking U.S. Highway 93 south out of Boulder City and into the park via Lakeshore Drive and then returning the same way or returning through Valley of Fire. Doing it as a loop through the Valley of Fire gives you maximum scenery for your mileage, but not for your money; both Valley of Fire and Lake Mead National Recreation Area have admission fees.
The good news is from Saturday through April 24 it is National Park Week and admission to any national park is free. This does not include Valley of Fire State Park, so it will cost $8 per vehicle per day for Nevada residents. After April 24, Lake Mead charges a $20 fee per vehicle, good for seven days. However, senior passes to national parks, including Lake Mead, are free to those 62 or older, while the America the Beautiful annual pass costs $80 for those younger.
Assuming you will start at the most northern end of Northshore Road and head south from there, the first logical stop would be at Rogers Spring. Here, a warm spring created a natural oasis, which humans have augmented with armadas for shade, bathrooms and bins for trash and recyclables. At an elevation of 1,592 feet, you'll find the weather here a little warmer than in Las Vegas, which is officially 2,032 feet.
Just a few yards from the parking area you will find a warm spring-fed pond perhaps 30 yards across. The pond is flanked by palm trees and lush vegetation. The pond releases about 1,000 gallons of water per minute year-round, which then flows into Lake Mead. You will see small fish and often a couple of turtles as well. If you take the small footbridge crossing the spillway, on the far side of the pond you will come to the base of a volcanic hill. Water flows from the foot of the hill to feed the pond.
Right at the base you will find a deep area of the pond, where people often enjoy soaking in the warm water, heated by geothermal energy. It is said that all hot springs in our neck of the woods might contain naegleria fowleria, an amoeba that can cause you to get very sick. But it's extremely unusual that anyone actually is infected. If you're careful not to submerge your head or splash the water on or near your face, it is thought that the amoeba cannot enter your body, and you're safe. No splashing anybody else, of course.
If you are up for a steep but short hike up the hill above the pond, the views from there, of Lake Mead's Overton Arm and the South Virgin Mountains, are lovely.
Back in your vehicle and traveling south on Northshore Road for 13 miles you will find Redstone Picnic Area on your left. This is an area of fiery red outcroppings of Aztec sandstone. Besides a nice picnic area there is a one-half-mile loop trail around the outcropping, an easy hike for people of all ages.
This area was covered with sand dunes during the age of the dinosaurs. Over unimaginably many years the dunes hardened into sandstone, and over many more years weathering carved the stone into shapes that might have been inspired by human whimsy. Some of the formations look like animals and people, while others take on the shapes of unearthly beings. There are plenty of places to explore in this natural landscape such as holes, windows and pockets, all fun for an actual child, or the inner child within each of us.
From here and traveling south, stop at the overlooks for fine views or travel down some of the gravel, approved roads to get off the beaten track. Maps are available online at www.nps.gov/lake/.
For additional information about the recreation area, call 702-293-8990.
Many of Deborah Wall's columns have been compiled in the book "Base Camp Las Vegas, Hiking the Southwestern States." She is also the author of "Great Hikes, a Cerca Country Guide" and a co-author of the newly released book "Access For All, Seeing the Southwest With Limited Mobility." Wall can be reached at Deborabus@aol.com.