Kids to test skills at Hershey track meet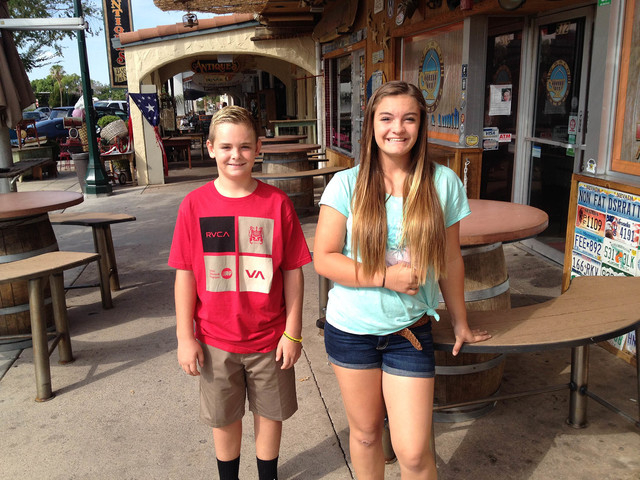 Two Boulder City students arrived in Hershey, Pa., today to compete in the Hershey's Track & Field Games.
Logan Freeman, 10, will compete in the standing long jump, and Lily Osman, 14, will vie in the softball throw.
Logan is the son of Kerri and Matt Freeman of Boulder City and will be a fifth-grader at King Elementary School in the fall. He qualified for the track meet after competing in a track meet at the school last year and placed first in a Western regional event that featured athletes from Nevada, California, Utah, Arizona and Hawaii.
He plays baseball and likes to ride his dirt bike.
Although he'd love nothing more than to win the competition, he said he'd be happy knowing that he tried his best.
Lily is the daughter of Bri and Curtiss Easter of Boulder City and will be a freshman at Boulder City High School.
She was given the nod for the national tournament after she threw a softball 162 feet during her qualifying round. She said she plans to try out for the school's softball team next year, as well as play soccer and flag football.
She hones her skills playing year-round for two 16-under fast-pitch travel softball teams, Vendetta Las Vegas and Sin City Saints, both based Las Vegas.
Last year's winner in the softball throw threw the ball 191 feet, but second place was 162 feet, giving Lily hope that she has a legitimate chance in this year's competition.
Representing a small town on a national level makes Lily nervous, but she said it's an exciting nervous.
"Everybody's going to know about it because the town is so small," she said. "It's a good nervous."
The track meet for 9- to 14-year-old boys and girls begins today and continues through Saturday. It is expected to attract 480 competitors from across the United States and Canada, who will participate in running, jumping and throwing events.
Sponsored by the Hershey company for 37 years, the North American Final will be held at the Henry Hershey Field on the campus of Milton Hershey School. It was designed to encourage children to get moving, and to recognize the fun element of participating. It is not just for star athletes, although many former competitors have gone on to Olympic events, according to the event's website.
In addition to competing in the track meet, participants receive a four-day all-expenses paid trip and also will visit Hersheypark, Hershey's Chocolate World and tour the Hershey factory.