Kershaw-Ryan an oasis in desert
August 26, 2015 - 2:13 pm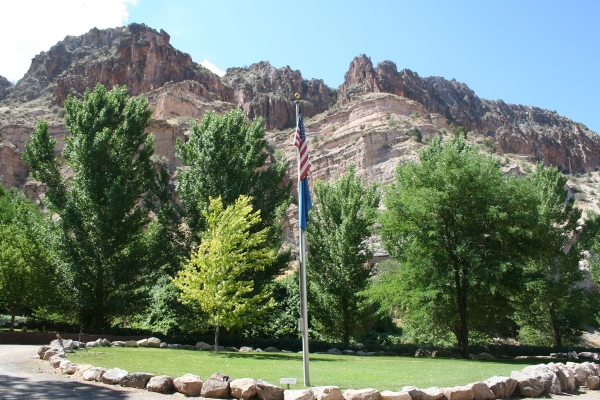 Kershaw-Ryan State Park, just outside of Caliente in neighboring Lincoln County, makes a great summer destination for a day trip or to camp. This oasis in the desert, with elevations ranging from 4,312 to 5,080, offers temperatures 10 to 15 degrees cooler than in the Las Vegas area and features lush vegetation, hiking trails and even a spring-fed wading pool.
The park was named for homesteaders Samuel and Hannah Kershaw, who settled here in the 1870s. They sold their property in 1904 to cattle rancher James Ryan, who owned "Kershaw Gardens" until donating it as a public park in 1926.
In 1934-35 the Civilian Conservation Corps improved the property by adding picnic spots, campsite, a cabin, toilets and a spring-fed pond. When Nevada created the state park system in 1935 it became a state park along with Valley of Fire, Beaver Dam and Cathedral Gorge.
Today, a trip here feels like you are visiting a friend's estate rather than a public park. There are manicured lawns, rose bushes and canyon grapes, all in lush condition thanks to the park's natural springs. The surrounding cliffs were carved by the natural channeling of water in the volcanic rock. In the main area of the park you'll also find cottonwoods, willows, dogwoods, Gambel's oaks and a variety of fruit trees, including apples, pears and plums.
The natural plant communities include desert scrub, mountain brush, riparian and pinyon-juniper. Because of these different plant communities, a variety of wildlife call the park home, such as foxes, bobcats, coyotes and mountain lions. Birds include canyon wrens, warblers, lazuli buntings, hummingbrids, Bulloch's orioles, canyon jays, hawks and eagles.
There are a couple of good interconnecting hiking trails. There are the 1¼-mile Canyon Overlook Trail, and the Rattlesnake Canyon Trail, which is less than a half-mile long. The park also has a sand volleyball court and horseshoe pits.
If you have children along, they will love the spring-fed swimming pool. It's shallow, only a couple of feet deep, and about the size of a backyard pool. The dimensions are too small for real swimming, but its an ideal place to simply relax and cool off, either sitting neck-deep in the water or along the edge, dipping your feet in. It is flanked by deciduous trees for shade.
The campground is near the entrance to the park and has 15 RV/tent sites, each with a shade ramada, picnic table, fire pit and grill. There is also a rest room and there are coin-operated showers. Maximum RV size is 30 feet, and there are no RV hook-ups but there is a dump station for RVs. Spaces cost $10 nightly and can be reserved at 775-726-3564 or www.parks.nv.gov/
At least three nearby sites are worth including in a trip to Kershaw-Ryan. Caliente was built as a railroad town serving the same railroad that also created Las Vegas, and some of the architecture once common to both cities, that was bulldozed in Las Vegas to make room for one boom or another, has been better preserved in Caliente. There's an interesting old railroad station that now serves as municipal offices, and some houses, originally built for railroad workers, are still occupied.
It's only 25 miles from Caliente to Pioche, a colorful mining town rich in history and interesting buildings. Both towns have small museums worth a little of your time, and at least one restaurant and at least one saloon. Also, 10 miles before reaching Pioche, near Panaca, you'll pass by Cathedral Gorge State Park, where erosion of a clay cliff has carved out a number of miniature slot canyons.
How to get there
From Las Vegas, take Interstate 15 north for about 21 miles, exiting onto U.S. Highway 93 north, the Great Basin Highway. Drive about 128 miles to Caliente. Take a right onto state Route 317 and follow for about 3 miles, going left into the Kershaw-Ryan State Park entrance road.
— Many of Deborah Wall's columns have been compiled in the book "Base Camp Las Vegas, Hiking the Southwestern States." She is also the author of "Great Hikes, a Cerca Country Guide" and a co-author of the newly released book "Access For All, Seeing the Southwest With Limited Mobility." Wall can be reached at Deborabus@aol.com.