Gymnast 'flies' through title-winning routines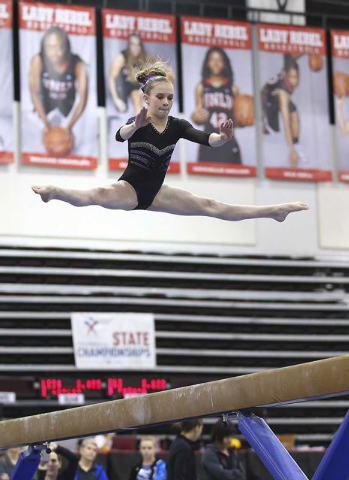 For Garrett Junior High Schooler Breann Sanford, flying through the air is almost as routine as walking.
Sanford, 14, has been involved in gymnastics since she was 2, about the same age most kids are reaching that terrible stage parents dread so much.
But for the Boulder City teenager, the gymnasium has been her second home for nearly as long as she's been alive. Sanford spends about 20 hours a week working on her gymnastics. In March, she was crowned state champion in the bars, beam and all-around events.
She finished sixth during regionals in Tucson, Ariz., at the end of April while competing against girls from California, Utah, Arizona and Nevada.
Her mother, Gayle Sanford, said the task of juggling school and dance with gymnastics is a tough one, but she's glad her daughter is always keeping busy.
"Gymnastics keeps her focused and motivated," she said. "She does homework on the way to the gym, on the way back from the gym, and a lot of homework on the weekends."
Despite the individual accolades, as well as recognition from others within the gymnastics community, Sanford said her greatest accomplishment is getting over her fears in the gym.
"It feels like getting an A-plus on a math test," she said. "I just love being able to go flying through the air."
Sanford has placed first in the beam event five times since 2012. With so much success to her name, it's no surprise the beam is her favorite event during competition.
"It's definitely my strongest event," she said. "It tests your balance because it's only 4 inches wide and you really have to trust your body not to fall."
Sanford knows a thing or two about falling, yet she doesn't fear it. Even after she thought she might have had a stress fracture in her back after a nasty spill when she was 11, knowing the technique keeps her mind at ease.
"If you learn how to fall right, then you won't get hurt as bad as you could," she said.
Sanford doesn't have any Olympic aspirations, but wouldn't mind becoming a gymnastics coach when she's done with college. She wants to attend Southern Utah University, and said if she's not coaching gymnastics, she would like to become either a nurse, a wildlife caretaker or a marine biologist.
She said Olympic gold medal-winning gymnast Shawn Johnson is her favorite athlete because she notices qualities in her that she sees within herself. Johnson won a gold medal at the 2008 Summer Olympics in Beijing when she was 16, just two years older than Sanford is now.
"She has the motivation and the skills, and she's not a dancer. She's a complete gymnast," she said.
Sanford, the daughter of Matt and Gayle Sanford, trains at Gymcats in Henderson.