Giant adventures await Sequoia park visitors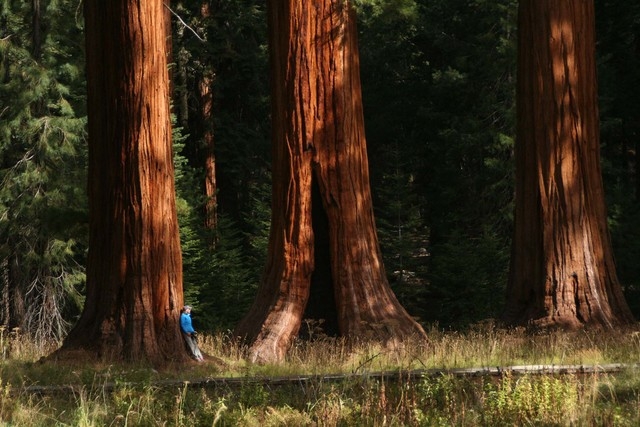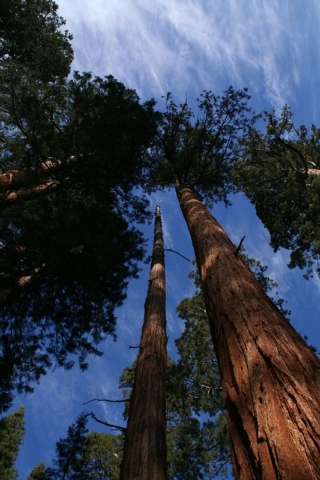 By most definitions, giant sequoias are the largest trees on earth, and they will surely inspire awe in anyone fortunate enough to see them. And because they grow within a long weekend's journey of Southern Nevada, you can be among the fortunate. But if you intend to do that this summer, it's best to plan now, for this kind of trip will be most pleasant if you make reservations, allowing time to incorporate other activities.
Sequoias grow naturally only in California, on the western slope of the southern Sierra Nevada, usually at elevations between 5,000 and 7,000 feet. Some are as tall as a 26-story building and the oldest trees are 1,800 to 2,700 years old. You can see them in either Sequoia or King's Canyon national parks, which are located next to each other and jointly managed.
Although seeing the wondrous trees will be in the forefront of any visit, there is wonderful diversity of other outdoor pleasures. Between the two parks you will find about 850 miles of maintained trails, far-reaching panoramic views, scenic rivers, a plethora of waterfalls and a variety of wildlife including black bears.
One of the most popular places to start a visit is at Sequoia's Giant Forest area. Of only 75 natural sequoia groves in the world, the 1,800-acre stand is the largest, containing 8,400 trees. Furthermore, four of the planet's five largest sequoias are among them.
Perhaps the star attraction, accessible with a short hike, is the 275-foot General Sherman tree. It is neither the tallest nor the widest, but by sheer volume, it is the largest tree on earth, if the definition is restricted to trees with a single trunk. The tree has a circumference at its base of 109 feet and is thought to be about 2,100 years old and weighs about 2.7 million pounds. It's still growing.
The Giant Forest area alone boasts 40 miles of maintained trails. Many are easy strolls while others are more strenuous, including many that constitute the first miles of extended backpacking trips.
One famous place to visit is Crescent Meadow. Naturalist John Muir, who visited the meadow in 1875, wrote about it later and called it the "Gem of the Sierra." The picturesque meadow, half a mile long, is often filled with wildflowers in summer months and lined by giant sequoias. One such tree lies prone, down the center of the meadow, practically begging for adventurous people to cross this natural bridge.
Most folks, though, take the easy, 1.6-mile loop around the meadow. As you head to the south end of the loop you will see the trail head for the High Sierra Trail. This is one of the lengthiest routes to climb up Mount Whitney, the highest peak in the contiguous 48 states.
Another hot spot for visitors is Moro Rock, a granite monolith, whose conquest rewards the victor with spectacular views of the Great Western Divide and many prominent peaks of the Sierra Nevada. The hike to the summit is only one-quarter mile, but strenuous, along extremely narrow manmade steps.
Black bears are very common in these parks. Never approach a bear, and always keep a safe distance. If one shows interest in you, yell, clap your hands or bang pans together. If in a group, stand together. When camping, use the metal storage boxes at the campgrounds to stow all food and everything else that has a scent. If staying at an area lodge, bring all food and related items inside. Infant car seats and coolers should be removed from vehicles and stored indoors if staying in a motel or lodge when not in use.
The Wuksachi Lodge is one of the best places to stay while visiting the parks. It is centrally located, near all the best attractions. It has a wonderful full-service restaurant to please anyone's taste, cocktail lounge and gift shop. It is also the only lodging available in Sequoia.
In Kings Canyon there are the John Muir Lodge, Grant Grove Cabins and the Cedar Grove Lodge. For reservations in either park, call 877-436-9615 or visit visitsequoia.com.
Between the two parks there are 14 campgrounds, mostly on a first-come first-served basis. Facilities in both parks can close because of weather, so even if you've made advance reservations, always check the weather before starting your journey. Call 559-565-3341 or visit nps.gov/seki.
Many of Deborah Wall's columns were recently compiled with new information and photos in "Base Camp Las Vegas" and published by Stephens Press. She is the author of "Great Hikes, a Cerca Country Guide." Wall can be reached at Deborabus@aol.com.