FlightLinez's new locale keeps people from zipping by
April 29, 2015 - 12:46 pm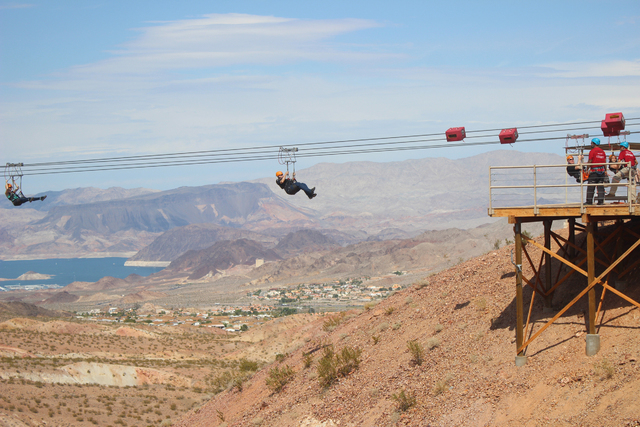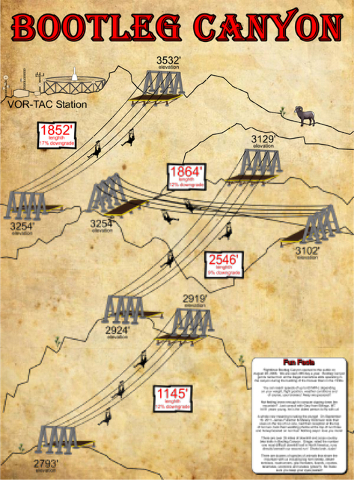 Editor's Note: This article is part of an occasional series showcasing businesses in town.
For most of the past six months, FlightLinez Bootleg Canyon has been on the move.
Not only does the company provide a 1½ mile-long zip line excursion over Bootleg Canyon for thrill seekers, it has relocated the entire operation to a storefront site on Nevada Highway.
"The move has definitely exposed us to traffic. There were people who never realized Boulder City had a zip line," said Brina Marcus, general manager.
Marcus said the move allowed the company to expand its space for welcoming guests as well as build a safety training room where people can put on the harness and helmet before heading out to the top of the zip line route.
"It gives us a more professional look and exposure on the main drag (through town)," she said. "We have had over 75 walk-ins since we moved."
Marcus said being in Marshall Plaza also has allowed FlightLinez to create a symbiotic relationship with other business in the center and provides places for their customers to relax and enjoy a meal or beverage before or after their zip line experience.
Additionally, she said the increased visibility has given her staff the opportunity to assist those visiting the area with information about other places to visit or adventures to experience.
Another new addition for FlightLinez is a bus, which allows them to shuttle larger groups of people up the the top of the zip line course, as well as transport them back to their company's home base.
Marcus said the new bus has a tractor engine while their old shuttle was "not mountain ready" and was taken to the scrap yard where someone bought it to turn it into a food truck.
The zip line has taken people ranging from 7 to 92 on excursions through the canyon. The basic requirement to ride the zip line is that each person must weigh between 75 and 250 pounds. Passengers also must wear tennis shoes.
Marcus said the zip line operates daily and has only closed six times for weather that she knows of. Since they opened, more than 80,000 people have flown the four zip lines that make up the 1½-mile route.
They even have conducted two weddings on the route, she said. The minister was flanked by the bride and groom, who exchanged their vows as they rode down the line.
Hali Bernstein Saylor is editor of the Boulder City Review. She can be reached at hsaylor@bouldercityreview.com or at 702-586-9523. Follow @HalisComment on Twitter.