Flight captures city league title after tough games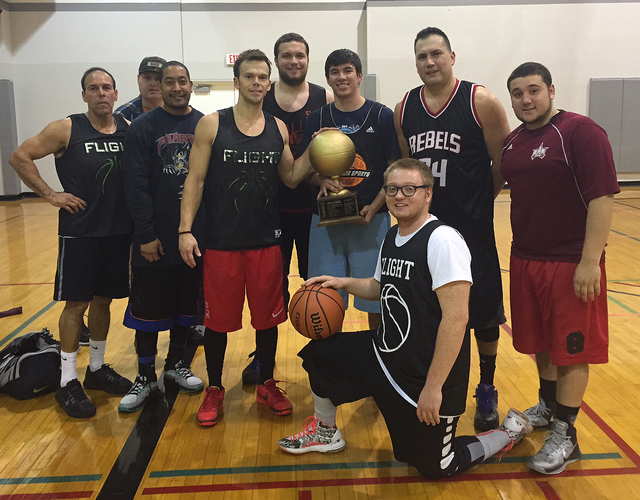 Flight Seeds2Success's manager Rob Sandoval dominated the championship game much the way his team dominated the season, winning the Boulder City Parks and Recreation Department's men's basketball league's championship Feb. 24.
Sandoval scored 34 points, including 13 of 13 from the free-throw line, as Flight S2S pulled away late in the second half to defeat Jimmy John's 78-63. It also avenged Flight S2S's other two losses of the season.
Flight S2S ended 2-1 in the playoffs after an 8-1 regular season. Both losses were to Jimmy John's.
"It was a fun season and an exciting finish to the playoffs with Jimmy John's giving us two tough games," Sandoval said. "I live in Henderson now, and so returning to the city where I grew up and played high school sports is always fun. It was a good season and we had a lot of players on the team contribute."
Flight S2S's three "Mikes" — Hernandez, Carboni and Walker, respectively — added 14, 8 and 8 points in the victory. Sandoval's father, Bobby Sandoval, contributed 7 points. DeShawn Henderson scored 16 points and JJ Gray added 14 for Jimmy John's.
Rob Sandoval won a state championship in 1999 playing for Boulder City High with Flight S2S teammate Dave Murtha. He returned to be an assistant coach when his younger brother, Joey Western, played for the Eagles and they won the state title in 2009.
"It was a thrill to win this championship with my dad and former players that I have played with in the city," Sandoval said. "Playing with them makes this championship more memorable."
The double-elimination playoffs began Feb. 19 with an upset as Woodbury Law defeated Jimmy John's 61-59 using its diamond-and-one defense to hold regular-season scoring champion Henderson to only 2 points. Woodbury Law held a 16-point halftime lead before Jimmy John's eventually got hot, making eight second-half 3-pointers and to close in at the end.
Woodbury Law's Ryan McQuillan led all scorers with 18 points and PJ Parker added 15 points and 13 rebounds. Will Ferrence had 10 points and 10 assists.
But having to return to the court to play No. 1 seed Flight S2S, proved too much for Woodbury Law, which kept it close until 12 minutes remained in the game.
Flight S2S finished with 44 second-half points for a 75-60 win, including seven 3-pointers and several moves for strong finishes at the basket. Murtha scored 18 points, while Rob Sandoval scored 15, Hernandez had 14, and Carboni added 12. Brigham Church led Woodbury Law with 13 points.
With one loss each in the tournament, Jimmy John's and Woodbury Law met Feb. 19 for a rematch.
Woodbury Law's diamond-and-one defense once again held scoring champion Henderson, who averaged 19.4 points per game, to only 7 points. But Jimmy John's pulled out a close 57-53 victory to earn the right to play Flight S2S.
Gray led Jimmy John's with 16 points, while Church led Woodbury Law with 20 points and McQuillan added 17.
In the semifinal, Jimmy John's rose to the occasion, beating Flight S2S in overtime 72-68. Gray scored 18 points and Henderson added 16. Rob Sandoval dominated the scoring for Flight S2S with 29 points, but he couldn't quite get his team over the hump in the overtime.