Fishing event spawns enthusiasm for outdoors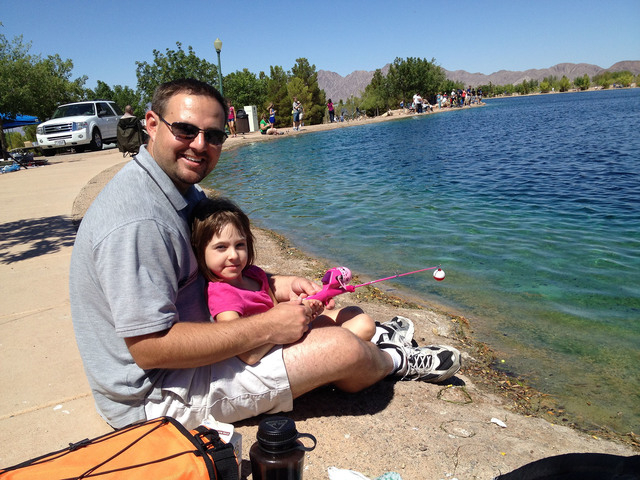 With the early morning sun shining and the crystal blue water resting softly at the pond at Veterans Memorial Park, people from all over the Las Vegas Valley came to Boulder City for Free Fishing Day Saturday morning.
The National Park Services, the Bureau of Reclamation and the Nevada Department of Wildlife were on hand to cater to every fishing need from casting a line to emphasizing the importance of environmental safety.
Fishermen of all ages and experience took to the pond from 8-11 a.m., some with kids and some without. NDOW rented fishing poles and provided participants with bait as well. They gave away poles and other prizes during raffles and taught those with no experience how to cast a line as part of an effort to get people outdoors.
Henderson resident William Atkinson and his young daughter Amelia got to the park at about 7:40 a.m., 20 minutes before the event started, with about 40 people already waiting in line to register. Equipped with her pink fishing pole, Amelia had been wanting to go fishing for quite some time, her father said.
"She's been wanting to go fishing; we just haven't had a chance to get out," he said.
Atkinson said he found out about Free Fishing Day in an email from the Clark County School District. The opportunity was perfect, he said, as he and Amelia plan to do some fishing when they go to Pennsylvania in a few weeks to visit family.
"She was all excited so we made sure we could get over here," he said. "I want to build her love for fishing, or at least her enjoyment of fishing."
Adrianne Reed of the U.S. Bureau of Reclamation was on hand to teach those who attended Free Fishing Day the importance of keeping the water clean. The enjoyment of the sport is diminished if they can't fish in clean water, she said.
"When you get the kids out here to fish, it gets them to see what happens in the water. And if they see all that crud in the water, they can't have fun fishing in it," she said.
Reed also noted that it was nice to see kids enjoying the outdoors instead of having their heads buried in their tablets or phones.
"It's an awesome opportunity just for them to see what (fishing) is all about, and for them to see that it can be fun," she said.
Steve Belew, a Boulder City resident of 25 years, brought his wife, Mavis, and son Christopher to Free Fishing Day to get acclimated to fishing in Southern Nevada. A native of northern Colorado, Belew hasn't done as much fishing since he left home, but said his son was more than ready for Free Fishing Day Saturday morning.
"I think it's great," he said about the event. "Christopher was just so excited this morning. We woke him up and said 'It's time to go fishing,' and he was just all excited to go fishing."
The Belews arrived at about 7:30 a.m. and waited in line behind about 30 people who were anxious to start fishing. He also said there were plenty of people along the banks who were already fishing by the time they got to the park. Belew said he was appreciative of the public sector's help for putting on an event like Free Fishing Day.
"It's great to have these volunteers come help out," he said. "It really does mean a lot to the community."
NDOW's Conservation Education Supervisor Doug Nielsen said he gets a sense of satisfaction seeing people come out to an outdoor event that is not only fun, but educational as well.
"For the kids, it gets them away from the video screen and computers and it gives them a chance to get some vitamins from the sunshine," he said.
Nielsen said about 350 people made their way from across the Las Vegas Valley to Boulder City for Free Fishing Day. Those numbers make him a happy man.
"When you look down the shoreline, everybody's here," he said. "It doesn't matter who you are or what your background is. Everybody's here and it's great to see."